Overview of EQI Office
The Educational Quality Improvement (EQI) Office, within the School of Medicine's Academic Affairs, is the leader of continuous quality improvement initiatives across the school, including the Liaison Committee on Medical Education (LCME) accreditation process. Sara Kim, Associate Dean for Educational Quality Improvement and Research Professor of Surgery and Marilyn Cope​, Director of EQI, are leading the effort. ​
Continuous Quality Improvement (CQI)
The EQI unit is dedicated to implementing CQI initiatives across the School of Medicine. Through the work of the EQI Strategic Planning Committee, the unit is implementing a CQI Policy, Procedures and Guidelines  that will ensure the school fulfills its mission, goals and values in accordance with the Medical Student Program Strategic Plan and LCME accreditation standards.
UWSOM's History of Accreditation
The last LCME site visit occurred in March 2018. In its accreditation decision, the LCME elected to continue accreditation of the medical education program, for an indeterminate period while the school works to resolve 19 citations. LCME identified numerous strengths in our programs and partial or non-compliance with LCME standards are leading the school to strengthen operational and programmatic areas including:
​Student Mistreatment
Study and Lounge Space
Career Counseling
Faculty Appointments Process
Training and Orientation for Residents working with UWSOM students
Hiring of Additional Staff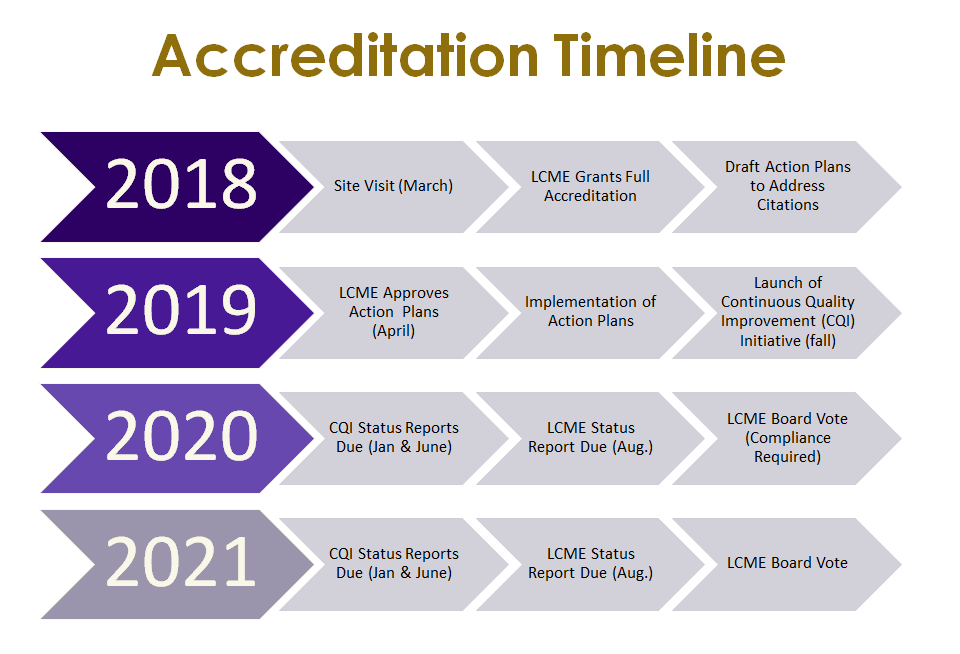 LCME Standards
The Liaison Committee on Medical Education (LCME) accredits medical education programs leading to the MD degree in the United States and Canada. LCME accreditation is a voluntary, peer-reviewed process of quality assurance. To achieve and maintain accreditation, a medical education program must meet 12 established standards:
Standard 1: Mission, Planning, Organization and Integrity
Standard 2: Leadership and Administration
Standard 3: Academic and Learning Environment
Standard 4: Faculty Preparation, Productivity, Participation, and Policies
Standard 5: Educational Resources and Infrastructure
Standard 6: Competencies, Curricular Objectives, and Curricular Design
Standard 7: Curricular Content
Standard 8: Curricular Management, Evaluation and Enhancement
Standard 9: Teaching, Supervision, Assessment, and Student and Patient Safety
Standard 10: Medical Student Selection, Assignment, and Progress
Standard 11: Medical Student Academic Support, Career Advising, and Academic Records
Standard 12: Medical Student Health Services, Personal Counseling, and Financial Aid Services
To learn more about the recent LCME site visit and accreditation process, visit the dedicated LCME page.
Team Contacts
Sara Kim, PhD, Associate Dean​​ of EQI & Research Professor of Surgery
sarakim@uw.edu
206.221.4024
​
Marilyn Cope, MPA, Director​ of EQI
copemari@uw.edu
206.685.4083
Kelley Goetz, Administrative Manager of EQI
kngoetz@uw.edu
206.221.2412
​
Cory Lumsdaine, MPH, Program Analyst of EQI
lumsaic@uw.edu
206.543.3748
EQI email address: eqi@uw.edu​