​​​

Introduction 
​​​WRITE
Introduction
Eastern Washington is known for its variety – landscapes, people and medical education. From the Palouse to the Selkirks with the Steppes in between students can find it all here in Eastern Washington. Our medical training opportunities take place in the large urban referral center of Spokane, the smaller cities of Yakima, Tri-Cities and Wenatchee as well as many of our small rural communities. Eastern Washington has it all – and a lot more sun than Seattle!
Clerkship Opportunities
​​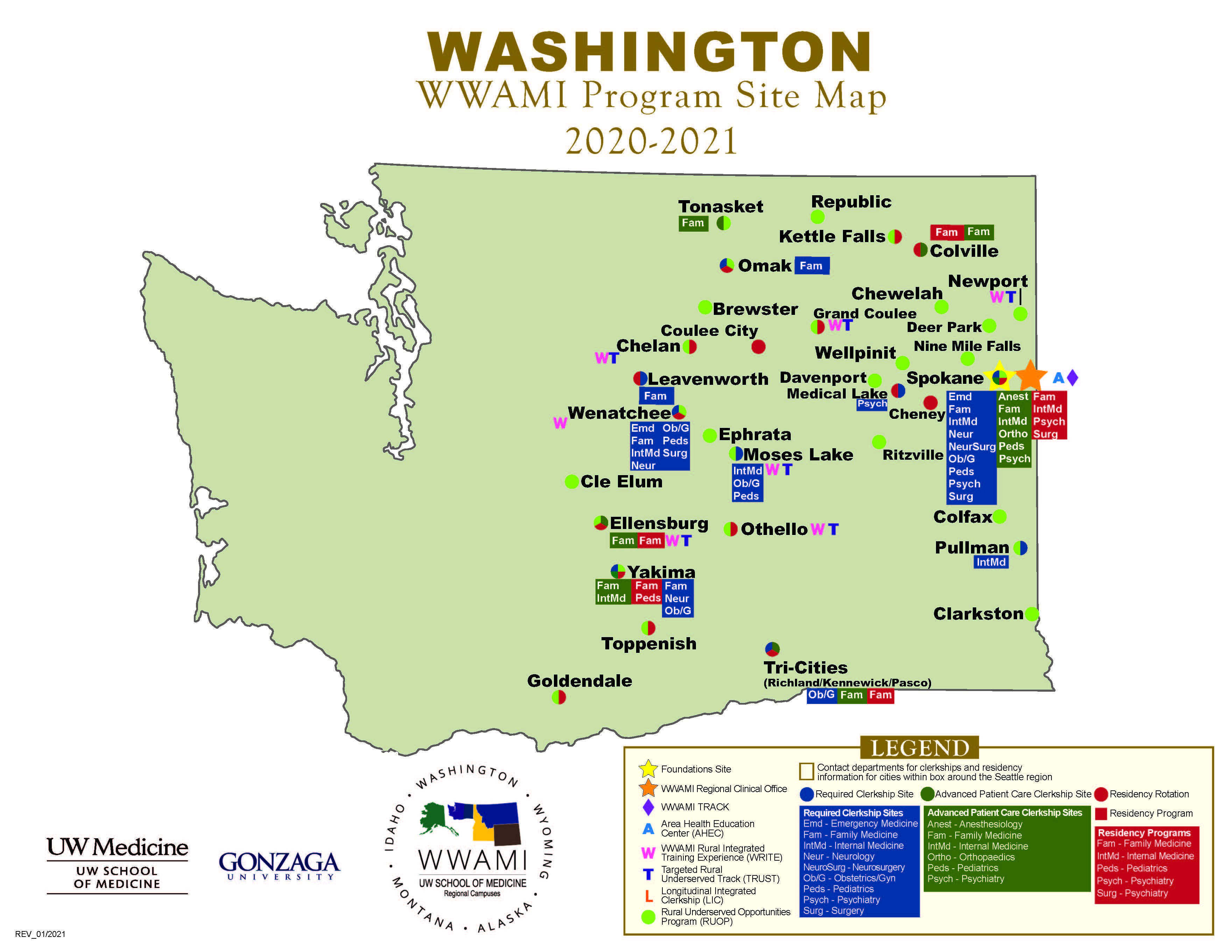 Spokane and Wenatchee Track
Eastern Washington offers two city Tracks. Spokane offers availability for students to Track in 3rd and/or 4th year and Wenatchee offers availability for students to Track in 3rd year. In these tracks, students are able to spend the majority of their time in that community.
WRITE (WWAMI Rural Integrated Training Experience)
WRITE, a longitudinally integrated clerkship program that occurs in the first clinical year, was developed by the University of Washington School of Medicine as a means to help meet the need for rural primary care physicians in the WWAMI region. The success of this unique program is due to the integration of community involvement, continuity of experience and a proven curriculum.
Reports and Resources
State Fact Sheet (coming soon)
State Report (coming soon)
Contact Information​
Physical Address ​ ​
UW-GU Health Sciences and Innovation Building
840 E. Spokane Falls Blvd.
Spokane, WA 99202
Mailing Address
UW-GU Health Sciences and Innovation Building
502 E Boone Ave. AD840
Spokane WA 99258
​
Darryl Potyk, M.D.
Associate Dean for Eastern Washington
Chief for Medical Education
potykd@uw.edu​
​Carol Weigand
Administrative Director
carolw7@uw.edu
509-313-7905

Geoff Jones, M.D.
Assistant Clinical Dean for Eastern and Central Washington
jonesgs@uw.edu
Kathy Minnerly
Program Operations
kminner@uw.edu
509-313-7916