The Foundations Phase curriculum is fifteen months in length and consists of seven integrated, interdisciplinary block courses which bring together basic, clinical and social sciences into a single course, along with a longitudinal clinical curriculum called Foundations of Clinical Medicine (FCM). Pathology, Histology, Pharmacology, and Anatomy & Embryology / Human Form and Function threads (anatomy, ultrasound, and imaging) are integrated across all blocks.
Foundations Phase Curriculum
The following is a comprehensive list of all courses and credits that students register for in the Foundations Phase.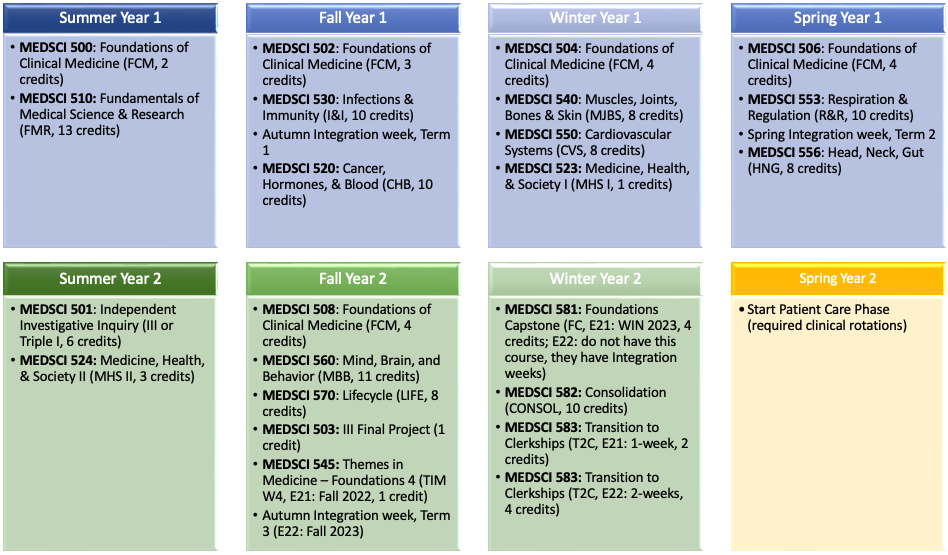 MEDSCI 500: Foundations of Clinical Medicine (FCM, 2 credits)
MEDSCI 510: Fundamentals of Medical Science & Research (FMR, 13 credits)
MEDSCI 502: Foundations of Clinical Medicine (FCM, 3 credits)
MEDSCI 530: Infections & Immunity (I&I, 10 credits)
Autumn Integration week, Term 1
MEDSCI 520: Cancer, Hormones, & Blood (CHB, 10 credits)
MEDSCI 504: Foundations of Clinical Medicine (FCM, 4 credits)
MEDSCI 540: Muscles, Joints, Bones & Skin (MJBS, 8 credits)
MEDSCI 550: Cardiovascular Systems (CVS, 8 credits)
MEDSCI 523: Medicine, Health, & Society I (MHS I, 1 credits)
MEDSCI 506: Foundations of Clinical Medicine (FCM, 4 credits)
MEDSCI 553: Respiration & Regulation (R&R, 10 credits)
Spring Integration week, Term 2
MEDSCI 556: Head, Neck, Gut (HNG, 8 credits)
MEDSCI 501: Independent Investigative Inquiry (III or Triple I, 6 credits)
MEDSCI 524: Medicine, Health, & Society II (MHS II, 3 credits)
MEDSCI 508: Foundations of Clinical Medicine (FCM, 4 credits)
MEDSCI 560: Mind, Brain, and Behavior (MBB, 11 credits)
Autumn Integration week, Term 3 (starting Fall, 2023 for E22's)
MEDSCI 570: Lifecycle (LIFE, 8 credits)
MEDSCI 545: Themes in Medicine – Foundations 4 ( TIM W4, only for E21's in Fall 2022, 1 credit)
MEDSCI 503: Independent Investigative Inquiry Final Project (III-FP, 1 credit)
MEDSCI 581: Foundations Capstone (FC, E21's only, E22's do not have this course because of required integration weeks, 4 credits)
MEDSCI 582: Consolidation (CONSOL, 10 credits)
MEDSCI 583: Transition to Clerkships (T2C, E21 course is 1-week, 2 credits)
MEDSCI 583: Transition to Clerkships (T2C, E22 course is 2-weeks, 4 credits)
Foundations Curriculum Resources
Curriculum FAQ
Directory – Current list of course directors, faculty, and staff for all WWAMI
Courses, Grades, Assessment, Evaluation
Canvas – Course details and general information for enrolled students. Grades are posted to Canvas for each course.
Assessment:
Additional Requirements
Medicine, Health, & Society I & II
Foundations Integration weeks
Electives and Enrichment
Administrative
Faculty/Staff Non-Clinical Course Administration
Preparing for the Patient Care Phase
Curriculum Development