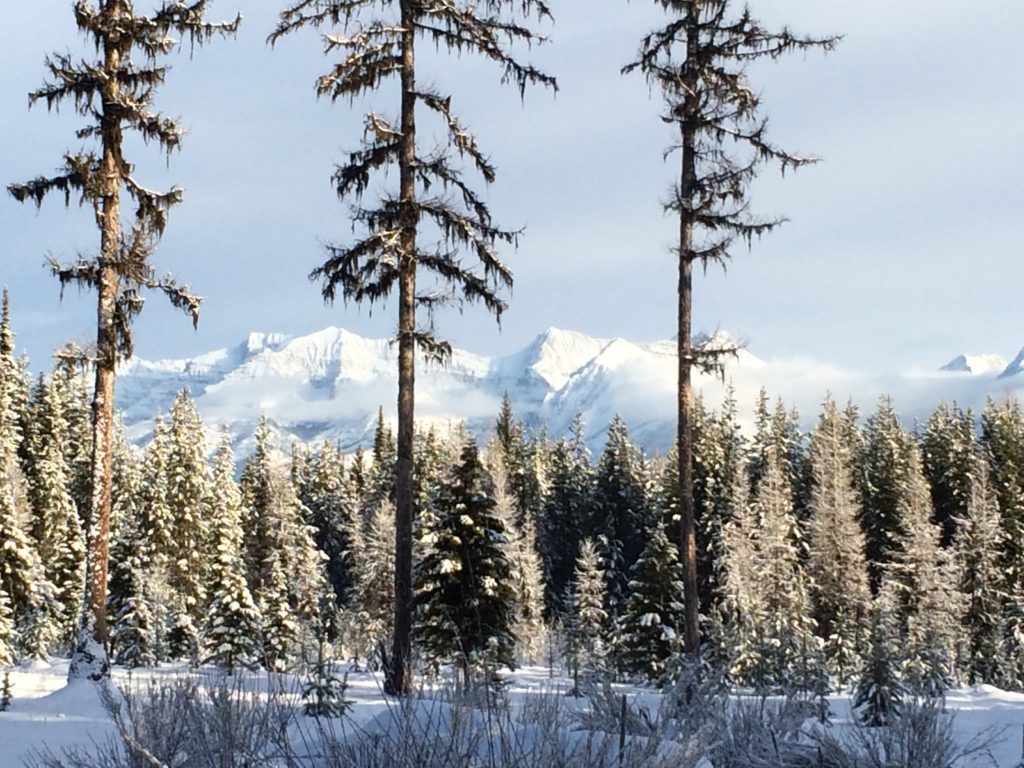 Introduction
Montana WWAMI provides medical education and training to students, residents, and practicing physicians throughout the vast state of Montana and gives Montana residents access to high-quality medical education and cost-effective in-state tuition.  Montana offers a variety of quality learning opportunities for medical students in rural, community and underserved practices throughout the state. In addition to quality learning, your Montana experience can bring new friendships, excellent recreational activities, and a chance to work and learn in some of the most beautiful and friendly communities in the West!
Montana Tracks
A track option gives students the opportunity to spend all or almost all of their third year in one community, where they can experience and build relationships in while training as a medical student in their home state.  Montana offers students patient care tracks in:
Billings
Missoula
Bozeman
Students are guaranteed at least 24 weeks at their track site, where they have an opportunity to engage in the community and build relationships. Dr. Mike Geurin in Billings, Dr. Chris Jons in Missoula and Dr. Leslee Kane in Bozeman are the track directors as well as teaching physicians in their communities, and provide direct support and oversight of Track and clerkship activities.
In Montana, there are two track options for students:
Patient Care Phase Track: Students can choose a patient care track in their third year where they would spend most of their third year (at least 24 weeks out of 36 weeks) in either Billings (the Billings Track), Bozeman (the Bozeman Track)  or Missoula (the Missoula Track).
Explore & Focus Phase Track: Students can choose an explore & focus track  where they would spend a good portion of their fourth year (at least 12 weeks) in Montana. They do not specify a community, but students are able to request multiple clerkships in a community in Montana to spend more time there.
Billings Track
The Billings Track started in 2008 and offers all of the required third and fourth year clerkships. A wide variety of elective clerkships and sub-internships in Family Medicine and Internal Medicine will round out your opportunities. Faculty at St Vincent Healthcare, the Billings Clinic, RiverStone Health, the Montana Family Medicine Residency and Community Health Center all collaborate to offer a rich variety of experiences for students. Community activity discounts, guidance toward affordable housing or student housing, meals, along with many educational programs are available to students. Billings has a rich network of bike paths, but we recommend students have a car both for work and to explore the rivers and mountains around us. Call our Billings Track Office for more information.
Billings Track Office contacts
Billings Track Office Coordinator
Jenny Jutz
jenny.jut@riverstonehealth.org
406.247.3285
Billings Track Director
Mike Geurin, M.D.
mike.geu@riverstonehealth.org
Bozeman Track
The Bozeman track started in July 2015 and offers all six required patient care (third year) clerkships and explore & focus (fourth year) required clerkships along with many fourth year elective offerings. Bozeman clerkships are administered predominantly through Bozeman Health, where the Foundations Phase of the MT WWAMI offices are also located. Bozeman offers beautiful mountains for hiking, mountain biking, rock climbing, skiing, fly fishing, and exploring. Bozeman has festivals, art, culture, music, farmers markets, museums, and fantastic locally-owned restaurants. Yellowstone Park is only a 90 mile drive from Bozeman and there is a lot to explore in the Park!
Bozeman Track Office contacts
Bozeman Track Office Coordinator
Ali McInnis
AMcInnis@bozemanhealth.org  
Bozeman Track Physician Director
Leslee Kane, M.D.
lesleebkanemd@gmail.com​
Missoula Track
The Missoula Track started in July 2008 with four third-year students participating. Missoula offers all six required patient care (third-year) clerkships and explore & focus (fourth year) required and elective offerings.  Meals are provided free of charge at St. Patrick Hospital and Community Medical Center for WWAMI students rotating in Missoula. WWAMI Students ​will also be given a Griz Card with a $200-a-month food stipend to use at any UM eatery and have free access to the Student Rec Center at The University of Montana. Housing is ​centrally located ​to both hospitals and is very close to a bus route, but we strongly suggest coming to Missoula with a bicycle or car. Missoula is a really fun town with access to fishing, hiking, mountain biking, skiing, numerous athletic events and a rich downtown. Contact the Missoula Track Office for more information.
Missoula Track Office contacts
Missoula Track Program Manager
Liz Kelsey
Elizabeth.Kelsey@mso.umt.edu
406.243.4763
​Missoula Track Director
Christopher Jons, MD
christopher.jons@providence.org​
Clerkship Opportunities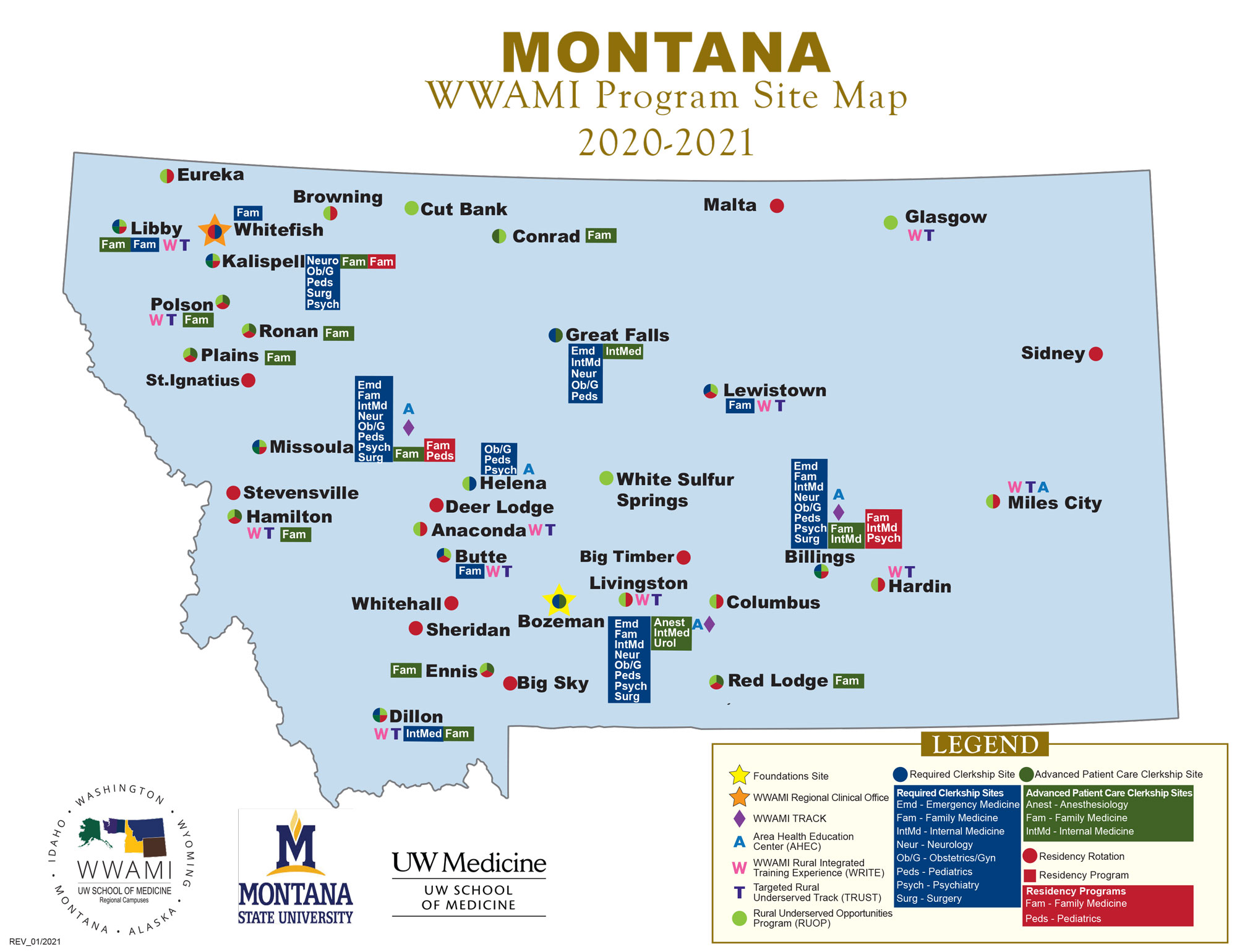 TRUST (Targeted Rural Underserved Track)
The Targeted Rural Underserved Track (TRUST) curriculum is a longitudinal medical school experience in rural and small city underserved communities, with a goal to produce physicians committed to practice in the underserved areas of Montana and the WWAMI region. With admission through a targeted admissions process, TRUST students are linked to their rural/underserved communities and with existing UW courses and programs, such as the Underserved Pathway, Rural and Underserved Opportunities Program (RUOP), and the 5-6 month WWAMI Rural Integrated Training Program (WRITE). The TRUST program promotes and supports students' interests in rural/underserved health workforce training.​ Go to the TRUST website for more information
Montana TRUST Contacts
Lisa Benzel, Montana TRUST Director
LisaB​enz@uw.edu
406-660-0246

​WRITE (WWAMI Rural Integrated Training Experience)
WRITE, a longitudinally integrated clerkship program that occurs in the first clinical year, was developed by the University of Washington School of Medicine as a means to help meet the need for rural primary care physicians in the WWAMI region. The success of this unique program is due to the integration of community involvement, continuity of experience and a proven curriculum. A detailed description of this program can be found at the website: https://education.uwmedicine.org/somrural/programs/write/
WRITE locations:​
Anaconda
Butte
Dillon
Glasgow
Hamilton
Hardin
Lewistown
Libby
Livingston
Miles City
Ronan/Polson
​​Reports and Resources
State Fact Sheet (coming soon)
State Report (coming soon)
Contact Information

Jay Erickson, M.D.
Assistant Clinical Dean, Montana WWAMI
jerick@uw.edu

Bernadette Duperron, Judi Sullivan
​MT WWAMI Program Administrators
mtassist@uw.edu
​Lisa Benzel
TRUST Director, RUOP Coordinator
lisabenz@uw.edu
Address
525 Railway St. Suite 100
Whitefish, MT 59937
406.862.3810

​Martin Teintze, PhD.
Assistant Dean, Foundations Phase, Montana WWAMI
mteintze@montana.edu
Kayla Ouert
WWAMI Program Manager
kayla.ouert@montana.edu​​
​​​Address
937 Highland Blvd.
Suite 5220 (2nd floor)
Bozeman, MT 59715
406-994-4411
Publishing Page Content In Right Rail