​​​​What is it?
ExamSoft is the company we contract with to deliver electronic exams during Foundation Phase blocks. There is an app called Examplify that you will need to install on your laptop in order to take exams. We do not support Examplify for iPad.
What do I need to know or do?
This is the URL for the UWSOM portal page: http://www.examsoft.com/uwsom
Click the Login button in the Exam Takers box in the upper left. You will log in to the portal with your UW NetID credentials.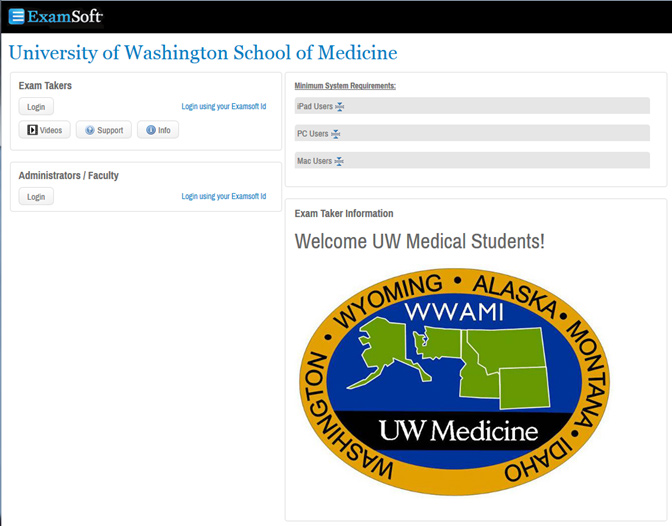 These are the things you can do from the ExamSoft portal:
Check if you have the current version of Examplify installed
Download Examplify
Download exam reports
Check your exam download/upload history
Log in to the portal page.
Hover over your name in the upper right corner, then select My Account from the popup menu.
Look for the item called Examplify Version. This will tell you whether you are up-to-date.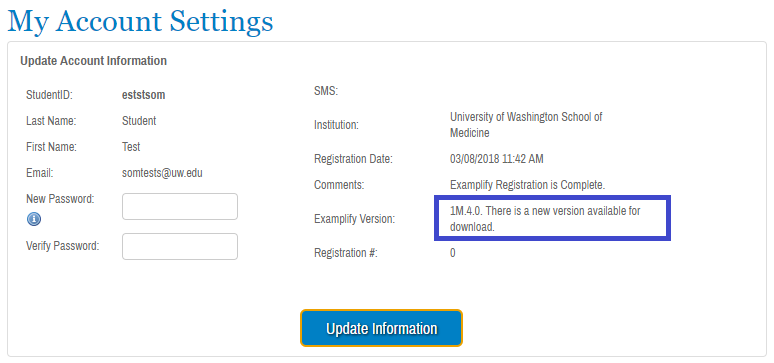 Log in to the portal page.
Click the Examplify tab at the top of the page.
The minimum system requirements are posted on this portal page. If your computer meets the UWSOM minimum requirements, you should be able to run Examplify on your computer.
Click the Download button and launch the installer.
Examplify utilizes a "silent update" system. It will check for updates every so often, and then download and install them in the background.
Occasionally, you may see a dialog box prompting you to update Examplify after you open it. You may want to avoid updating immediately before you begin an exam. You should definitely NOT update if you have any downloaded exams you have not yet taken, as they will be deleted when you update.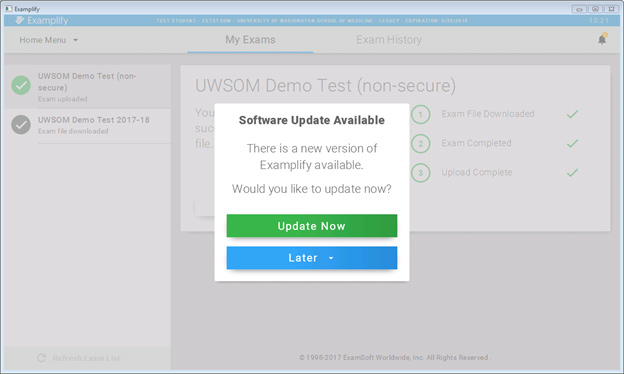 Launch Examplify. Our Institution id is "uwsom" (lower case, no quotes)
You will be taken out of the app to your default browser to authenticate with your UW NetID. Once you get the "You have successfully logged in" message in your browser, it should automatically return to Examplify. (There may be a short time lag before Examplify gets the confirmation from the browser).
When you return to Examplify, under the My Exams tab, you should see an exam called "UWSOM Demo Test" that is ready to download. Click the green Download Exam button.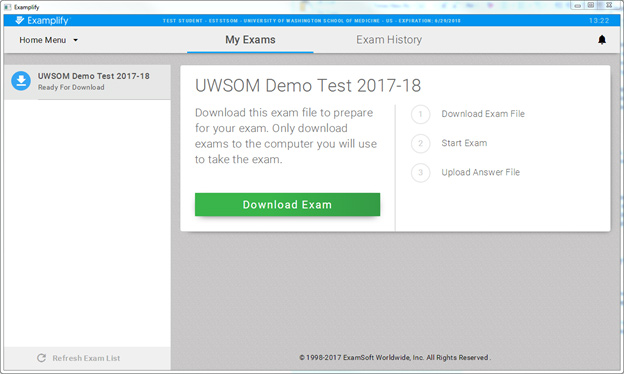 After downloading the exam, enter the exam password to begin the exam (during a normal exam, this will be given to you by the proctor just before starting the exam). The password for the demo test is "passw0rd" (password is case-sensitive; the letter O is replaced with a zero, don't include the quote marks). Then click Start Exam.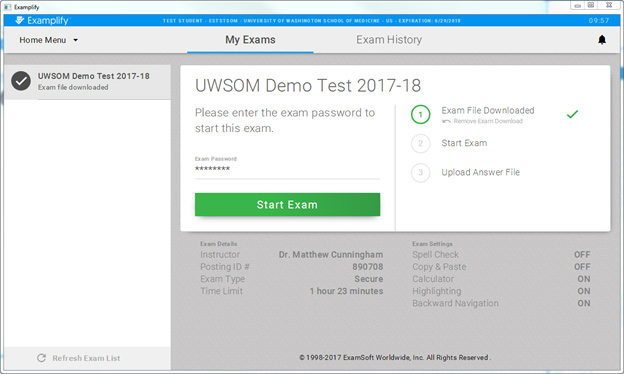 After you click Start Exam, you will come to a yellow screen warning you that all open programs will be closed (so make sure all your work is saved before you proceed!) and reminding you to disable any anti-virus software on your computer. If you are running Sophos (the anti-virus software provided by UW), this will typically not cause any conflicts with Examplify. Click Continue.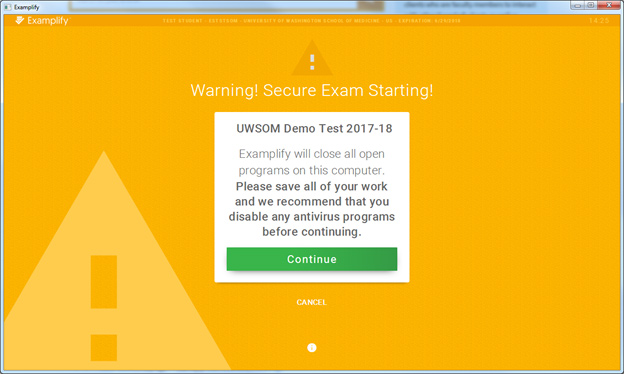 After you click Continue, your computer will be "locked down", meaning you will no longer be able to access other applications, and your internet will be disconnected. The next screen will ask you to enter a 4-digit code that will be automatically generated for each exam. Enter the code as it is displayed on the screen and then click the Start Exam button again.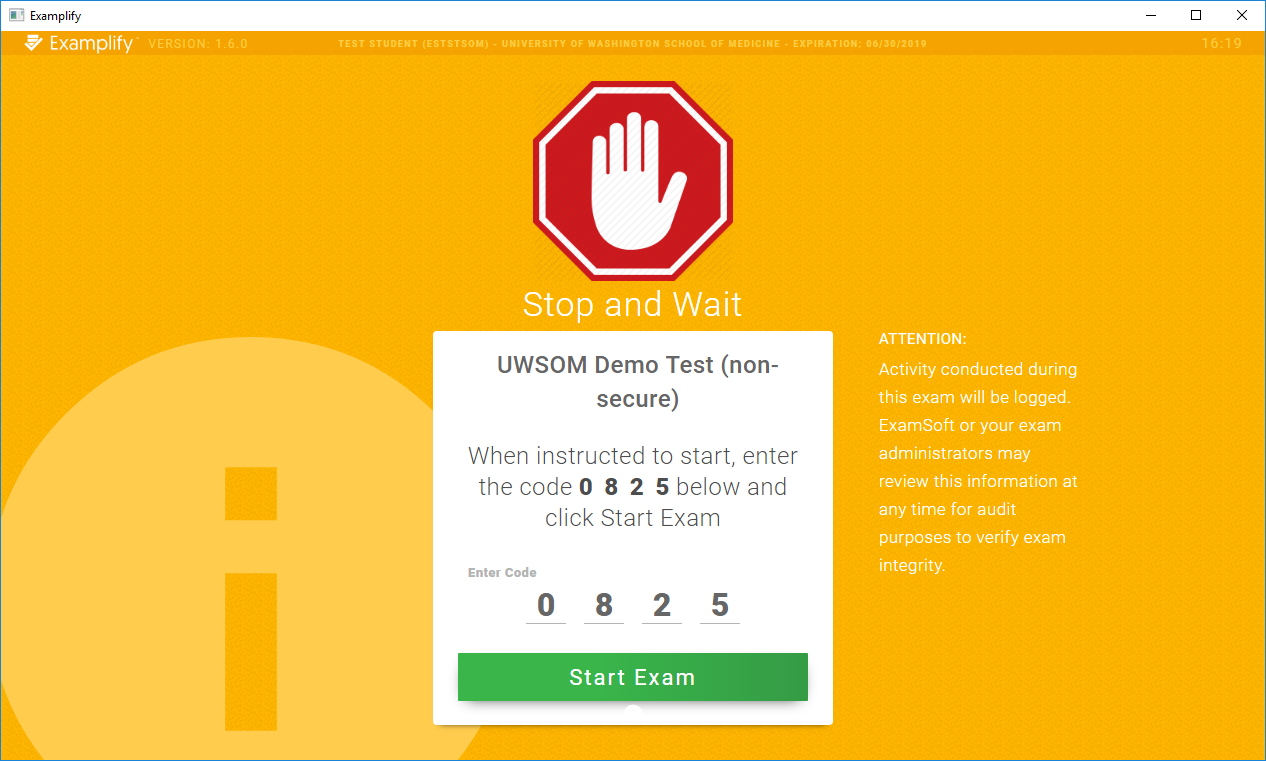 Here are some of the things you can do during exams:
Questions

Flagging: individual questions can be flagged by clicking the flag icon in the upper left corner of the question.
Strikethrough: If you think an answer option is incorrect, you can click the X on the right side of an answer option to strike it out.
​Expand question text: Click the icon in the upper right corner immediately above the question to expand or shrink the question text (see blue boxes in screenshots below).
​​ Top Bar (left to right)

Paper clip: If there is an exam-level attachment (e.g., normal values table) it will be available here.
Timer: time remaining for timed exams. You can also set alarms by clicking here.
Highlighting: click highlighter icon to highlight text in the question stem (you can choose from five different colors!)
Change font size for questions/responses by clicking the "Aa" button.
Three horizontal lines: this is where you will find a calculator, a place to take notes/leave feedback on questions, and access question-level attachments (e.g., images), if available.

Left Bar

Questions that have been answered are marked with a blue dot.
Questions that have been flagged to come back to are marked with yellow.
There is a filter at the top that allows you to view just flagged or unanswered questions.
You can click on question numbers to navigate between questions.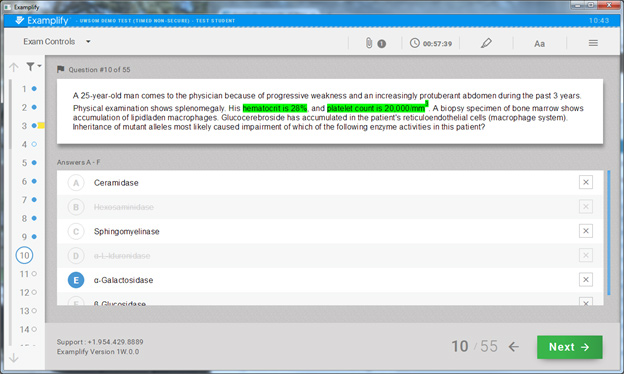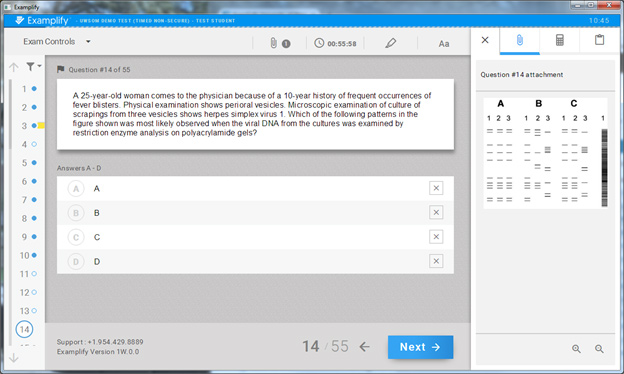 When you are ready to submit your answers, click Exam Controls then Submit Exam. If you have not answered all the questions, you will have an opportunity to go back into the exam at this point. You will continue through one more confirmation screen before your exam will be irreversibly locked.
You will then be shown your preliminary score on the exam; this will not include grading of any short answer responses, and will not include final scoring adjustments your instructors may make. At this point, you will have two options:

Continue to Review: after any proctored exam, you will be allowed a limited amount of time to review the exam questions and the correct answers. The password for this is the word "review" (all lower case, no quote marks).
Continue to Upload: this will unlock your computer, reconnect to the Internet, and attempt to upload your answer file.

You are done when you see the green upload confirmation screen. If you do not see the green upload confirmation screen after completing an exam, be sure to tell a proctor immediately.
The "Leave Feedback" button on the green screen is only for providing feedback on the testing software. To leave feedback on a question during an exam, write a note for that specific question, and check the "request feedback" box at the bottom of the window.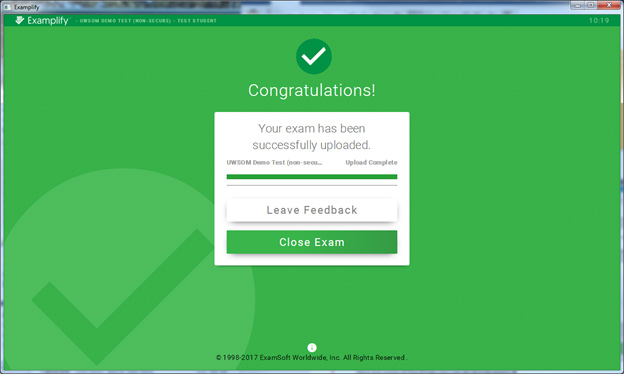 Where can I get more help?
For issues related to downloading and installing Examplify, contact ExamSoft exam taker support:
For issues related to account registration, practice tests, and medical school exams, contact UWSOM Testing Services: