​​​​​​​​​​​​​​​​​​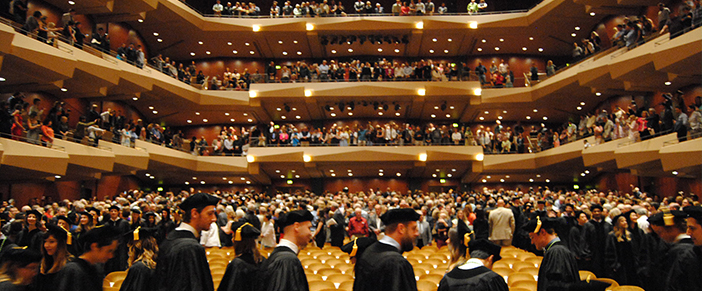 | | | |
| --- | --- | --- |
| Date | Saturday, May 28, 2022 | |
| Time | 1:30pm PT | |
| Location | Benaroya Hall, Seattle, WA (if permitted to host an in-person event) | |
| COVID-19 Vaccination Requirement | All graduates and attendees (including children) are required to show proof of COVID-19 vaccination or proof of a negative PCR test taken within 48 hours of the event. Graduates and attendees who do not meet this requirement will not be allowed to attend the ceremony. Masks must be worn at all times within the building, including onstage during the ceremony, by all graduates and attendees. | |
About the Ceremony
The students graduating in 2022 are the 73rd class to receive the degree of Doctor of Medicine (M.D.) from the University of Washington. The Physician's Oath & Hooding Ceremony formally acknowledges the achievements of our medical students. Through the administration of the Hippocratic Oath or Physician's Oath, the ceremony reminds the students of the high standards of performance and behavior to which each aspires and with which each is challenged as they enter upon professional careers as physicians.
Preparing for th​e Physician's Oath & Hooding Ceremony​
University of Washington Commencement Ceremony
The University of Washington commencement ceremony is held following the completion of spring quarter in June. Graduating M.D. students are welcome to participate in the event.
As the ongoing development of COVID-19 may impact the format of the university's ceremony, interested students should refer to the Office of Ceremonies for more details.