Publishing Page Content In Right Rail
Page Content
​​​ ​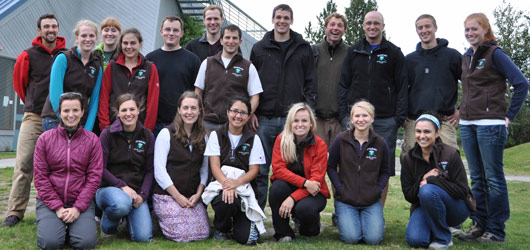 ​
​​​WWAMI Regional Medical Education
In the early 1970s, the University of Washington took on a bold challenge to train and prepare physicians to care for patients and communities throughout the WAMI states, Washington, Alaska, Montana and Idaho (Wyoming joined in 1996). Today, this regional medical education program known as WWAMI (an acronym representing the states it serves) is heralded as one of the most innovative medical education and training programs in the country.The program has five primary goals:
provide publicly supported medical education
increase the number of primary-care physicians
provide community-based medical education
expand graduate medical education (residency training) and continuing medical education
provide all of this in a cost-effective manner
The program has been recognized by the Association of American Medical Colleges with the Outstanding Community Service Award and has been identified as the nation's top primary-care, family medicine and rural medicine training school by U.S. News & World Report for the past 23 years.
A majority of the students training in the program choose to remain and practice medicine within the five-state region, and over half choose careers in primary care, helping to stem the shortage of primary care physicians, especially in rural areas. More than 20 percent of the population in the five Pacific Northwest states lives in rural and largely underserved communities.
What Does Regional Medical Education Mean?
Each state participating in WWAMI partners with the UW School of Medicine (UWSOM) to educate a fixed number of medical students from and for their state. Students complete a three-term Foundations Phase in their home state university: in Washington state, University of Washington or Gonzaga University; University of Wyoming; University of Alaska-Anchorage; Montana State University; and University of Idaho. The exception is Wyoming students, who complete the final third term of Foundations at the University of Washington in Seattle. After the Foundations Phase, a 12-month Patient Care Phase, and a 15-month Career Explore and Focus Phase students complete clinical rotations in a variety of sites and environments within the five-state region to learn and experience very different facets of medicine. For example, one month might be spent in a remote community near Nome, Alaska, another in a migrant community near Yakima, WA and another in a Level I trauma center in Seattle. The goal is to provide a rich array of clinical experiences in a variety of settings, mentored by community-based clinical faculty who volunteer their time to educate the physicians in training.
The Changing Face of Regional Medical Education
WWAMI is constantly growing and changing to meet the needs of the region. In 2008, the University of Washington expanded its first-year medical education program in Spokane. In 2013, the program expanded further with a two-year pilot program to offer the second year for up to 20 second year students. The expansion allows medical students to spend their entire first two years of medical school in Spokane. Subsequently, they can choose to complete some or most of their third and fourth years of clinical training in Spokane as well.
Growing its medical school class size in Spokane is a goal of the UW, to help alleviate the physician shortage in Eastern Washington. The UW will seek state funding during the next legislative session to double its medical school class size in Spokane. According to a report issued by the research firm Tripp Umbach, this is "clearly the most cost-effective option" to meet the physician workforce needs in Eastern Washington and throughout the state." Growth is happening in other WWAMI states as well. Recognizing the need for more physicians, the Montana legislature recently approved 10 additional student positions at its first-year site at Montana State University for a total of 30 first-year students per year, and the Idaho legislature approved 5 additional student positions in each of the last two legislative sessions to make a total of 30 first-year students at the University of Idaho in Moscow. The UW School of Medicine is committed to meeting the workforce needs of each of its partners.
Beginning in the fall of 2015 the UW School of Medicine will adopt a new contemporary medical education curriculum, and will expand clinical training opportunities in underserved areas across Washington state, including Yakima, Tri-Cities, Wenatchee, Bellingham and Vancouver.
Serving the Community through Regional Medical Education
A variety of programs are available in communities throughout the five-state region that provide not only an educational experience for medical students, but also supports community efforts through volunteerism. These include:
WWAMI Rural Integrated Training Experience (WRITE) – a six-month experience in a rural setting in which students complete clinical training working closely with community preceptors (clinical instructors).
Rural/Underserved Opportunities Program (R/UOP) – 4-week preceptorships (mentorships) available with practicing physicians in rural and urban underserved communities held over the summer between a student's first and second year.
Targeted Rural Underserved Track (TRUST) – Longitudinal experience with a single rural community over a student's entire medical school career, including completing both WRITE and R/UOP and returning regularly to learn about and work in the community.
Regional Medical Education in the Community
The UW School of Medicine is central to a network of programs designed to alleviate the shortages of healthcare programs in rural and underserved urban areas. These programs include:
Area Health Education Center Network (AHEC): A program that works to improve the diversity, distribution, and quality of the health workforce in the WWAMI region, partnering with communities to promote health career pathways, create educational opportunities for students from junior high school through professional and post-graduate training, and support healthcare providers caring for underserved populations.
The WWAMI Center for Health Workforce Studies conducts studies in the WWAMI region that can inform policy and advance workforce needs to address state healthcare workforce issues.
The WWAMI Rural Health Research Center focuses on policy affecting rural and underserved areas.
​
​​​
Publishing Page Content In Right Rail