Residency Paperwork
– Instructions Coming Monday, March 21
To those of you pursuing residency programs this year, congratulations on your match! Beginning Friday, March 18, you will begin to receive paperwork from your new residency programs that you and the school will need to complete. Please do not send any paperwork requests to Student Affairs offices at this time.  
 On Monday, March 21, you will receive an email with instructions about how (and when) to request the different types of documentation that you will need for your programs. The instructions will vary based on what state you match to and what type of document you need, so it is very important that you read the information thoroughly before sending any requests to the school.  
---
Please take another important survey: Explore & Focus End-of-Phase
In addition to the AAMC Graduation Questionnaire, which many of you have already completed, the school is asking you to take 10 minutes to complete the Explore & Focus End-of-Phase survey.
"We are deeply aware of the magnitude of time commitment we are asking of you. Thank you very much for your help," said Sara Kim, Associate Dean for Educational Quality Improvement.
The Explore & Focus End-of-Phase survey serves an important purpose for both the medical school's continuous quality improvement initiatives and accreditation. You will be receiving a unique survey link delivered to your email address. Please know the email address is only used to track who has responded for sending reminders and incentives. Your responses remain anonymous.
This year, we are offering the following incentives for completing the survey:
• Two $50 items you select from Amazon
• Twelve $25 items you select from Amazon
• One $50-value WWAMI gift packs
Note that students cannot be selected to receive incentives for both the AAMC GQ and Explore & Focus End-of-Phase surveys.
Beginning next week, we will share with you the response rates for the AAMC GQ and the Explore & Focus End-of-Phase survey together.
---
Thanks to those who have taken the AAMC Graduation Questionnaire
You can win prizes worth up to $50!
The team would like to thank those of you who took the time to complete the AAMC GQ survey. Our response rate increased from 17 percent to 26.4 percent over the past week! We are trailing the national average of 41 percent, but we still have some time.
At the regional campus level, the Gonzaga response rate jumped by 14 percentage points (23.8 percent vs. 38.1 percent), followed by Idaho, by 13 percentage points (22.5 percent vs. 35 percent), Montana, by 11 percentage points (18.5 percent vs. 29.6 percent), Wyoming, by 4 percentage points (19 percent vs. 23.8 percent), and Seattle, by 7 percentage points (11.5 percent vs. 18.8 percent). There was no change in the Alaska response rate (5.6 percent).
This year, we are offering the following incentives for AAMC GQ completion.
Four $50 items you select from Amazon
Sixteen $25 items you select from Amazon
Three $50-value WWAMI gift packs
We will randomly draw students and if your name is picked, we will request from you the AAMC receipt of survey completion. Please keep a record of it! As said above, please note that students cannot be selected for both the AAMC GQ and End-of-Explore & Focus Phase survey.
Please note AAMC sends the survey link to your email (Contact GQ@aamc.org to request the link).
Thank you for your participation and helping the school achieve the desired response rate goal.
Here is your participation as of March 15: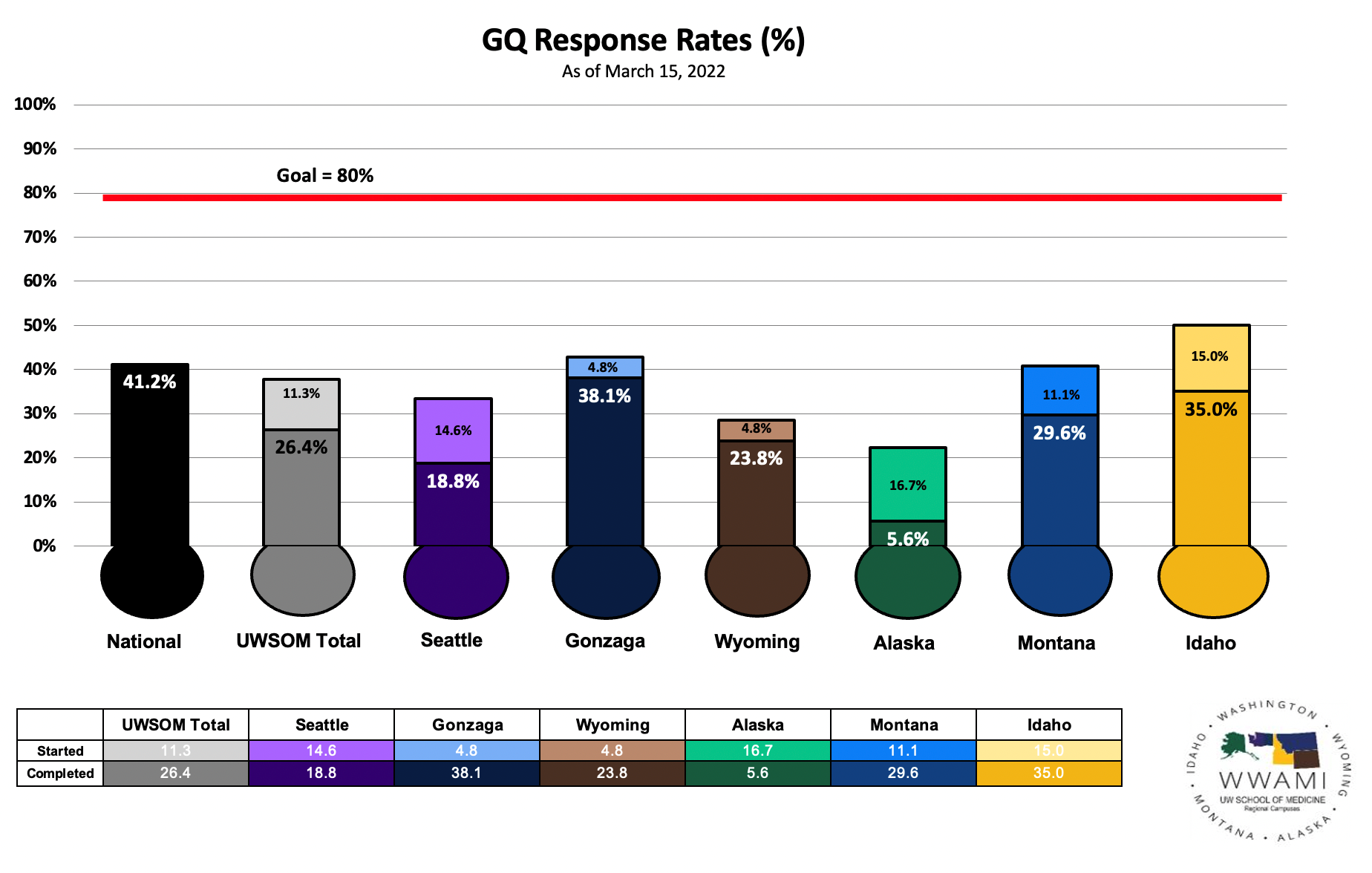 ---
Loan repayment webinar planned for March 29
Event: AAMC Loan Repayment Webinar for Graduating MS4s
Date: Tuesday, March 29, 2022
Time: 4 to 5:30 p.m. AK, 5 to 6:30 p.m. PT, 6 to 7:30 p.m. MT
Zoom: https://washington.zoom.us/j/91699288233
Recorded: Yes
This is the second loan repayment webinar hosted by the AAMC and SOM Financial Aid. The same information will be presented on March 29 as the February 17 webinar. You can watch the recording for February 17 here. We strongly encourage all students to attend the webinar live so you can ask Julie Fresne your questions. The webinar is required viewing before signing up for your SOM exit interview.
---
SOM Exit Interviews – Sign Up Now
Sign-ups are open for SOM exit interviews. These 20-minute appointments are strongly recommended for all graduating MS4s with more than $150,000 of debt.
Exit Interview Appointment Overview:
Instructions Prior to SOM exit interview:
Gather login information and set-up three accounts: (30 min)
2. Review Education Debt Management for Graduating Students booklet (free download) (15-30 min)
3. Upload loan data to Medloans Organizer and Calculator (15-30 min)
4. Attend or watch a recording of AAMC Loan Repayment Webinar (1.5 hours)
5. Complete page 1 of SOM exit interview worksheet (5 min)
You must bring the exit interview worksheet to your exit interview. If you are not prepared, you will need to reschedule.
---
In case you missed it:
Here is a link to the March 10, 2022 Weekly Student Newsletter information for MS4s.