Seeking your thoughts about medical student experiences with robotic surgery
If you are a medical student in your fourth year, this is your opportunity to impact medical student education by sharing perspectives on any experiences you have had with robotic surgery. Please take 10 minutes to complete this confidential, anonymous online survey for a chance to win up to $50 in Amazon gift cards.
For questions about the IRB-approved study, please contact Anna Fishbein, MS4 at Georgetown University, at AAF80@Georgetown.edu.
---
Learn what your surveys have been telling us about our school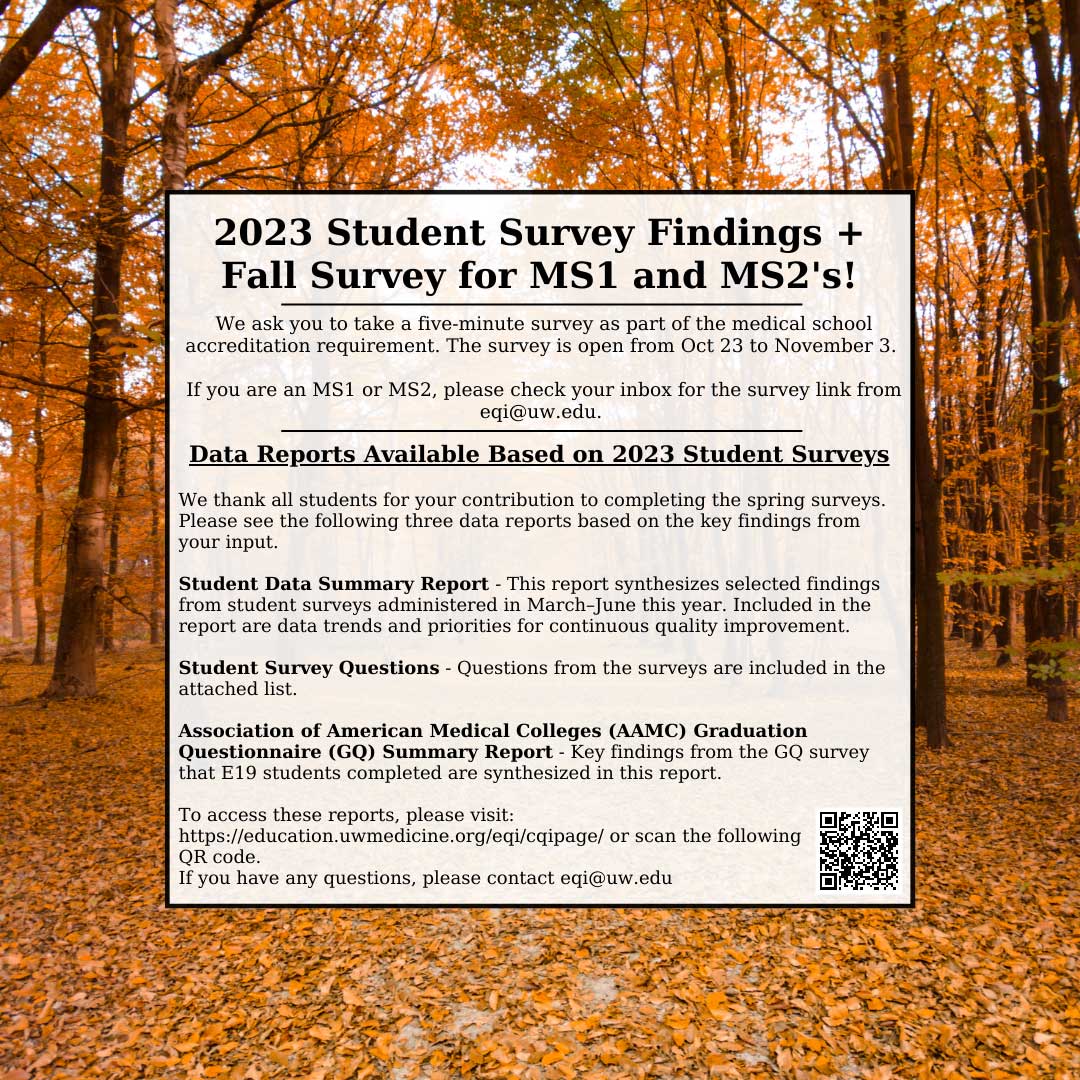 Here are three data reports that were prepared by the Educational Quality Improvement Unit based on student survey findings. You can find all this in one place on the EQI website.
2023 internal surveys administered to MS1 – MS4 in the previous academic year
Data Summary Report: This report synthesizes selected findings from student surveys administered March through June this year. Included in the report are data trends and priorities for continuous quality improvement.
Survey Question List: All questions from the surveys are included in the attached list.
2023 AAMC (Association of American Medical Colleges) Graduation Questionnaire (GQ)
GQ survey: Key findings from the GQ survey that E19 students completed are synthesized in the data dashboard.
"We hope these reports are helpful for you to see how the school is using your input towards continuously improving the quality of your education and meeting the accreditation compliance. We thank you so much for your time and candid input."
Please contact eqi@uw.edu if you have any questions or concerns.
---
Expanded MS4s graduating in 2025: Schedule your fourth-year Career Planning appointment
Please schedule a fourth-year Career Planning Appointment with your career advisors anytime from now through December 2023. Before your appointment, please carefully read the information and resources below and plan to spend a minimum of 90 minutes in preparation. 
If you have experienced any of the following challenges, please schedule your fourth-year Career Planning Appointment ASAP.
Foundations course fail(s)
Step 1 or Step 2CK fail. Low Step 1 or Step 2CK score, or have not taken Step 1 yet
Clerkship fail or clerkship exam fail
Two or more Passes in Patient Care Phase
Pass in a specialty of interest
Not completing Patient Care Phase in March/April
Expansion (specialty dependent)
In our meeting, we will discuss:
Your specialty interests and specialty prioritization for Explore & Focus rotations
Specialty decision-making strategies and timeline
Preliminary preparations for your residency application components
 Required steps prior to scheduling your fourth-year Career Planning Appointment (plan for 90 or more minutes of prep):
Read the Career Planning for 4th Year Guide and follow the instructions, including reviewing the slide deck at the top of the page to:
Understand the important components and timeframes to help you map out your E&F schedule using the Clinical Phase Planning Worksheet
Introduce you to the residency application process
Understand strategies for your residency application
Download and complete the Clinical Phase Planning Worksheet found on the Career Planning for 4th Year Guide
Schedule a 4th Year Career Planning Appointment (select this appointment type in the system)
Upload your worksheet to your meeting in CAS so it can be discussed when you come in. Appointments cannot be modified within 24 hours of your appointment time; email your worksheet to your career advisor if less than 24 hours before your appt.
For information on specialty decision-making, review the Choosing A Career content.
If you want to look further ahead, visit the Residency Application Timeline, and Residency Application Components on the Applying to Residency page.
Your preparation for your Fourth-year Career Planning Appointment with an advisor will help us make effective use of our time together. The purpose of the meeting is for you to feel clear in your goals and tasks for fourth-year planning and preparing for your residency application. We are here to support you! 
---
In case you missed it, here is the previous newsletter for MS4s.
Have a wonderful week!