Information for students in clinical clerkships during Summer 2023
This is for students taking clinical clerkships during Summer Quarter 2023, anytime between June 26 and Sept. 15, 2023.
Action required: Log in to MyUW to verify your registration for CONJ 699 for Summer Quarter 2023
Deadline: 3 p.m. AK, 4 p.m. PT and 5 p.m. MT on Thursday, June 22, 2024.
What's at stake:
I

f you are not registered but should be

: 

You will not be enrolled in courses for the Summer 2023 quarter, which begins on Monday, June 26. Without registering, you will not receive credit for the courses, they will not appear on your transcript, and you will not be on track to graduate.

 

If you are registered but should not be

: You will be charged for courses you do not attend and may receive a failing grade.
Here's why we're asking you to do this:
The school has registered students for Summer quarter clerkships with the UW Office of the University Registrar. If you are taking SOM clinical courses during the Summer quarter, it is your responsibility to verify that you are registered correctly for CONJ 699. To verify your registration, log in to MyUW and look for CONJ 699 on your schedule for Summer 2023. Follow any prompts that the University indicates.
 Let the school know immediately at somreg@uw.edu if you are not registered for this course, but should be, or if you are registered, but should not be.
 DO NOT adjust your CONJ 699 registration in MyUW – instead, contact the team at somreg@uw.edu.
---
Survey response rate grows to more than 60 percent – thank you!
Here is a message from Sara Kim, Ph.D., associate dean for Educational Quality Improvement:
The weekly survey response rate has grown by 7 percentage points (62 percent vs. 55 percent)!  Please see the graph below. If you haven't filled out the survey, may I encourage you to join your colleagues by contributing your voice?
We continue to welcome input by Montana students whose cohort has already reached 82 percent, If you haven't filled out the survey, here is some data to help spark your interest. If we set the next goal at 70 percent participation, it will take 15 percentage points of growth from Seattle, 10 percentage points growth from Spokane, 5 percentage points growth from Wyoming, 17 percentage points from Alaska, and merely 2 percentage points from Idaho students to reach this milestone. Thank you all for your time.
The customized survey link is sent to you from eqi@uw.edu every Tuesday afternoon and those continuing the survey can pick up from where you left off when you click on the link.
Here are the incentives we are offering through a raffle at the end of the survey:
1 Amazon Kindle ($100)

 

2 Amazon Fire Tablets ($60)

 

2 Portable Chargers ($50)

 

1 pair of Wireless Earbuds ($50)

 

3 Portable Stanley Adventure Travel Tumblers ($30)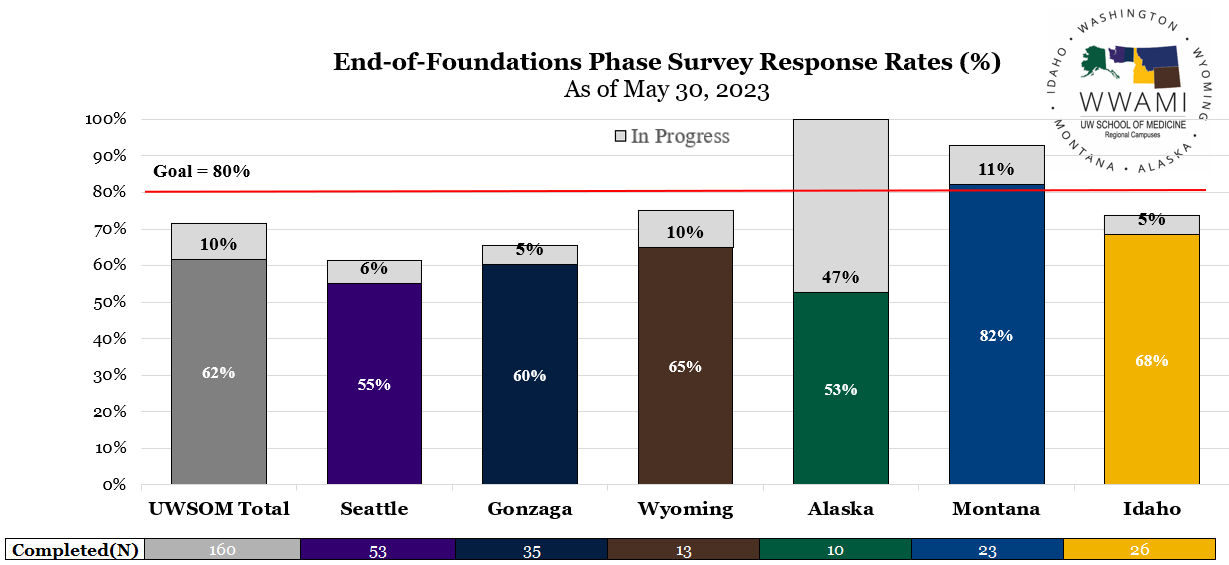 ---
---
Career Advising Student Advisory Board Tip of the Month 
While on rotations, try to secure at least one person who can write a letter for your residency application. If an attending offers to write you a letter in the future, take them up on it! If they don't offer one naturally, but you connect with them and do well on the rotation, ask if they feel they can write you a strong letter of rec. Away rotation applications also often require letters, so stay in touch with these letter writers! Here's some more info from Career Advising on letters of recommendation.  
Reviewed by Career Advising Student Advisory BIPOC board member L'Oreal Kennedy. Originally written by BIPOC alum Shanelle Briggs.
---
In case you missed it, here is a link to the previous newsletter for MS2s.
Have a terrific week!