Marigold the Survey Chihuahua is wondering: Have you taken the survey?
Here is a message from Sara Kim, Ph.D., associate dean for Educational Quality Improvement:
Your colleagues helped raise the response rate to 60 percent, and many of you also started the survey. Looking at the graph below, a number of students across all campuses completed the survey: Seattle, 54 percent (vs.50 percent), Spokane, 59 percent (vs. 50 percent), Wyoming, 65 percent (vs. 60 percent), Alaska, 53 percent (vs. 47 percent), Montana, 79 percent (vs. 75 percent), and Idaho, 66 percent (vs. 61 percent).
We are deeply aware you are trying to tackle the survey as you are navigating the busy clinical training. We will keep the survey open till June 9 in the hope of benefiting from your voices. Your participation will make a difference for the school's accreditation status report.
Here are the incentives we are offering through a raffle at the end of the survey:
1 Amazon Kindle ($100)

 

2 Amazon Fire Tablets ($60)

 

2 Portable Chargers ($50)

 

1 pair of Wireless Earbuds ($50)

 

3 Portable Stanley Adventure Travel Tumblers ($30)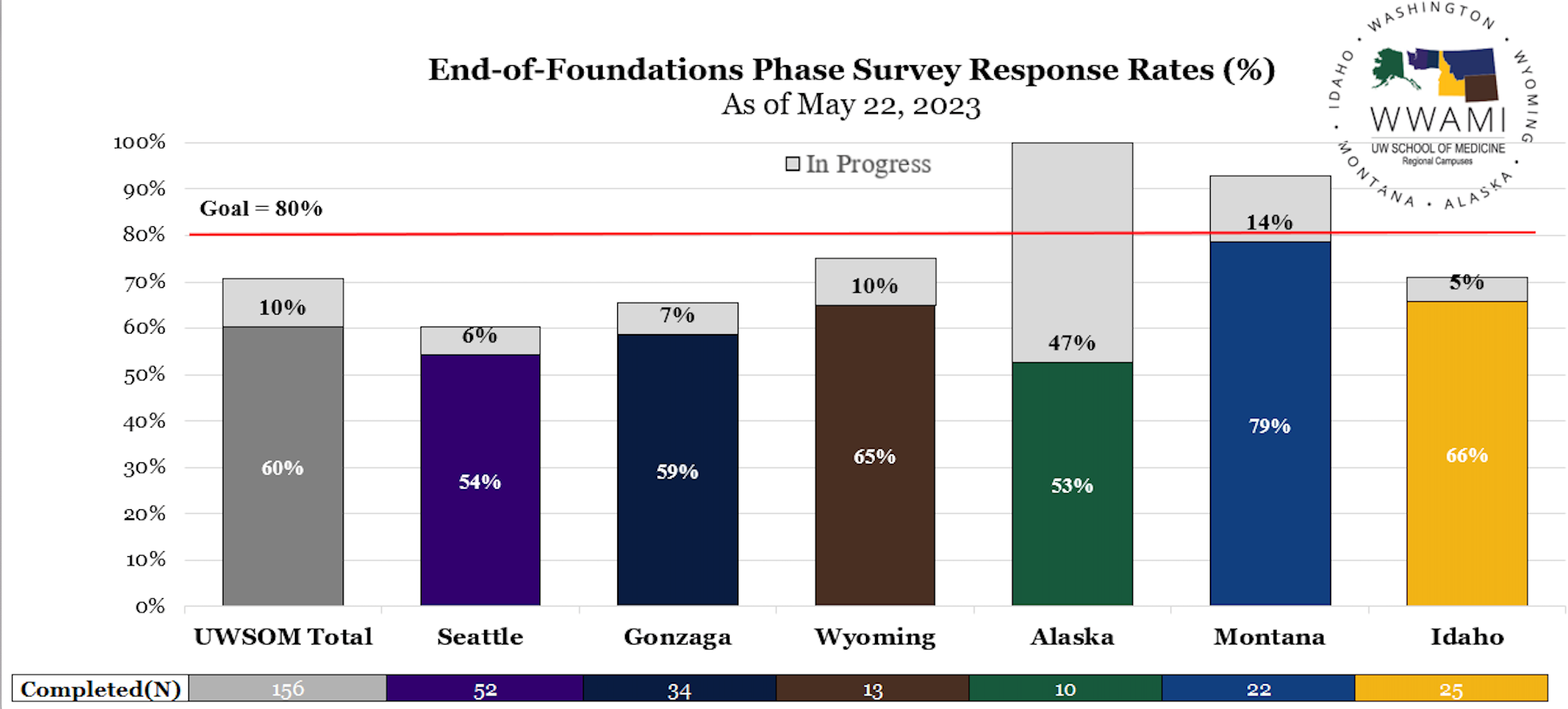 ---
Career Advising Student Advisory Board Tip of the Month 
We hope you are enjoying the transition from Foundations to Patient Care Phase! You can always ask your "big doc" for tips on these rotations, as we have done them all already. Make sure you read the web page for each rotation and keep grading policies in mind. Use those study skills from MS2 to study for the NBME shelf exams! 
Reviewed by Career Advising Student Advisory BIPOC board member L'Oreal Kennedy. Originally written by BIPOC alum Shanelle Briggs.
---
In case you missed it, here is a link to the previous newsletter for MS2s.
Have a terrific week!