Discounts available for study resources
Here's an update from Academic Support about study resources:
We partner with the following third-party companies to provide you with discounts. While UWSOM does not specifically endorse these companies, we are aware that they offer valuable resources that many of our students have used and currently use and hope that our efforts can provide a small fraction of financial relief.
Please note the expiration date on each offer. Once that offer has passed, we will not be able to extend the discount.
AMBOSS: Amboss is a learning resource that features articles, videos, and an extensive question bank.
Sketchy: Sketchy is a research-proven visual learning platform that helps students and professionals effortlessly learn and recall information by taking advantage of art, story, and the method of loci.
Pixorize: Pixorize makes visual mnemonics covering biochemistry, immunology, pharmacology, and more for the USMLE exams.
Pathoma: Pathoma is a website devoted to covering the in-depth pathology text of Dr. Husain Sattar.
Online Med Ed: Provides a learning platform focusing on understanding and mastering the fundamentals. Offers pre-clinical and clinical resources.
These discount codes can also be found on our Academic Support Resources website.
If you have questions or concerns regarding any of these resources, please contact the respective customer service emails listed above.
---
 ICYMI: Gold Humanism Honor Society election results
The UW Chapter of Gold Humanism Honor Society (GHHS) held its election. Students were selected using a process that incorporates peer nominations, information about their service efforts and self-designated meaningful experiences, in addition to two essays. Election to this honor society occurs once per year and students are eligible once during their medical school training, though they are eligible to be elected throughout their careers as resident or faculty chapter members.
Here are the newly selected GHHS members who have permitted us to share this news, and join us in congratulating them!
Ali Alderson                      Taylor Kennedy
Sarah Anderson               Sumner Lawson
Carly Baxter                      Vicky Le
Jacob Benson                   Emma Linde
Daniel Brewer                  Kathryne Mitchell
Brian Cedeno                   Nicki Mostofi
Leah Chen                         Ezie Nguyen
Rory Cole                           Mariah Oakes
Brenda Fleshman             Sudiptho Paul
Kevin Glover                     Ana Sandoval Zazueta
Luis Gomez-Castillo        Morgan Shaver
Madeleine Isler                Claire Vietri
L'Oreal Kennedy              Colby Weil-Lonigan
---
Complete: Specialty & Residency Planning Survey for Match 2024, due May 14
MS3s and Expanded MS4s: Today the Career Advising team asks you to complete the first in a series of short, required surveys that are essential to the planning and advising process for residency application and Match. The information you provide helps your Career Advisor, in collaboration with your Specialty Career Advisor(s), know how best to support you in your specialty planning and residency application strategies.  We will continue to follow up with you until we receive your response.
At the start of Explore & Focus, many students are undecided on their specialty and this is normal. The role of your Spring and early Summer E&F rotations is to support your specialty decision-making process and help you prepare a strong residency application.
Linh, Sarah and Tonja in Career Advising are here to support you. Please don't hesitate to reach out to us.
Appointments: https://uwsom-careeradv.12twenty.com/
Office Hours via Zoom: Monday through Thursday, hourlong starting at 11 a.m. AK, noon PT, 1 p.m. MT: https://washington.zoom.us/j/761975716
---
Reminder of the survey – and a chance to win prizes!
Here is a message from Sara Kim, Ph.D., associate dean for Educational Quality Improvement:
I am reaching out to you with the latest response rates on the End-of-Patient Care survey. Your peers helped raise the rate by 8 percentage points over the past week and we now stand at 49 percent participation. As you can see in the graph below, if everyone who started the survey completed it, we will reach 59 percent. And looking at the regional breakdown in the graph below, each campus rate would exceed the 50% percent mark, with Wyoming, Alaska, and Montana approaching 80 percent.
 For those who haven't had a chance to start the survey, please know every single data point counts and every single comment you enter will be reviewed by me and my excellent team members. My promise is to share back a two-page summary of the key findings and the school's actions.
Thank you for your help. The customized survey link is emailed to you by eqi@uw.edu every Tuesday afternoon.
Here are the incentives we are offering through a raffle at the end of the survey period in early June:
2 Amazon Fire Tablets ($60)

 

2 Portable Chargers ($50)

 

1 pair of Wireless Earbuds ($50)

 

3 Portable Stanley Adventure Travel Tumblers ($30)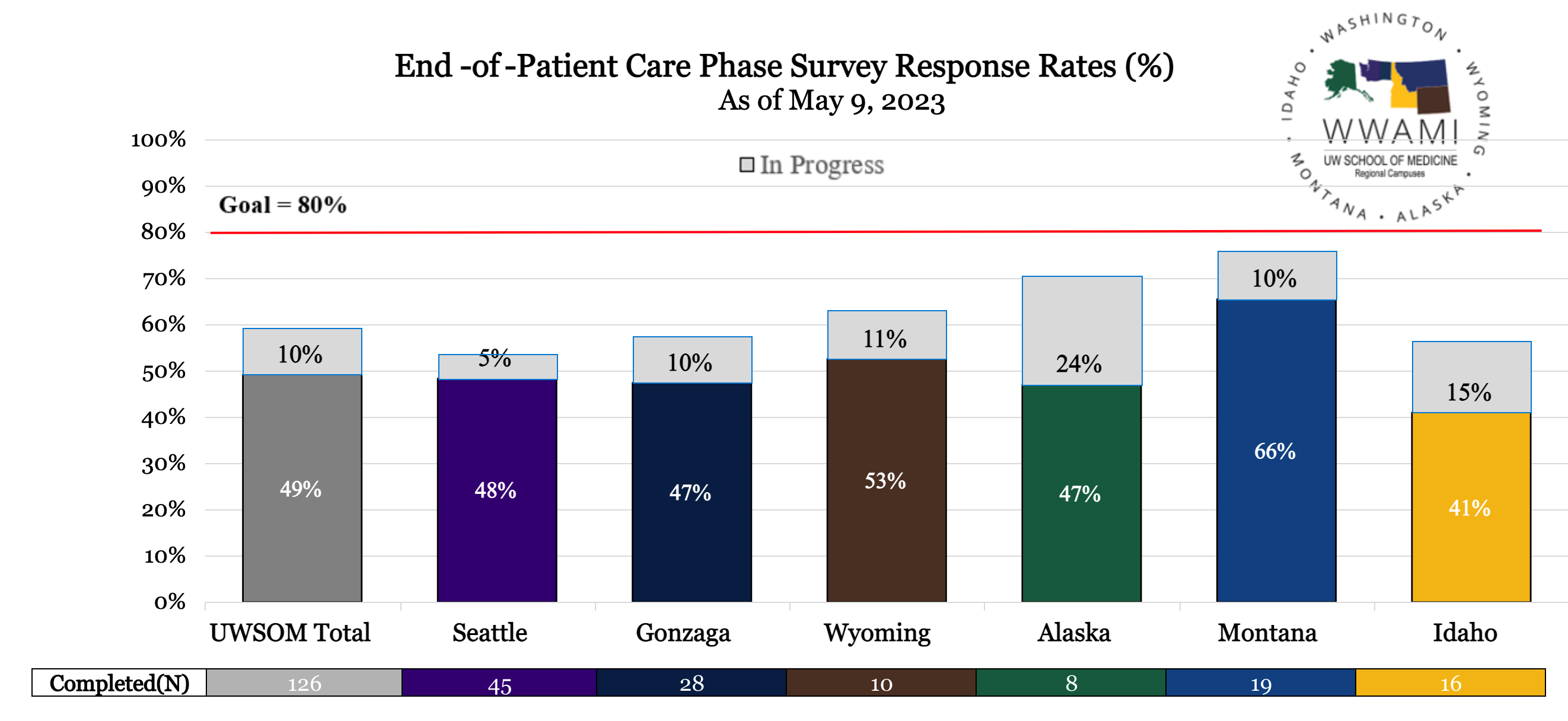 ---
---
Career Advising Student Advisory Board – Tip of the Month
Many of you are finishing Patient Care Phase. After Step 2, many of you will do a rotation in the field you wish to enter. Now is the time to contact your specialty career advisor(s), if you are not already sure you are on their advising list. Get on their radar as the new application cycle begins (e.g., application strategies based upon their assessment of your competitiveness).
Reviewed by Career Advising Student Advisory BIPOC board member L'Oreal Kennedy. Originally written by BIPOC alum Shanelle Briggs.