Gold Humanism Honor Society election results
Last week, the UW Chapter of Gold Humanism Honor Society (GHHS) held its election. Students were selected using a process that incorporates peer nominations, information about their service efforts and self-designated meaningful experiences, in addition to two essays. Election to this honor society occurs once per year and students are eligible once during their medical school training, though they are eligible to be elected throughout their careers as resident or faculty chapter members.
Here are the newly selected GHHS members who have permitted us to share this news, and join us in congratulating them!
Ali Alderson                      Taylor Kennedy
Sarah Anderson               Sumner Lawson
Carly Baxter                      Vicky Le
Jacob Benson                   Emma Linde
Daniel Brewer                  Kathryne Mitchell
Brian Cedeno                   Nicki Mostofi
Leah Chen                         Ezie Nguyen
Rory Cole                           Mariah Oakes
Brenda Fleshman             Sudiptho Paul
Kevin Glover                     Ana Sandoval Zazueta
Luis Gomez-Castillo        Morgan Shaver
Madeleine Isler                Claire Vietri
L'Oreal Kennedy              Colby Weil-Lonigan
---
Complete: Specialty & Residency Planning Survey for Match 2024, due May 14
MS3s and Expanded MS4s: Today the Career Advising team asks you to complete the first in a series of short, required surveys that are essential to the planning and advising process for residency application and Match. The information you provide helps your Career Advisor, in collaboration with your Specialty Career Advisor(s), know how best to support you in your specialty planning and residency application strategies.  We will follow up with you until we receive your response.
At the start of Explore & Focus, many students are undecided on their specialty and this is normal. The role of your Spring and early Summer E&F rotations is to support your specialty decision-making process and help you prepare a strong residency application.
Linh, Sarah and Tonja in Career Advising are here to support you. Please don't hesitate to reach out to us.
Appointments: https://uwsom-careeradv.12twenty.com/
Office Hours via Zoom,  Monday through Thursday, hourlong starting at 11 a.m. AK, noon PT, 1 p.m. MT: https://washington.zoom.us/j/761975716
---
If you haven't taken the survey yet, please do!
Here is a message from Sara Kim, Ph.D., associate dean for Educational Quality Improvement:
As of this week, I will be sharing the survey updates with those you haven't started the survey or haven't had a chance to complete it. You will receive an email from eqi@uw.edu with a customized survey link so it's within easy reach.
Please see the graph below that shows a 41 percent response rate at the school level. I thank the students who helped with the 4 percentage point increase. The students who took the time to complete the survey are from Wyoming (increase of 10 percentage points from last week), Alaska (up 6), Spokane (up 5), Seattle (up 4), Montana (up 4) and Idaho (up 3).
In the graphic we are also sharing the percentage of students who started but haven't had a chance to complete the survey. If all pending surveys are completed, the school's rate will exceed the 50 percent mark.
With your high participation in the survey, we have a real chance of improving the accreditation status of the four outstanding citations. That would be a real gain for all of us. Please see the incentives that will be distributed through raffles after the survey closes:
These are the incentives we are offering this year, a chance to win:
2 Amazon Fire Tablets ($60)

 

2 Portable Chargers ($50)

 

1 pair of Wireless Earbuds ($50)

 

3 Portable Stanley Adventure Travel Tumblers ($30)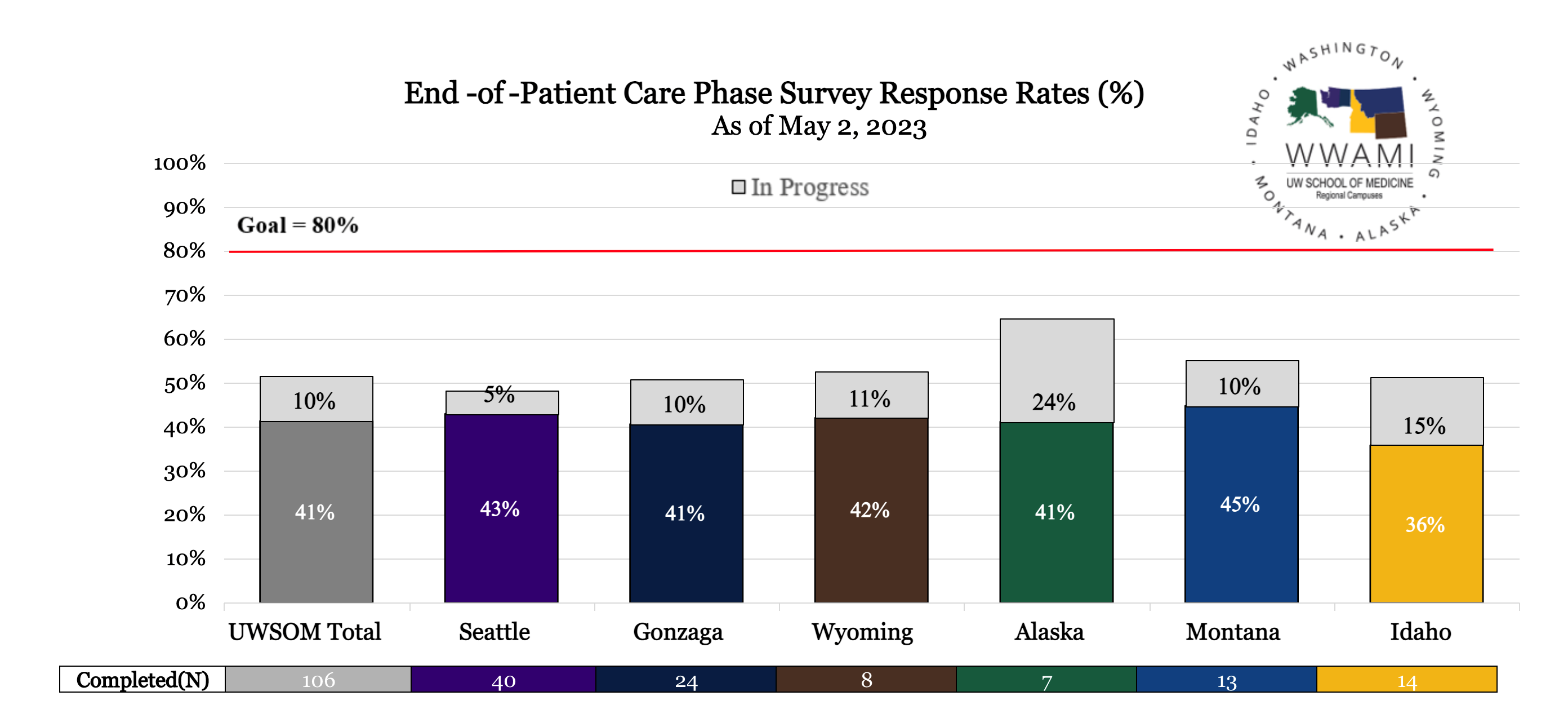 ---
---
Career Advising Student Advisory Board – Tip of the Month
Many of you are finishing Patient Care Phase. After Step 2, many of you will do a rotation in the field you wish to enter. Now is the time to Contact your specialty career advisor(s), if you are not already sure you are on their advising list. Meet or check in with your specialty career advisor. Get on their radar as the new application cycle begins (e.g., application strategies based upon their assessment of your competitiveness).
Reviewed by Career Advising Student Advisory BIPOC board member L'Oreal Kennedy. Originally written by BIPOC alum Shanelle Briggs.