Marigold the chihuahua pleads, please take your surveys!
Marigold thanks you if you've already done so.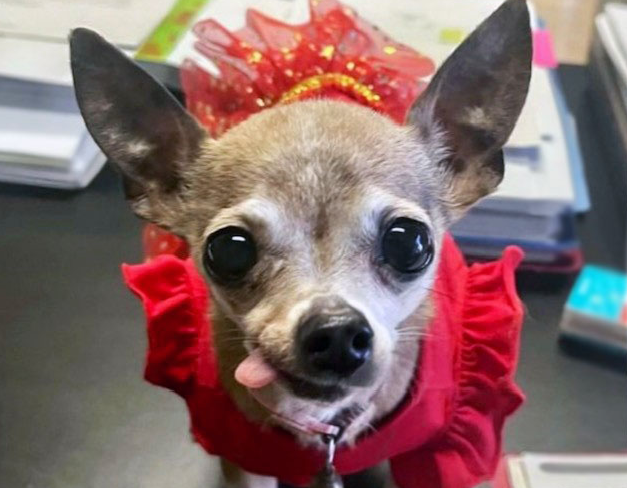 ---
Upcoming AAMC webinars about personal finance offer tips about life after medical school
Repayment Strategies for 2023 Graduating Medical School Students
Friday, April 28, 2023, at 11 a.m. AK, noon PT and 1 p.m. MT
This webinar, hosted by AAMC repayment experts, will help graduating students get answers to often-asked student loan questions. Presenters will discuss repayment plans, postponing payments, refinancing and consolidation. They will also review the Public Service Loan Forgiveness (PSLF) program and other loan forgiveness and loan repayment assistance resources.
Register to attend the webinar.
Preparing for Your Financial Life After Medical School
Tuesday, May 9, 2023, at 10 a.m. AK, 11 a.m. PT and noon MT
Join Eric Shappell, M.D., and the AAMC FIRST Team to hear advice on how to successfully navigate your financial life as you transition out of medical school – possibly with student loan debt – and into a training position with limited income. The advice shared, and questions answered, during this webinar will help you prepare for financial decisions that will impact your life moving forward. Discussions will include budgeting, insurance, saving and investing, and cost of living.
Register to attend the webinar.
---
If you haven't already, please support future students by completing the TexasSTAR survey by Friday, April 21
One out of three students have completed the survey. Please complete the survey ASAP to boost our response rate! Future students will thank you.
As you may recall from last fall, the TexasSTAR is a national resource used to demystify the residency application process. This tool allows you to review specialties and programs, and to compare your profile against students who received interviews and matched to programs in your specialty. We'd love for all graduating students to complete the survey but especially if you used the TexasSTAR while researching programs. The most students who submit data, the more useful the information will be to future applicants.
All graduating MS4s across the country are invited to submit data about their residency application experience in order to build out the resource for future classes. The survey is delivered in REDCap and is anonymous. If you applied to more than one specialty, you'll need to submit a response for each specialty.
Please complete the survey by April 21.
---
Please schedule your Exit Counseling appointment if you're graduating
Please remember to schedule your exit counseling appointment with the Financial Aid office. You can schedule the appointment here: https://uwsom-studentaffairs.as.me/schedule.php. Choose "Financial Aid" category / MS4 Individual Exit Interview (Graduating Students)."
The U.S. Department of Education requires all students to complete federal Exit Counseling when they leave school or drop below half-time enrollment. This is distinct and separate from UWSOM individual exit interviews and one-on-one advising appointments.
UWSOM Financial Aid counselors are available to provide 20-minute exit interviews with graduating students. We strongly encourage all students with more than $150,000 of debt to meet with a counselor. All appointments are via Zoom.
---
Update for expanded MS4s who will be entering the 2024 Match
Watch your inbox on Friday afternoon, April 21, 2023, for the first Residency Planning Season newsletter from Career Advising. The bi-weekly Residency Planning Season newsletter series is your guide as you navigate each step in the application process.
The newsletter will be sent biweekly between now and late September 2023, and includes important information from Student Affairs and Career Advising about residency application requirements, deadlines, and tips for each stage of the application cycle.
Past students told us they often felt stressed and overwhelmed during application season – but when they read the Residency Planning Season newsletters, they felt reassured as they knew they wouldn't be missing anything important. By reading each issue, you will set yourself up to successfully navigate all parts of the residency application process and put forward the strongest application you can.
88 percent of our graduating MS4s reported they were highly satisfied or satisfied with the Residency Planning Season biweekly newsletter. Said a Matched MS4: "The biweekly newsletter leading me through important application steps and deadlines was SUPER helpful!"
You have a lot of resources and people who will be supporting you throughout this process! The newsletter you receive April 21 will introduce your support team and provide a general overview of the residency planning season.
---
If your financial aid is on hold
This message applies to MS2s, MS3s and MS4s whose aid is on hold. You will know whether your aid is on hold because there will be a message in your MyUW for 2022-23. If you don't have a hold on aid, then of course this brief does not apply to you.
If you do see a hold, then your aid is on hold because your clerkships begin after the start of Spring quarter. Financial Aid has a list of these students are and will automatically release the hold a week before you start. You will also not get a late fee as Financial Aid sends a list of all medical students who start late to Student Fiscal Services (SFS).
If you need funds for living expenses now, you can always do a Short-Term Loan online on your MyUW.  Once completed, please email Financial Aid, and we will waive the fee for you.
For 2023-2024: If you need financial aid for Summer quarter, please complete the Summer Aid Application available on your MyUW. You will first need to toggle to 2023-2024 at the top of the page and then the application will appear on the left-hand side.  You will want to select "full term" for the term you are attending.
---
Latest update about the AAMC Graduation Questionnaire and Explore & Focus Phase surveys
This just in: Please don't try to complete a survey Friday night, April 21, as the software for the survey is being updated. The four-hour downtime starts at 6 p.m. AK, 7 p.m. PT and 8 p.m. MT.
This is a message from Sara Kim, Ph.D., associate dean for Educational Quality Improvement:  Here are updates about the AAMC Graduation Questionnaire and Explore & Focus Phase survey response rates. Thank you for continuing to complete these surveys. Your input will help us engage in substantial continuous quality improvement initiatives, particularly in areas where we have accreditation citations.
Thank you everyone!
AAMC GQ Update: Summary Data & Incentives
This week's response rate of 54.4 percent represents little change from last week. The regional breakdown data were not shared by the AAMC office this week.
Incentives for AAMC GQ (please save the AAMC receipt): 1 Amazon Kindle ($100 worth); 2 Amazon Fire Tablets ($60); 3 Portable Charger ($50); 2 Wireless Earbuds ($50); 1 Portable Bluetooth Speaker ($20); 1 USB Charging Station ($20)
Explore & Focus Phase: Summary Data & Incentives
A huge thanks to 17 of you who completed the survey over the past week. I see the surveys coming in late at night and thank you for taking the time out of your busy schedule.
We are now at 32 percent (up 6 percentage points), which sets a positive trend. When looking at the data by your Foundations sites, Wyoming jumped by 13 percentage points, reaching 38 percent. Montana continues to lead with a 10 percentage point jump (48 percent vs. 38 percent), followed by Idaho (up 8 percentage points, 37 percent vs. 29 percent), Spokane (up 7 percentage points, 29 percent vs. 22 percent), and Seattle (up 5 percentage points, 27 percent vs. 22 percent). Alaska's response rate remained the same at 29 percent.
An email with a customized survey link is sent to your email by eqi@uw.edu.
Incentives for Explore & Focus Phase Survey:
1 Amazon Kindle ($100 worth)
2 Amazon Fire Tablets ($60)
2 Portable Charger ($50)
1 pair of Wireless Earbuds ($50)
3 Portable Bluetooth Speakers ($20)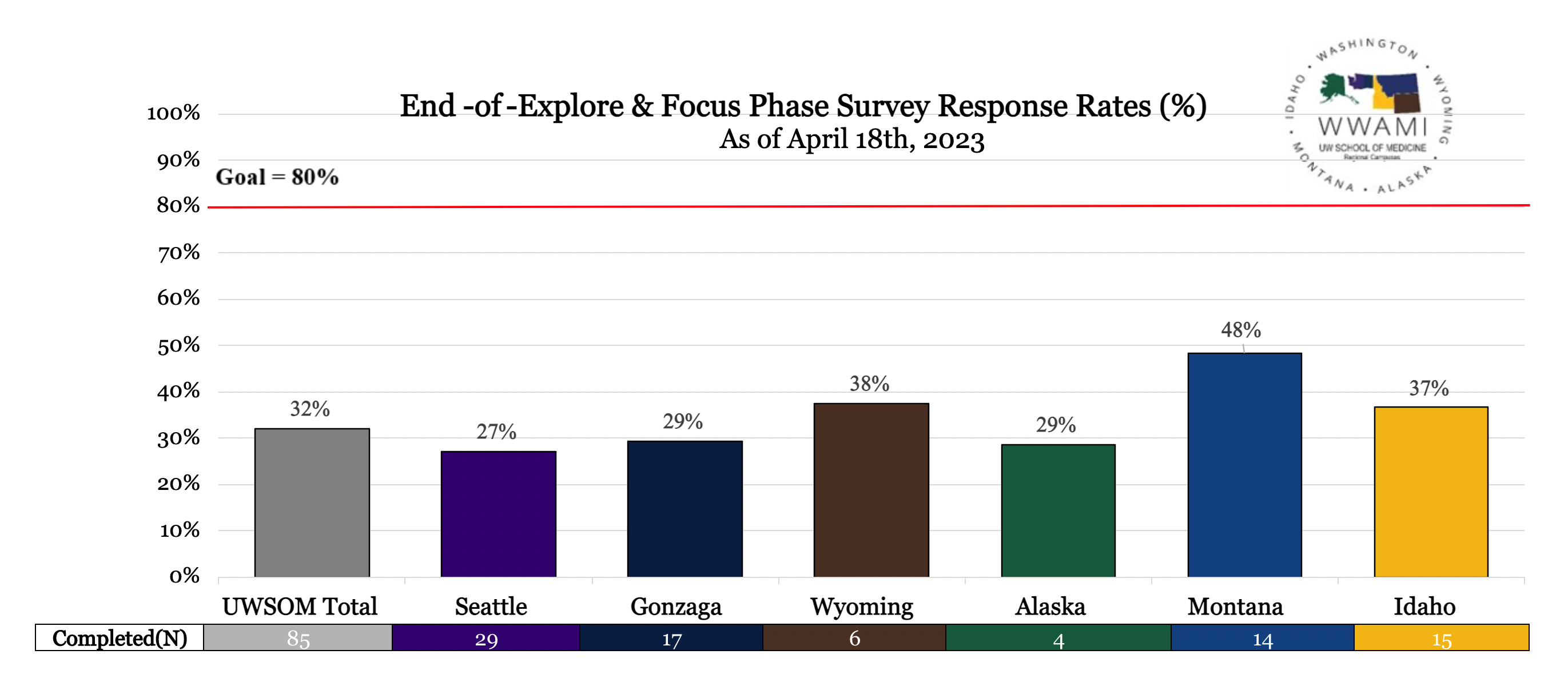 ---
In case you missed it, here is the previous newsletter for MS4s.
Have a terrific week!