Update for students who will be entering the 2024 Match
Watch your inbox on Friday afternoon, April 21, 2023, for the first Residency Planning Season newsletter from Career Advising. The bi-weekly Residency Planning Season newsletter series is your guide as you navigate each step in the application process.
The newsletter will be sent biweekly between now and late September 2023, and includes important information from Student Affairs and Career Advising about residency application requirements, deadlines, and tips for each stage of the application cycle.
Past students told us they often felt stressed and overwhelmed during application season – but when they read the Residency Planning Season newsletters, they felt reassured as they knew they wouldn't be missing anything important. By reading each issue you will set yourself up to successfully navigate all parts of the residency application process and put forward the strongest application you can.
88 percent of our graduating MS4s reported they were highly satisfied or satisfied with the Residency Planning Season biweekly newsletter.  Said a Matched MS4: "The biweekly newsletter leading me through important application steps and deadlines was SUPER helpful!"
You have a lot of resources and people who will be supporting you throughout this process! The newsletter you'll receive this Friday will introduce your support team and provide a general overview of the residency planning season.
---
If your financial aid is on hold
This message applies to MS2s, MS3s and MS4s whose aid is on hold. You will know whether your aid is on hold because there will be a message in your MyUW for 2022-23. If you don't have a hold on aid, then of course this brief does not apply to you.
If you do see a hold, then your aid is on hold because your clerkships begin after the start of Spring quarter. Financial Aid has a list of these students are and will automatically release the hold a week before you start. You will also not get a late fee as Financial Aid sends a list of all medical students who start late to Student Fiscal Services (SFS).
If you need funds for living expenses now, you can always do a Short-Term Loan online on your MyUW.  Once completed, please email Financial Aid, and we will waive the fee for you.
For 2023-2024: If you need financial aid for Summer quarter, please complete the Summer Aid Application available on your MyUW. You will first need to toggle to 2023-2024 at the top of the page and then the application will appear on the left-hand side.  You will want to select "full term" for the term you are attending.
---
Marigold the chihuahua pleads: Please take your survey if you haven't already done so
             
Here is a message from Sara Kim, Ph.D., associate dean for Educational Quality Improvement: My big thanks to 20 students who took the time to complete the survey during the past week. I see your completed surveys come through late at night and am heartened by the time you take to respond to our request.
We are now at 33 percent (84 students, an 8 percentage point jump. This is very good progress in three weeks since the survey launch. If 20 students completed the survey every week, we would be well under way to meet our 80 percent goal for a total of 205 students.
Looking at the data by your Foundations sites, Wyoming's rate jumped by 15 percentage points (26 percent vs. 11 percent), followed by Montana (up 10 percentage points, 41 percent vs. 31 percent), Spokane (up 9 percentage points, 31 percent vs. 22 percent), Seattle (up 7 percentage points, 33 percent vs. 26 percent), Alaska (up 5 percentage points, 29 percent vs. 24 percent), and Idaho (up 2 percent, 33 percent vs. 31%).
Please look for a customized email link in an email from eqi@uw.edu.
This just in: Please don't try to complete a survey Friday night, April 21, as the software for the survey is being updated. The four-hour downtime starts at 6 p.m. AK, 7 p.m. PT and 8 p.m. MT.
These are the incentives we are offering this year.
2 Amazon Fire Tablets ($60)

 

2 Portable Chargers ($50)

 

1 pair of Wireless Earbuds ($50)

 

3 Portable Stanley Adventure Travel Tumblers ($30)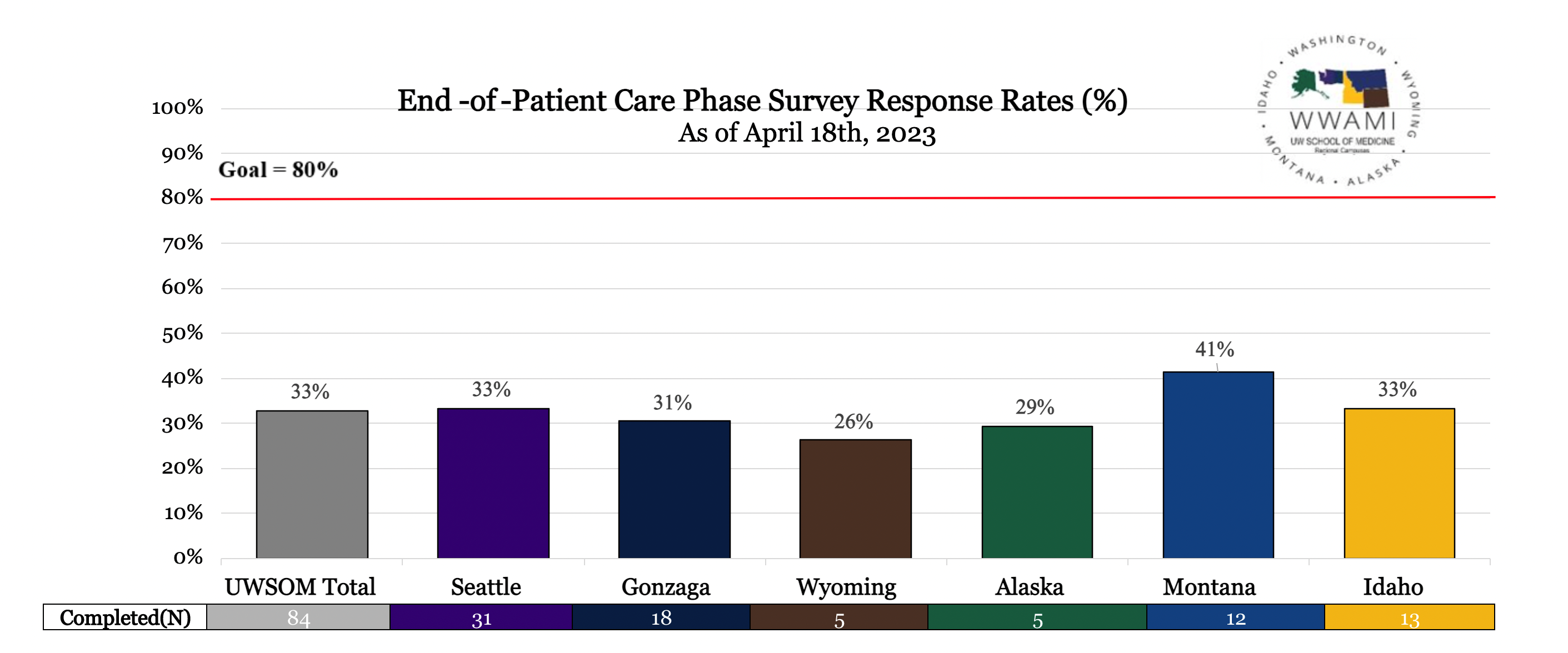 ---
Career Advising Student Advisory Board – Tip of the Month
 The away rotation application has opened! If you're planning to apply:
Don't

forget to plan ahead for a letter of recommendation. Ask your specialty advisor for advice on the best person to get a letter from.

 

Now is 

a good time

to polish up your CV!  Need help? Check out our CV page for videos, templates, and to register for a CV Group Review Session: 

https://education.uwmedicine.org/career-advising/resources/cv/

 

 
Reviewed by Career Advising Student Advisory BIPOC board member L'Oreal Kennedy. Originally written by BIPOC alum Shanelle Briggs.