For Students Working on Away Rotation Applications
We know this is a stressful time and that the application components can feel overwhelming. Don't despair! You have a robust team of people to support you who have worked with many students in the past to attain excellent Away rotations. It is a step-by-step process. 
Some reminders for you: 
Review the

VSLO and Away Rotation Session Recording and Slides

and the application advice from Career Advising. The recording and slides highlight the steps in the process and the offices that can help you with each part of your application and your documents.

 

Check in with your Specialty Career Advisor to get their input on programs to apply to that are a good fit with your training goals and your level of competitiveness for your specialty.

 

Come to Career Advising

Office Hours via Zoom, M-Th, 11am-12 p.m. AK, 12-1 p.m. PT, 1-2 p.m. MT,

for advice on your Bio Section and Personal Statement/Letter of Intent.

 

Attend a CV Review group session.

CV template and session sign up

. 

 

Remember that the

counseling team

is here to support you.

 
---

Update #2:

End

–

of

–

Patient Care Phase Survey 

                                       
from Sara Kim, PhD, Associate Dean for Educational Quality Improvement
Dear MS3 Community, 
I thank each of you who helped raise the survey response rate to 25% – an increase of 7% over the past week. I am deeply grateful that the response rates consistently increased when examining the data cross your Foundations site affiliations. Both Montana and Idaho are at 31%, with Montana rate jumping by 10% and Idaho by 5%. Seattle response rate is at 26% (+8%) followed by Alaska recording the largest weekly increase (+18%, 24%). Gonzaga is at 22% (+3%); there was no change in Wyoming. 
You should have seen an email from eqi@uw.edu that contains a customized survey link. We thank you for helping us reach our goal of an 80% response rate. 
You'll find the incentives below the graph.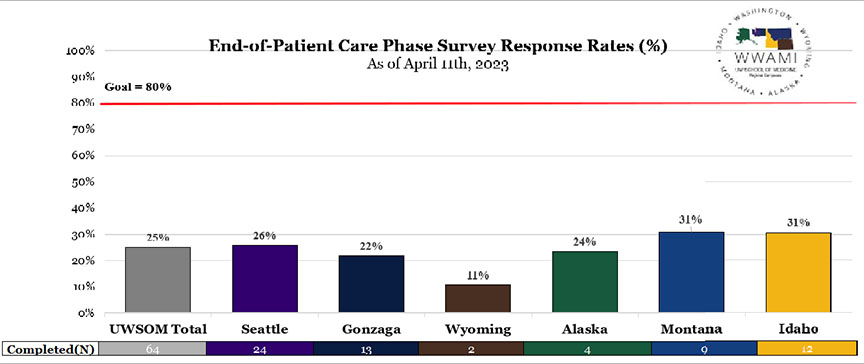 Incentives:
1 Amazon Kindle ($100)

 

2 Amazon Fire Tablets ($60)

 

2 Portable Chargers ($50)

 

1 Wireless Earbuds ($50)

 

3 Portable Stanley Adventure Travel Tumblers ($30)

 
We appreciate your time and look forward to sharing an update next week. 
---
Spring Junior AOA Election Results
This past Monday evening, the UW Chapter of AOA held their spring election for Junior AOA members. Students were selected using a process that incorporates clerkship grades, feedback from peers, college mentors, and clerkship directors in addition to lived experience statements, and information about their service and scholarly efforts. The students' names were de-identified during the election process. 
The top 25% of the class is eligible to be considered for AOA. The chapter can elect up to 20% of the class in total, and in the spring, the chapter elects a small portion of the overall total. The remainder will be elected as fourth year students in the fall, prior to the application due date for residency programs.  
 Below, please see the list of newly elected junior Alpha Omega Alpha members who have permitted us to share this news and join us in congratulating them! 
Alexis Baranoff
Isabelle Crary
Dominique DeGraff
Sophia DeKlotz
Shannon Gordon
Allison Greaney
L'Oreal Kennedy
Tudi Le
Allen Roberts
Matthew Sievers
Natalie Smith
Isaac Stafstrom
Kate Turk
Shera Wanner
---
Career Advising Student Advisory Board – Tip of the Month
 The away rotation application has opened! If you're planning to apply:
Don't

forget to plan ahead for a letter of recommendation. Ask your specialty advisor for advice on the best person to get a letter from.

 

Now is 

a good time

to polish up your CV!  Need help? Check out our CV page for videos, templates, and to register for a CV Group Review Session: 

https://education.uwmedicine.org/career-advising/resources/cv/

 

 
Reviewed by Career Advising Student Advisory BIPOC board member L'Oreal Kennedy. Originally written by BIPOC alum Shanelle Briggs.