Good luck tomorrow!
For those graduating students participating in Match Day, we wish you the very best. Ceremonies will be held in Anchorage, Boise, Bozeman, Seattle and Spokane. At right, you can see a glimpse of preparations in Seattle.
If you'd like to share on social – or see what others are sharing – that's of course up to you. If you do share, we encourage you to use or watch for the hashtag #WWAMIMatch. The official nationwide event hashtag is #Match2023. While we help manage social channels and will keep a look out, if you'd like to share a photo or video with other students, please send it to us for the newsletter.
---
AAMC webinar shares how to file taxes as a medical student or upcoming resident
Filing taxes is important during and after medical school. "Filing Taxes as a Medical Student or Upcoming Resident," will touch on topics and proper procedures you should adhere to when deciding if you should file, when to file and what documents or information you need to do so. The presenters will discuss the implications that filing taxes may have when looking at student loan repayment options.
When: Friday, March 31, 2023, at 10 a.m. AK, 11 a.m. PT, noon MT.
Register to attend the webinar.
---
Latest update about the GQ Survey
This is a message from Sara Kim, Ph.D., associate dean for Educational Quality Improvement: I am excited to share this week's update. For the first time since tracking the Association of American Medical Colleges (AAMC) GQ data in 2015, we saw that you contributed to a higher response rate compared to the national rate within a one-month period since the survey launch: UWSOM: 40 percent vs. 39.5 percent nationally.  Additionally, the response rates across all campuses increased (Please note the graph below).
Let me begin with a resounding accolade to Montana students. You have nearly reached the school's goal of 80 percent response rate with an increase of 18 percentage points over the past week (79 vs. 61 percent last week)!  This is followed by a 14 percentage point jump in Alaska students' response rate (50 vs. 36 percent).
And the story continues. Wyoming students increased the rate by 6 percentage points (56 vs. 50 percent), followed by Idaho students' 9 percentage point increase (41 vs. 32 percent). Another milestone involves Seattle and Gonzaga students pushing the response rates into the 30 percent zone (30 and 32 percent, respectively).
We are doubly appreciative of the time that some of you spent to complete the survey during this busy and exciting week for you!
Below are the incentives we are offering (please save the AAMC receipt); and I will communicate in the next week about the End-of-Explore & Focus Phase survey we plan to administer with additional incentives.
1 Amazon Kindle ($100 worth)
2 Amazon Fire Tablets ($60)
3 Portable Chargers ($50)
2 Wireless Earbuds ($50)
1 Portable Bluetooth Speaker ($20)
1 USB Charging Station ($20)
Thank you again!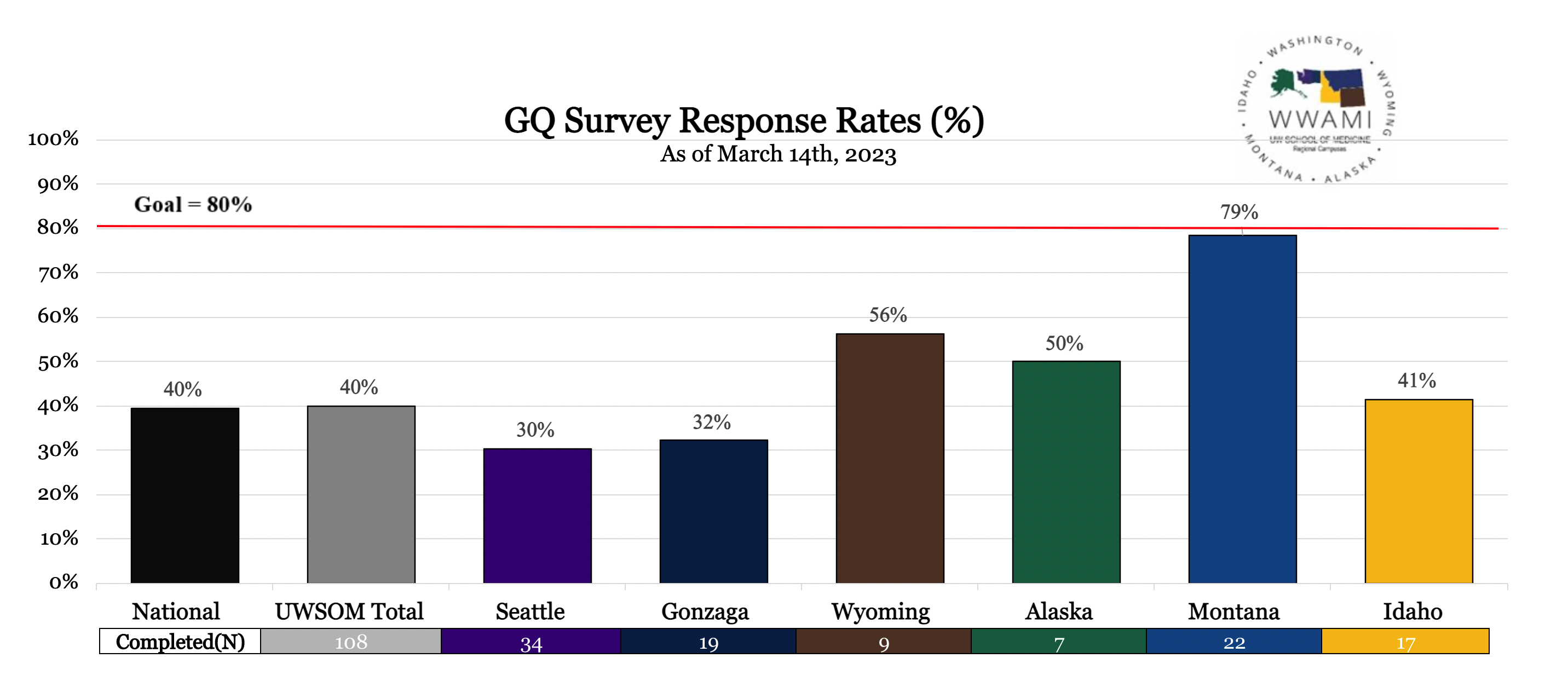 ---
In case you missed it, here is the previous newsletter for MS4s.
Have a great week!