How to register for Transition to Residency
Action Required: Register for Transition to Residency for the Spring 2023 quarter.
The Transition to Residency course runs May 15 to May 25, 2023.
Due date: No later than 4 p.m. local time on Thursday, March 23, 2023.
If there's non-compliance: If you don't register, you will not be enrolled in Transition to Residency for the Spring 2023 quarter. You cannot attend any course before registering for it. This course is required to graduate. Without registering, you will not receive credit for the course, it will not appear on your transcript, and you will not be on track to graduate.
Summary:
You are responsible for registering yourself, on time, for Transition to Residency. Follow these steps:
1. Log in to MyUW.
2. Select Registration located in the Personal Services section.
3. Enter the SLN (noted below) in the appropriate field on the Web Registration Form. If prompted, select the Standard Grading Option.
4. Your Spring registration screen should now reflect the course as noted below.
·       SLN 17236 – MEDSCI 600 A -Transition to Residency (4 credits)
IMPORTANT: CONJ 699 P-CLIN CLERKSHIPS will also appear if you are taking clinical clerkships in Spring quarter. DO NOT add/drop/adjust this CONJ 699 course in any way.
NOTE: Fees will begin to be applied for late registration on March 27.
For questions:
Helpful resources: Registration and Records website
---
 ICYMI: A message from the Registrar: Are you on track to graduate?
To check that you've met all graduation requirements use the Graduation Audit Report (GAR) at https://dom-dmpbp2.dom.washington.edu/Reports/browse/Medical%20Students.
For questions – or if something doesn't look right to you – contact somreg@uw.edu.
---
ICYMI: A message from the counseling and wellness team for graduating MS4s
UWSOM Student Wellness & Counseling Service has prepared a message for students who are experiencing stress leading up to Match Day. Everyone knows this is a challenging time.
There are thoughts and resources about how to take care of yourself as you wait for Match Day. You can read the full message here.
---
Latest update about the GQ Survey
This is a message from Sara Kim, Ph.D., associate dean for Educational Quality Improvement: Wow, you helped raise the AAMC Graduation Questionnaire response rate by 13 percent over the past week (See the graph below)!  We are now 33 percent and right at the national response rate.
Here is the breaking news: Montana's response rate jumped by more than 30 percentage points and now exceeds 60 percent (61 percent vs. 29 percent) and Wyoming has also showed an impressive increase (up 19 percentage points, 50 percent vs. 31 percent).
I thank Seattle and Spokane students who helped raise the response rates by more than 10 percentage points (27 percent vs. 15 percent, 29 percent vs. 15 percent, respectively), followed by a 10 percentage points increase by Idaho students (32 percent vs. 22% percent. Alaska remains the same at 36 percent, which is a strong start.
We are so appreciative of your time and input. Below are the incentives we are offering (please save the AAMC receipt). I will communicate in the next couple of weeks about the End-of-Explore & Focus Phase survey we plan to administer with additional incentives.
1 Amazon Kindle ($100 worth)
2 Amazon Fire Tablets ($60)
3 Portable Chargers ($50)
2 Wireless Earbuds ($50)
1 Portable Bluetooth Speaker ($20)
1 USB Charging Station ($20)
Thank you again!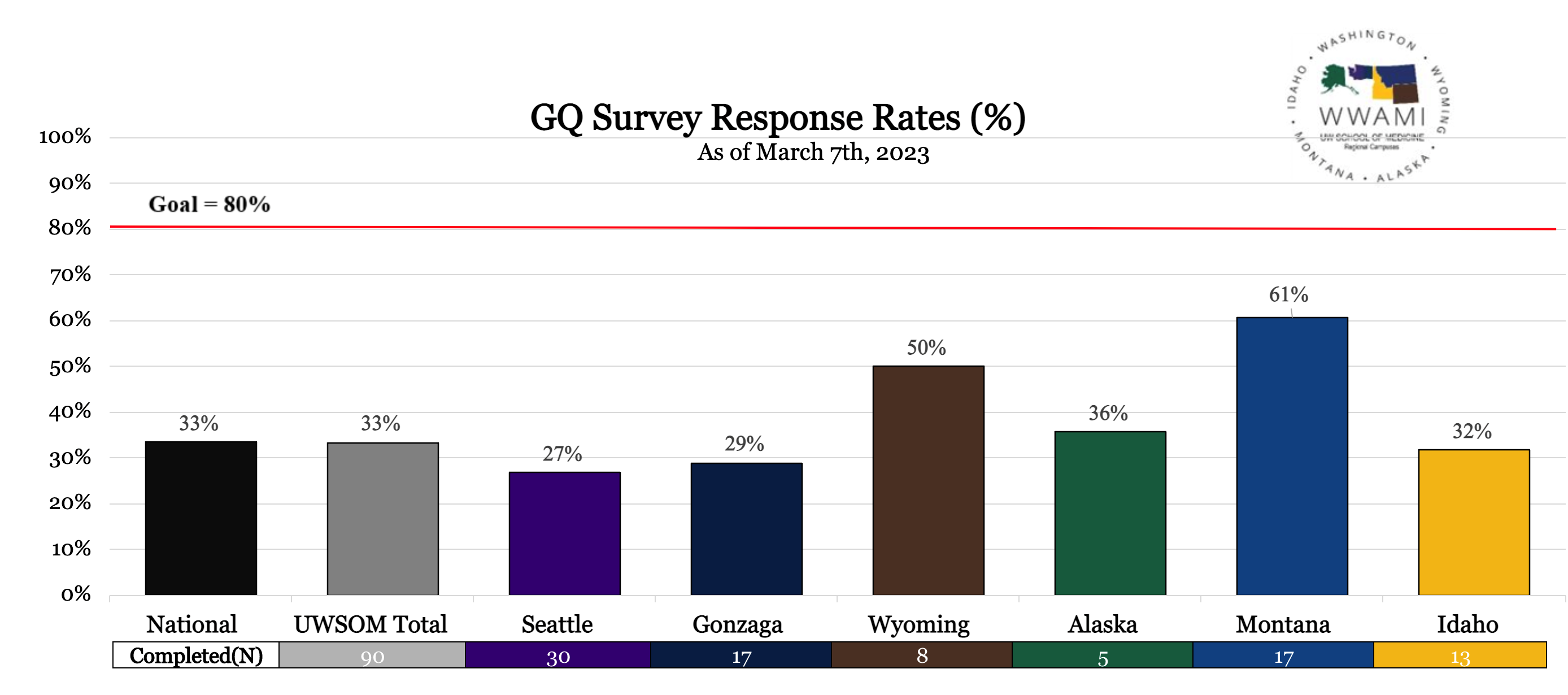 ---
In case you missed it, here is the previous newsletter for MS4s.
Have a great week!