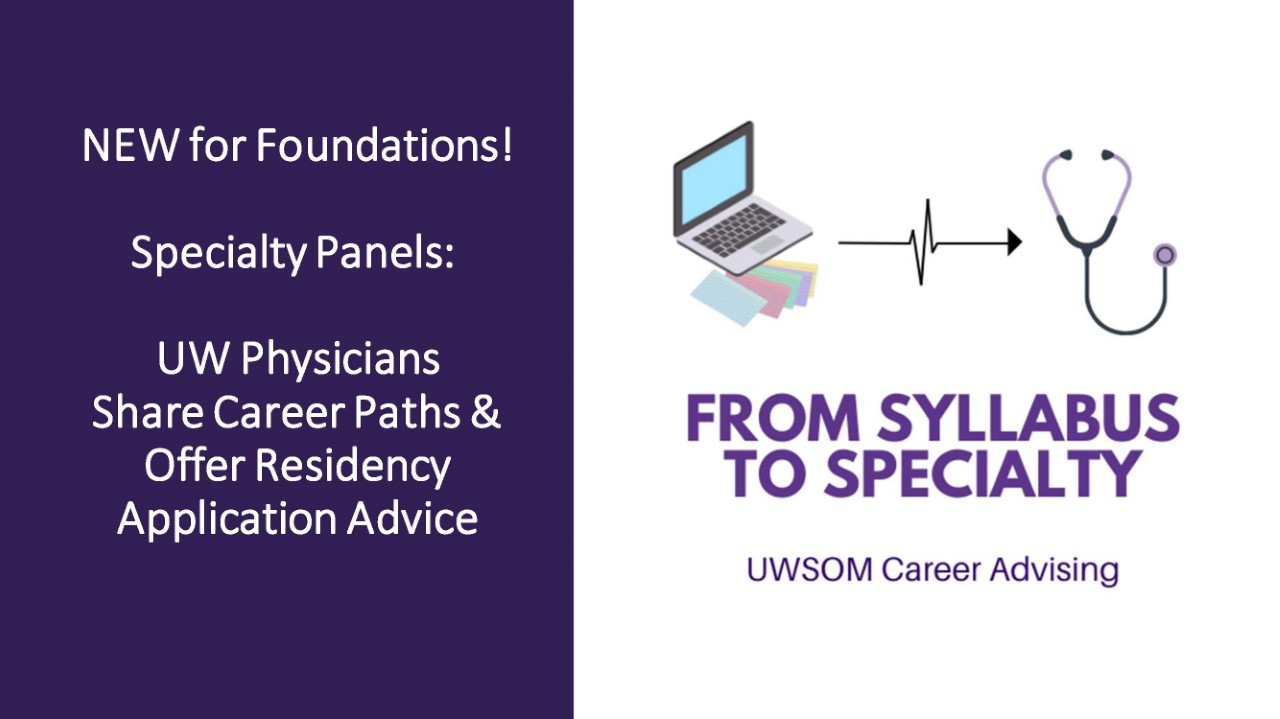 Join us for a new panel series, From Syllabus to Specialty, featuring UWSOM faculty speaking about their specialties, career paths and the process of applying to residency.
Open to all UWSOM students
The hourlong panels are virtual and will be recorded
Specialties represented are aligned with content presented in the Term 1 Foundations Coursework: Infections & Immunity, and Cancer, Hormones & Blood
Dermatology, Family Medicine & Internal Medicine 
Tuesday, Nov. 1
5 p.m. AK, 6 p.m. PT, 7 p.m. MT ​
Zoom link here.
Deepti Gupta, M.D., clinical adjunct, UW Dept. of Medicine, Division of Dermatology and associate professor, UW Dept. of Pediatrics
Viet H. P. Nguyen, M.D., faculty physician, Swedish First Hill Family Medicine Residency
Nina Tan, M.D., acting instructor, UW Dept. of Internal Medicine
Pathology, Radiation Oncology & Radiology
Wednesday, Nov. 2
5 p.m. AK, 6 p.m. PT, 7 p.m. MT ​ ​
Zoom link here.
Oliver Chang, M.D., acting assistant professor, UW Dept. of Laboratory Medicine and Pathology
Molly Blau, M.D., assistant professor, UW Dept. of Radiation Oncology
Ethan Hua, M.D., clinical assistant professor, Vascular and Interventional Radiology, UW Dept. of Radiology
This panel series is brought to you by Sarah Thomson, Linh Ngo and Tonja Brown in UW SOM Career Advising [education.uwmedicine.org].
---
Y2Q survey responses grow; still time to win prizes and help the school
This is an update from Sara Kim, associate dean for Educational Quality Improvement:
You helped raise our response rate by 10 percent to 31 percent, exceeding the national average of 20 percent. Thank you to those who took the time to complete this 12-minute survey; it closes on Jan. 1, 2023.
Montana continues to lead with 45 percent (up 4 percentage points), followed by Gonzaga (36 percent vs. 12 percent previously), Idaho (32 percent vs. 16 percent), Wyoming (30 percent vs. 20 percent), Seattle (29 percent vs. 20 percent), and Alaska (11 percent vs. 5 percent).
After completing the survey, please email eqi@uw.edu to be included in the drawings. Even if you don't inform us, we will make sure there is a fair way to include everyone  for the following incentives:
1 Amazon tablet ($50 worth)
1 Kindle ($100 worth)
2 wireless earbuds ($100 worth)
2 Portable charger ($55 worth)
3 Amazon Fire TV stick ($25)
The earlier you take the survey, the more chances you have to win. One winner for an Amazon Tablet will be drawn on Monday, Nov. 11. Winners for the rest of the items will be randomly drawn after the Y2Q survey closes in December. If you are selected, we will ask for the survey completion receipt from AAMC.
Thank you for your participation and please encourage your peer students to participate in the survey!

---
Career Advising Student Advisory Board Tip of the Month 
This month, I want to share an opportunity for career exploration and mentorship! UWSOM's Alumni Association invites you to participate in SAID (Student-Alumni Informational Discussions). It's your chance to connect with alumni and a small group of fellow students over Zoom or in person – they have a lot of sessions in a wide range of specialties for you to join. Register today here.  
Reviewed by Career Advising Student Advisory BIPOC board member L'Oreal Kennedy. Originally written by BIPOC alum Shanelle Briggs.
---
In case you missed it, here is last week's newsletter for MS2s.
Have a great week!