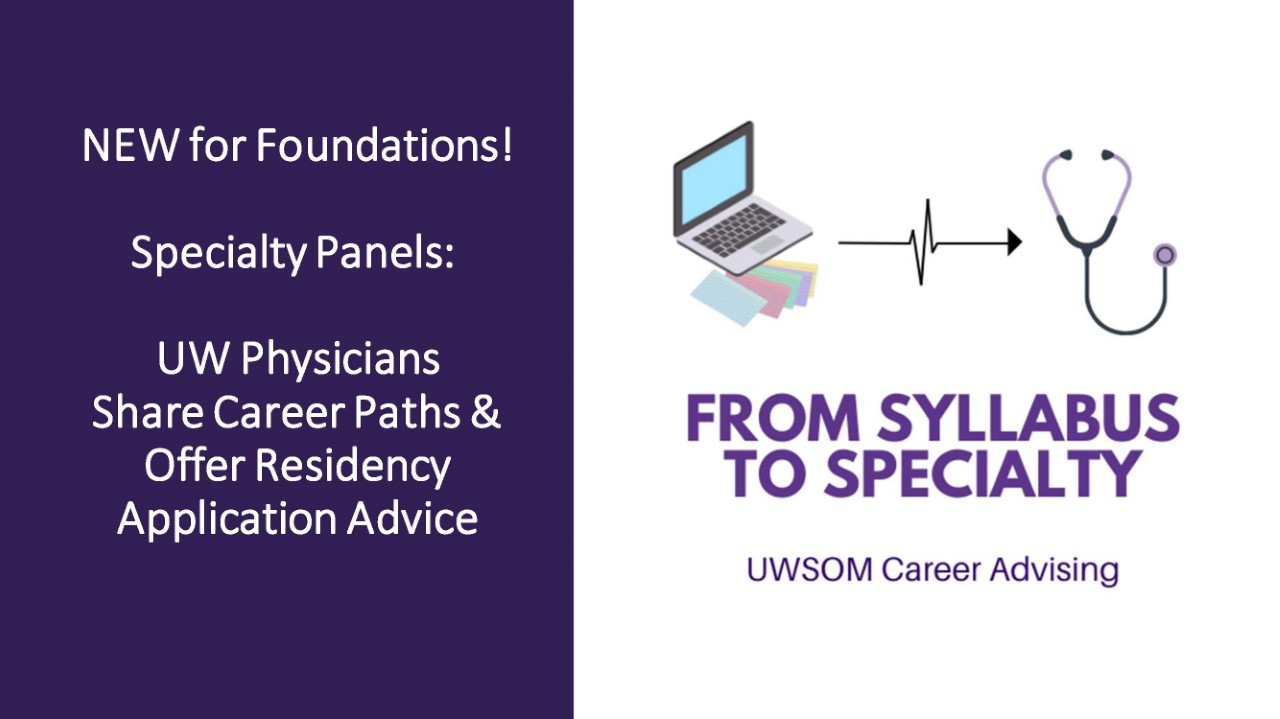 Join us for a new panel series, From Syllabus to Specialty, featuring UWSOM faculty speaking about their specialties, career paths and the process of applying to residency.
Open to all UWSOM students
The hourlong panels are virtual and will be recorded
Specialties represented are aligned with content presented in the Term 1 Foundations Coursework: Infections & Immunity, and Cancer, Hormones & Blood
Dermatology, Family Medicine & Internal Medicine 
Tuesday, Nov. 1
5 p.m. AK, 6 p.m. PT, 7 p.m. MT ​
Zoom link here.
Deepti Gupta, M.D., clinical adjunct, UW Dept. of Medicine, Division of Dermatology and associate professor, UW Dept. of Pediatrics
Viet H. P. Nguyen, M.D., faculty physician, Swedish First Hill Family Medicine Residency
Nina Tan, M.D., acting instructor, UW Dept. of Internal Medicine
Pathology, Radiation Oncology & Radiology
Wednesday, Nov. 2
5 p.m. AK, 6 p.m. PT, 7 p.m. MT ​ ​
Zoom link here.
Oliver Chang, M.D., acting assistant professor, UW Dept. of Laboratory Medicine and Pathology
Molly Blau, M.D., assistant professor, UW Dept. of Radiation Oncology
Ethan Hua, M.D., clinical assistant professor, Vascular and Interventional Radiology, UW Dept. of Radiology
This panel series is brought to you by Sarah Thomson, Linh Ngo and Tonja Brown in UWSOM Career Advising [education.uwmedicine.org].
---
Career Advising Student Advisory Board Tip of the Month 
We hope you're adjusting well to medical school! You've now heard about our school's summer Triple III [education.uwmedicine.org] requirement. If you're interested in a competitive specialty (e.g., dermatology), it will be helpful if your project is within this field. However, many residency programs look positively on research projects even if they are not in the specialty you end up applying into as it shows dedication, and you can build valuable skills.
Research not your jam? No worries! Lots of specialties don't need it. Rural Underserved Opportunities Program (RUOP), Scholarship of Integration (SOI) or another community experience can be very useful to your career goals.
Undecided on your specialty? This is super common; don't worry! You can start exploring specialties with interest group events and the Career Advising Video Library [education.uwmedicine.org].
Reviewed by Career Advising Student Advisory BIPOC board member L'Oreal Kennedy. Originally written by BIPOC alum Shanelle Briggs.
---
In case you missed it, here is last week's newsletter.
Have a great week!