Recording of the class meeting is available
You can find a recording of this week's class meeting here: Fall '22 MS1 Class Meeting
---
Requirements for leaders in service learning projects
If you are an MS1 who will be taking on a leadership role in one of our UWSOM service learning projects, there are a few requirements that you will need to meet in the next few weeks. For projects with multiple leads, only one member of your team needs to fulfill these requirements.
(Wondering if your project is a service learning project? Find out at service learning.washington.edu.)
If you have not already done so, please fill in the New Student Leads Transition Survey [forms.office.com] (It takes less than five minutes).  This survey allows us to keep our records up to date and reach out to you with announcements.
Complete Leadership Training (This takes less than 20 minutes).
IMPORTANT – Set up a training meeting with outgoing lead(s) for your project (This should take less than one hour). We recommend that you use this transition checklist to ensure that you don't forget anything!
For questions, please contact Leonora Clarke at clarkel@uw.edu.
---
ICYMI: From Syllabus to Specialty Panel Series with UW Physicians:
Hear from physicians in a wide range of specialties including many specialties beyond the core clerkships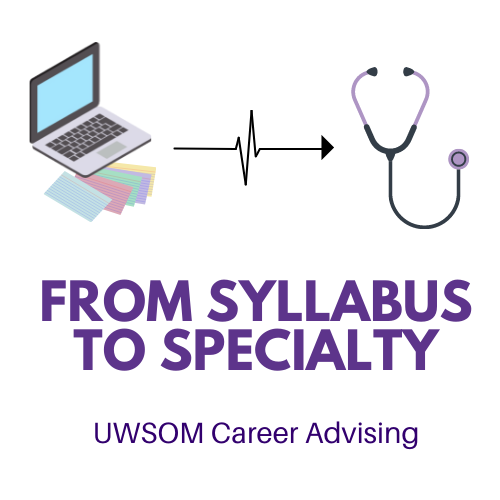 Are you asking yourself how to start exploring specialties during Foundations? Have you been wondering how your preclinical course content takes shape in a career in medicine?
The From Syllabus to Specialty Panel Series with UW Physicians is designed by Career Advising with support and facilitation from our student advisory board members with the goal to help students connect block content to specialties and career paths throughout Foundations. You'll be hearing from some amazing UW physicians who will be talking about their specialty, career path and providing advice for applying to residency. There will be time for questions. All panels are one hour, virtual and will be recorded. This panel series kicks off during Autumn Integration week with:
---
Career Advising Student Advisory Board Tip of the Month 
We hope you're adjusting well to medical school! You've probably heard about our school's summer Triple III [education.uwmedicine.org] requirement. If you're interested in a competitive specialty (e.g., dermatology), it will be helpful if your project is within this field. However, many residency programs look positively on research projects even if they are not in the specialty you end up applying into as it shows dedication and can build valuable skills.
Research not your jam? No worries! Lots of specialties don't need it. Rural Underserved Opportunities Program (RUOP), Scholarship of Integration (SOI) or another community experience can be very useful to your career goals.
Undecided on your specialty? This is super common; don't worry! You can start exploring specialties with interest group events and the Career Advising Video Library [education.uwmedicine.org].
Reviewed by Career Advising Student Advisory BIPOC board member L'Oreal Kennedy. Originally written by BIPOC alum Shanelle Briggs.
---
In case you missed it, here is last week's newsletter.
Have a great week!