Update on the Patient Care Phase Survey (only for students completing OSCE, Objective Structured Clinical Examinations): Fill it out and enter to win
This is a message from Sara Kim, Associate Dean for Educational Quality Improvement: Thank you for raising the survey response rate to 45.8 percent from 29.7 percent in a week! It's really inspiring to see the level of your engagement with the survey. I thank you.
Looking at the regional campus level, Montana students are already at 73.3 percent (up 30 percentage points), recording the highest survey response rate within two weeks of a survey launch in the school's history that I have been tracking! Simply amazing.
And the story continues. Both Wyoming and Spokane students doubled the response rate over one week: Wyoming at 50 percent vs. 25 percent, Spokane at 33.3 percent vs. 16.7 percent. Idaho students, you are doing great at the rate of 47.5 percent (up from 30 percent by 17.5 percentage points), followed by Seattle (43.7 percent vs. 32 percent, an increase of 11.7 percentage points) and Alaska (45 percent vs. 40 percent, up five percentage points). All in all, very admirable progress.
For those of you who haven't had a chance to complete the survey, the link is sent to you every Tuesday from eqi@uw.edu. Your email is only used for tracking purposes and will not be linked to your responses.
Please see the survey incentives below.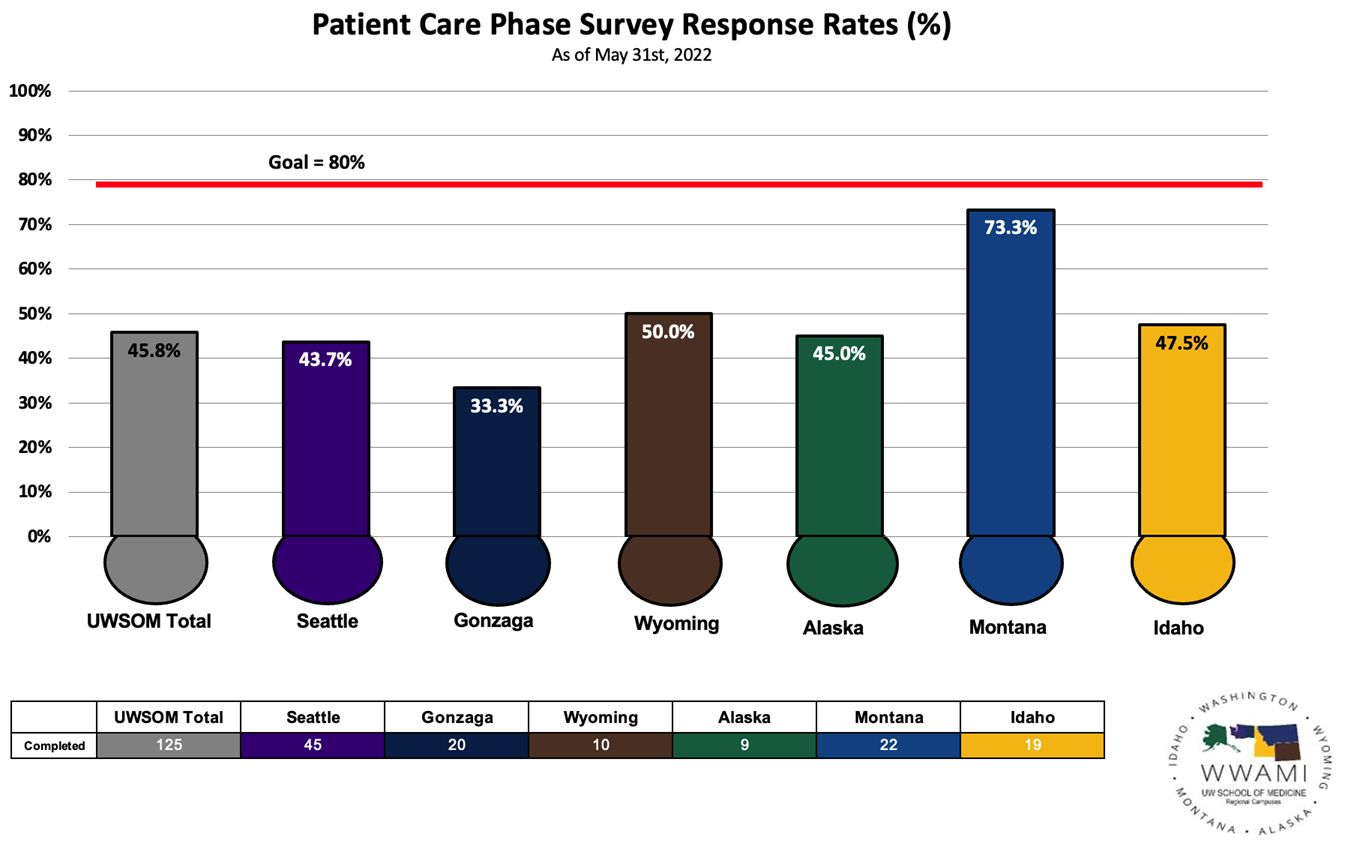 This year, we are offering the following incentives for completing the survey:
Two $50 items you select from Amazon
Twelve $25 items you select from Amazon
Three $50-value WWAMI gift packs
---
Career Advising Student Advisory Board – Tip of the Month
Congrats on finishing third-year rotations! After Step 2, many of you will do a rotation in the field you wish to enter. Now is the time to meet or check in with your Specialty Career Advisor/s! Get on their radar as the new application cycle begins and ask for rotation tips (e.g., who to work with and get letters from).
Written by Career Advising Student Advisory Board member, Shanelle Briggs, and reviewed by a second BIPOC Board member, L'Oreal Kennedy.
---
In case you missed it:
Here is a link to the May 26, 2022 Student Newsletter information for MS3s.
---