More people are filling out the survey: Thank you!
You too could have the chance to win prizes worth up to $50
From Sara Kim, Associate Dean for Educational Quality Improvement:  This week's survey response rate stands at 61.9 percent, an increase of 2 percentage points from last week. I would like to take a minute and appeal to your 'WHY': Why should you complete this survey? Your input is critically important to this year's status reports to the LCME (Liaison Committee on Medical Education), which governs the medical school accreditation. More importantly, your voices in the form of ratings and comments are widely shared with the medical school leaders, faculty, and the students themselves as part of the broader continuous quality improvement endeavors.
With that in mind, I thank each of you who took the time to complete the survey. For those of you who have started the survey or who haven't, we send an email from eqi@uw.edu with the survey link every Tuesday.
Here is this week's regional campus breakdown. Wyoming is the first campus to reach 90 percent (an increase of 5 percentage points from last week). Congratulations! If two more students completed the survey, you would be at 100 percent. Montana's response rate remains at 70 percent, followed by Alaska at 63.2 percent  (also no change), Spokane at 62.7 percent (an increase of 3.4 percentage points), Idaho at 57.5 percent (no change), and Seattle at 55 percent (up 2 percentage points).
Please know that your email address is only used for tracking and incentive purposes; your anonymous responses will not be linked to your identity in any way.
This year, we are offering the following incentives for completing the survey:
Two $50 items you select from Amazon
Twelve $25 items you select from Amazon
Three $50-value WWAMI gift packs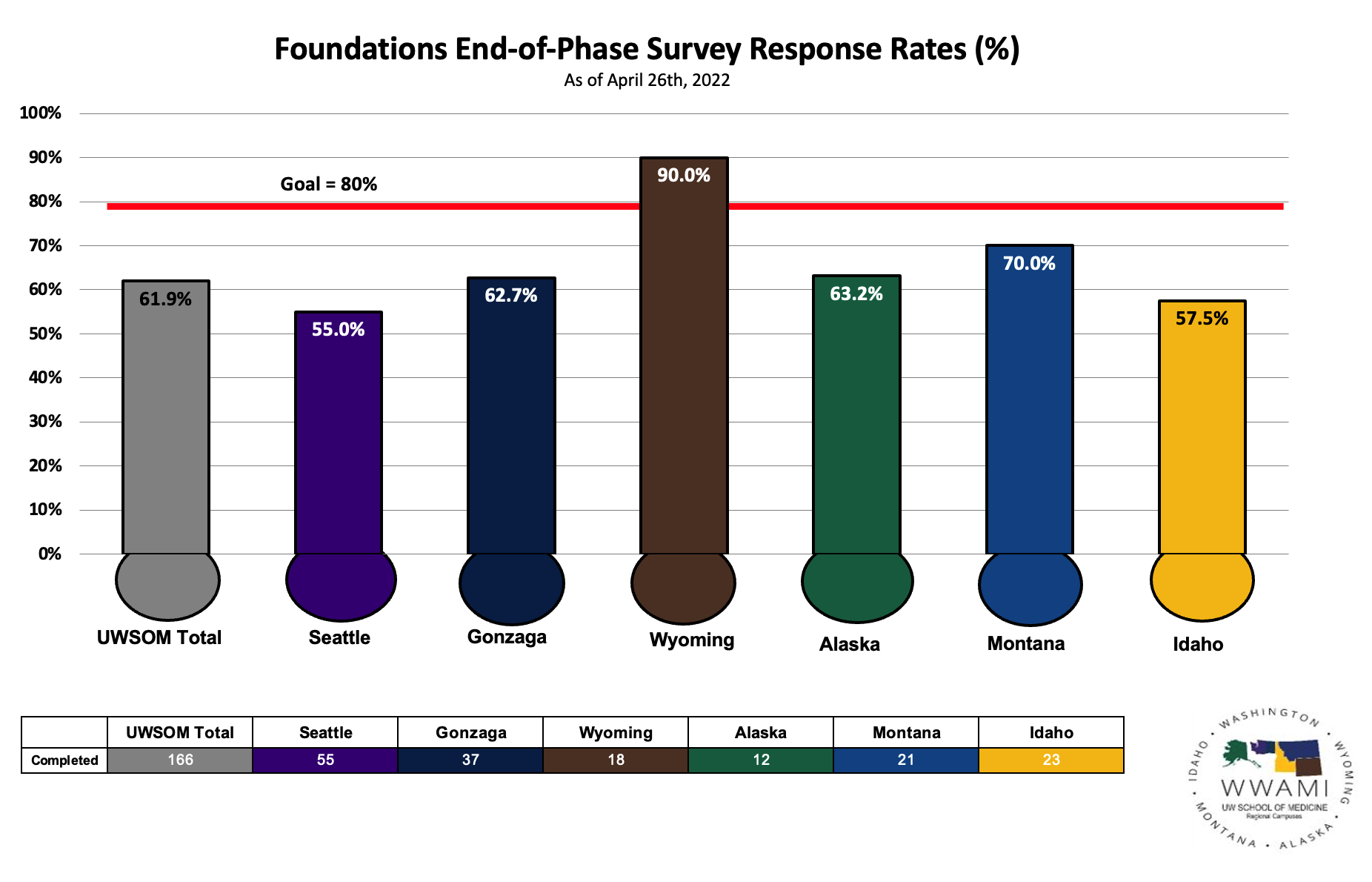 Thank you so much for your time and candid input into the survey!
---
Career Advising Student Advisory Board Tip of the Month 
For many of you, rotations have started! Watch this 2-part video series on how you can lay the foundation for your residency application during the Patient Care Phase. Video 1: 13 minutes shows you to use clinical rotations to explore and Video 2: 8 minutes go over MS3 career planning and the residency application timeline.
Written by Career Advising Student Advisory Board member Shanelle Briggs and reviewed by a second BIPOC Board member, L'Oreal Kennedy.
---
In case you missed it:
Here is a link to the April 21, 2022 Student Newsletter content for MS2s.