Recent updates from the National Board of Medical Examiners
A message from Matt Cunningham, Director of Educational Evaluation: I wanted to make sure you were aware of two recent announcements from the National Board of Medical Examiners.
NBME has officially committed to continuing remote administration of subject exams through the 2022-23 academic year, so you will not have to travel to take clerkship exams in person.

 
The passing score for Step 2 CK will increase from 209 to 214 for examinees who take the exam on or after July 1, 2022. For those of you who are still taking Patient Care clerkship exams, in our experience, average clerkship exam score across all Patient Care clerkships is the strongest predictor we have of Step 2 CK numeric score. It may help you to think of the clerkship exams as practice exams that give you the opportunity to consolidate knowledge in each of the specialties prior to taking Step 2 CK, where you have to put it all together. As a reminder,

Academic Support

is still available in the clinical phases to help you with either clerkship exams or Step 2 CK.

 
Please feel free to contact me at cunningm@uw.edu if you have any questions. 
---
Fifty-four more students needed to take the End-of-Phase Survey
You too could have the chance to win prizes worth up to $50
A message from Sara Kim, Associate Dean for Educational Quality Improvement: Thank you for your help in raising the survey response rate to 60.1 percent (three percentage points more than last week). With an additional 54 students completing the survey, the goal of 80 percent can be within our reach! An email from eqi@uw.edu is sent to you every Tuesday with a link to the survey.
Here is this week's regional campus breakdown. Wyoming continues to lead the way with 85 percent response rate (up 5 percentage points from last week), followed by Montana (70 percent, up 3.3 percentage points), Alaska (63.2 percent, no change from last week), Spokane (59.3 percent, an increase of 1.7 percentage points), Idaho (57.5 percent, up 5 percentage points), and Seattle (53 percent, an increase of 3 percentage points). Thank you all.
Please know that your email address is only used for tracking and incentive purposes; your anonymous responses will not be linked to your identity in any way.
This year, we are offering the following incentives for completing the survey:
Two $50 items you select from Amazon
Twelve $25 items you select from Amazon
Three $50-value WWAMI gift packs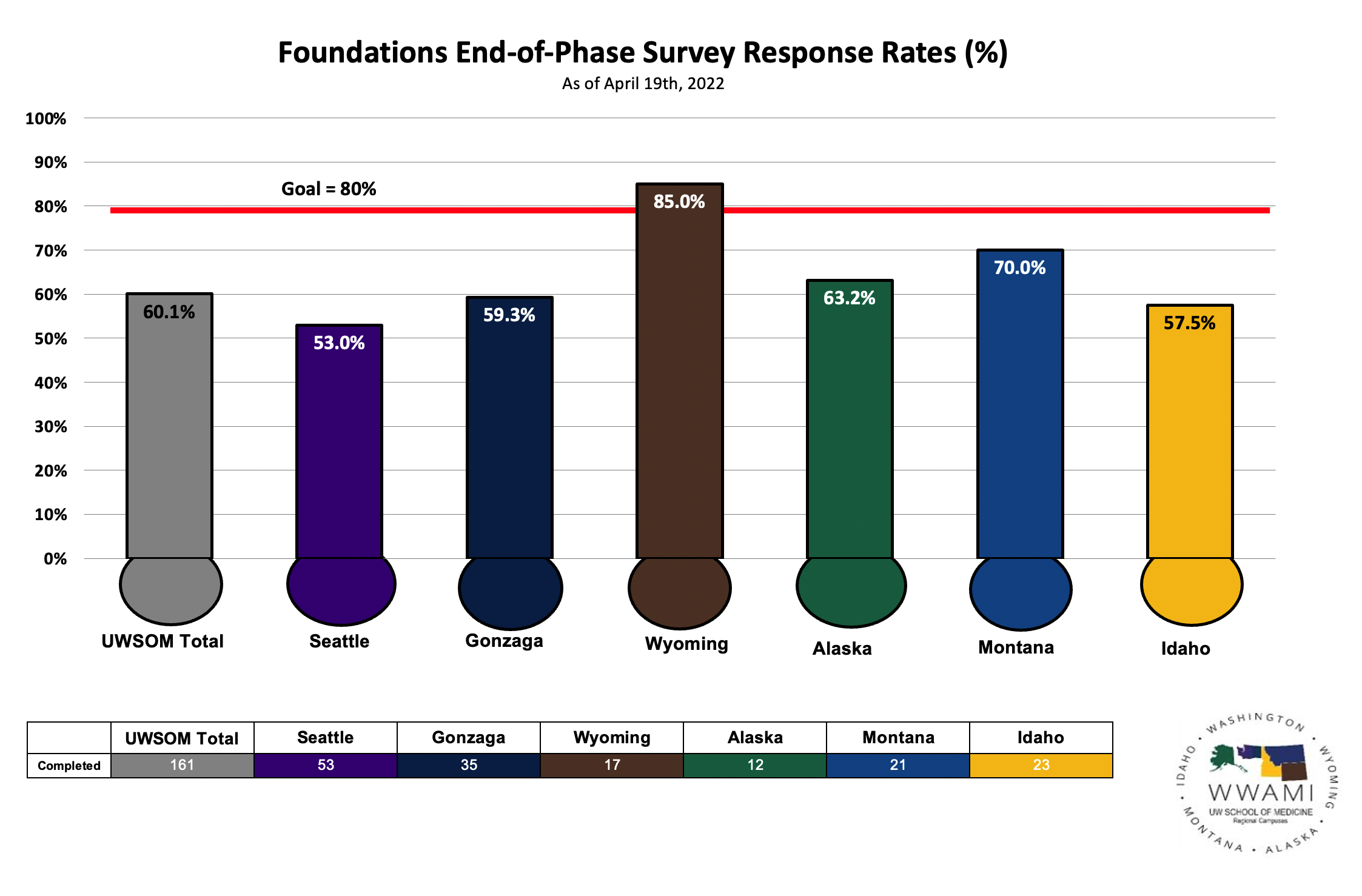 Thank you so much for your time and candid input into the survey!
---
Career Advising Student Advisory Board Tip of the Month 
For many of you, rotations have started! Watch this 2-part video series on how you can lay the foundation for your residency application during the Patient Care Phase. Video 1: 13 minutes shows you to use clinical rotations to explore and Video 2: 8 minutes go over MS3 career planning and the residency application timeline.
Written by Career Advising Student Advisory Board member Shanelle Briggs and reviewed by a second BIPOC Board member, L'Oreal Kennedy.
---
In case you missed it:
Here is a link to the April 14, 2022 Student Newsletter content for MS2s.