Saturday update: Webinar: Blackface, the Problem with Intention 
 "Blackface: The Problem With Intention" will be led Friday, April 1, by Ayanna Thompson, PhD, a national expert on blackface. This UW Medicine webinar is one of several planned responses to address harm from a recently exposed blackface incident affecting our UW Medicine community. 
We'll share a link to the recording of this webinar in a future newsletter.  
The webinar will provide a brief history and overview of blackface, moving from the Middle Ages to the 21st century. It will include an examination of several prominent cases involving public figures who have engaged in blackface and explore why effect and harm matter more than intention. 
Thompson is a Regents Professor of English at Arizona State University and the Director of the Arizona Center for Medieval & Renaissance Studies. In 2021, she was inducted into the American Academy of Arts and Sciences. She is the author of many books including "Blackface," a 2022 Prose Award Finalist from the Association of American Publishers. 
The webinar is noon to 1:30 p.m. PT on Friday, April 1. Register at this link. Registration requires a UW Net ID or an email address at Fred Hutch, Seattle Cancer Care Alliance, Seattle Children's, or Valley Medical Center. 
After registering, you will receive a confirmation email containing information about joining the webinar. 
Update on the Foundations Phase Survey response rates
Within a week of launching the Foundations End-of-Phase survey, 83 of you completed the survey, resulting in a 31 percent response rate. Thank you to those of you who took the time to complete the 10-minute survey.
At the regional campus level, Montana has the highest response rate of 46.7 percent, followed by Alaska (36.8 percent), Idaho & Seattle (30 percent), Spokane (25.4 percent), and Wyoming (25 percent).
"This is the best early response rates I have seen compared to the past three years," said Sara Kim, Associate Dean for Educational Quality Improvement. "Thank you so much for your time and candid input into the survey!"
The survey link has been emailed to you. Please know that your email address is only used for tracking and incentive purposes; your response is anonymous.
This year, we are offering the following incentives for completing the survey:
• Two $50 items you select from Amazon
• Twelve $25 items you select from Amazon
• Three $50-value WWAMI gift packs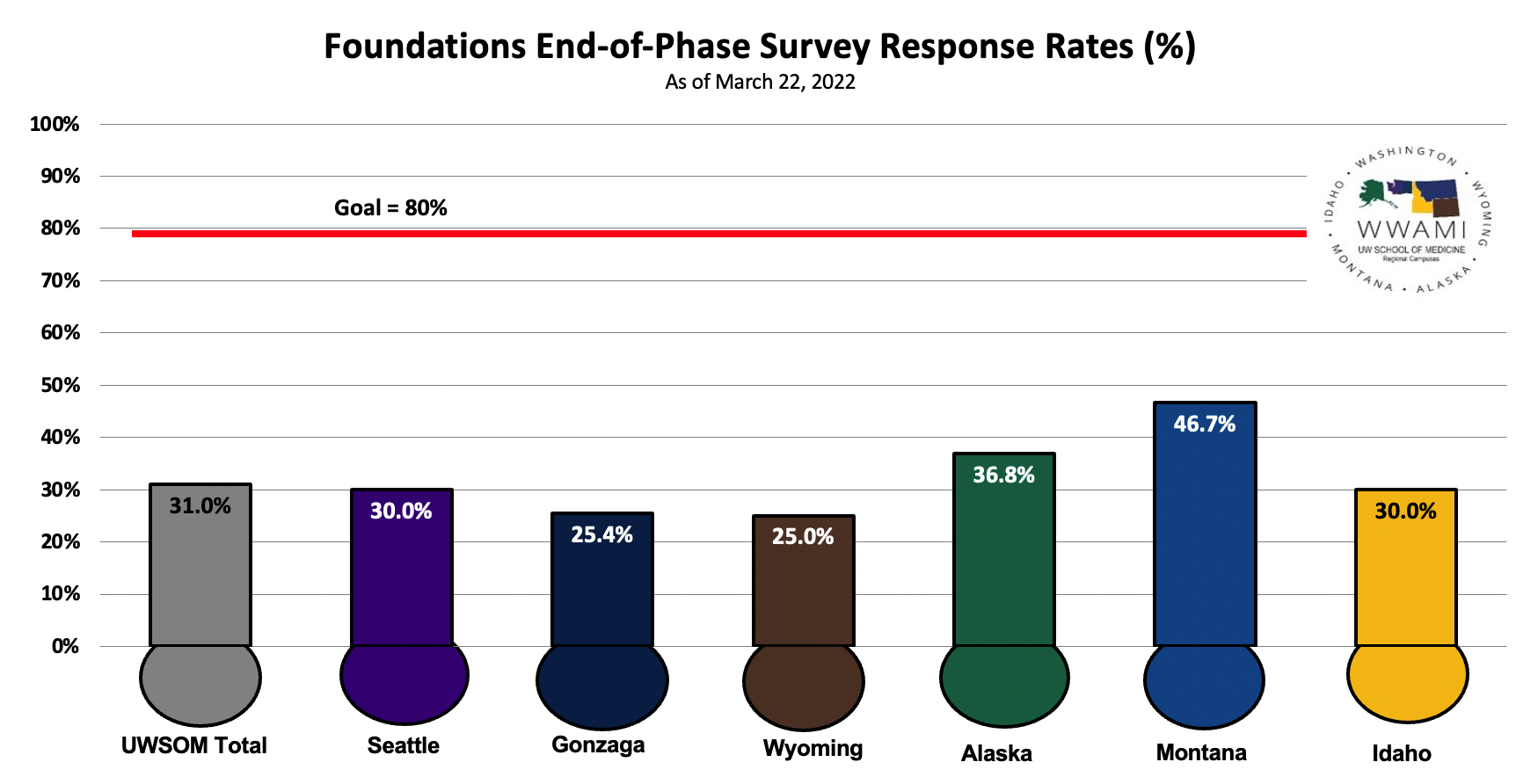 ---
---
(The monthly Career Advising Student Advisory Board Tip of the Month has been removed for updating)
In case you missed it:
Here is a link to the March 17, 2022 Student Newsletter content for MS2s.