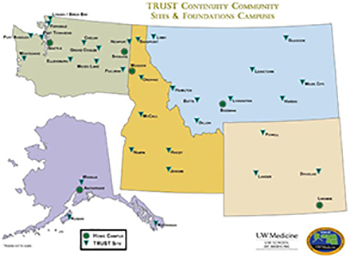 The Targeted Rural and Underserved Track (TRUST) is an optional UW School of Medicine Program administered by the Department of Family Medicine. TRUST provides an exceptional educational experience to prepare University of Washington WWAMI medical students for careers working in underserved rural areas and underserved small cities of Washington, Wyoming, Alaska, Montana, and Idaho.
TRUST seeks to provide a continuous connection between underserved communities, medical education, and health professionals in our region. Our initial goal is to create a full-circle pipeline by guiding qualified students through a special curriculum that connects underserved communities in Washington, Wyoming, Alaska, Montana and Idaho (WWAMI states) to the University of Washington School of Medicine (UWSOM) and its network of affiliated residency programs in an effort to help meet the workforce needs of the region.


Visit the TRUST Program website to learn more:
Medical School Applicants applying to the TRUST Program fill out an additional section included with the Secondary Application materials.  The deadline for the secondary application for TRUST applicants is December 1st, 2018.
Because TRUST provides special opportunities:
Applicants who apply and are accepted to TRUST, but who then decide prior to matriculation, not to participate in TRUST will have their offer of acceptance to the UWSOM rescinded for that application year. Should the UWSOM Deferral Policy apply, an applicant on the TRUST alternate list will be offered the position and the deferred applicant may enter the program in the following year as stipulated in the deferral policy.
Applicants who have applied to TRUST, but who are accepted into the regular class while holding a position on the TRUST alternate list will not be obliged to participate in TRUST should a position in the TRUST cohort become available.
Applicants who applied to TRUST, but were not accepted, will be considered for admission into the regular medical school class for the same entering year.
Applicants will be made aware of this policy at the time of application to TRUST and the UWSOM and, as part of the TRUST application process, will be asked to sign a statement demonstrating their understanding of this policy.