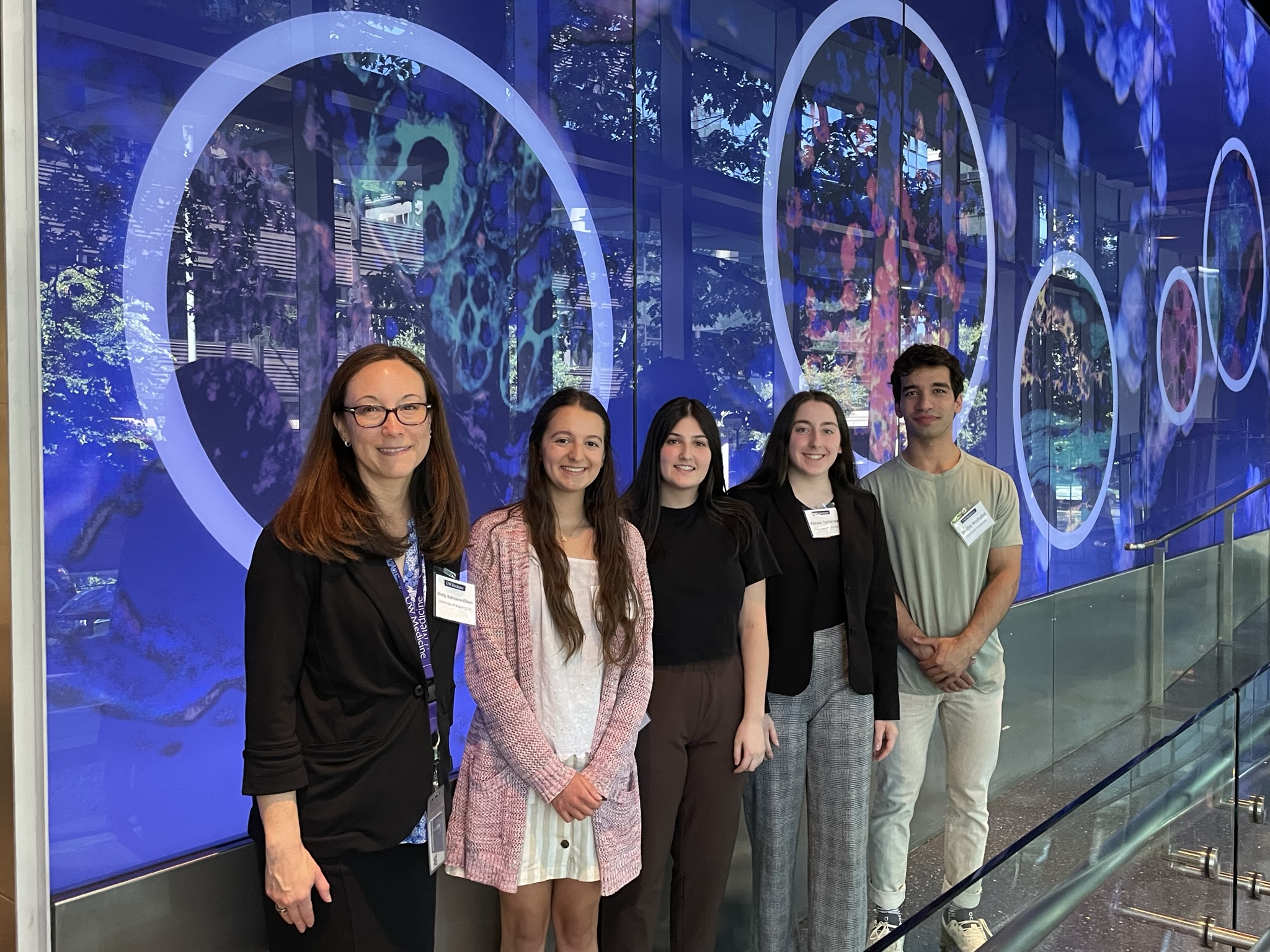 The summer of 2023 offered transformative learning experiences for four Gonzaga University undergraduates who had the opportunity to work in busy research labs at the University of Washington School of Medicine in Seattle. The program, made possible through the UW-GU Health Partnership, brought hands-on experience in cellular biochemistry, ultrasound imaging, immunology, and magnetic resonance (NMR) data — research that has the potential to impact patients everywhere.
Claire Charvet, a biochemistry major who hails from Kirkland, WA, worked in the lab of Dr. Suzanne Hoppins and participated in two projects studying mitochondria. Mitochondria are membrane-bound parts of cells that generate most of the chemical energy needed to power the biochemical processes of respiration and energy production.
One study involved a protein called mitofusin, which helps regulate the fusion of individual mitochondria to each other. "The complete structure of mitofusin is unknown," Charvet shared, "so in this effort we were trying to express and purify mutated versions of it to learn more about its structure."
The second project also related to the structure of the protein and took a different approach. Charvet explained, "In this work, we introduced fluorescently tagged mitofusin into cells that did not already have it. We were then able to view the fluorescence underneath a microscope, and gain insight into how the addition of it affected mitochondrial networks."
"For me, the biggest highlight of the experience was the incredible opportunity to learn so many techniques in such a short period of time," Charvet said. "Almost everything I learned was new to me, and it was so cool to be able to see a lot of the concepts I have been studying at Gonzaga come to life and be applicable in my work."
"I also really appreciated how each experiment and project built off of one another," Charvet added. "I really appreciated all the members of the Hoppins Lab — and especially the graduate student I shadowed. Everyone was so awesome in helping me out if I had questions and explaining everything from scientific concepts, to skills, to their own research. It was an outstanding opportunity and experience to learn so much."
Alexis Terterov, a human physiology major from Bellevue, WA, was part of a team of graduate and undergraduate students exploring ultrasound-mediated drug delivery under the direction of Dr. Mike Averkiou in his ultrasound lab.
"Everyone in the lab had an important role in my work," Alexis shared, "but I would say that Dr. Averkiou had the most important role because he would guide critical thinking discussions and ask us questions that would make us think deeply about the research we were conducting. He encouraged us to ask why something was happening whenever we sat down to analyze data."
Joining the lab while UW classes were still in session enabled Alexis to collaborate with a variety of individuals, including fellow undergraduate students as well as graduate students from different disciplines.
The team was tasked with analyzing data sets for various projects. She learned how to use MATLAB, a software that generates maps of tumors to better understand response to medications.
"The highlight of my summer work was learning skills that I did not previously learn in any of my Gonzaga classes," Alexis said. "I went into the lab not knowing anything about MATLAB to using it every day and really enjoying my work. Everyone in the lab was very enthusiastic when teaching me about this software and understanding my abilities."
"Working in the ultrasound research lab gave me the opportunity to understand the physics and mechanics behind ultrasound and how it works," Alexis said. "It was also very useful to see how the lab collaborates with UW Medical Center and its Radiology Department to analyze data that patients volunteer in order to help discover solutions to ultrasound therapy."
This was the second summer psychology major Emma Spiegel participated in the program. She again worked in the laboratory of Dr. Michael Gale, Jr., at the UW School of Medicine's Center for Immunology. It is focused on understanding the molecular mechanisms of innate immune activation and response, and on defining the actions of innate immunity in the systemic immune response to virus infection. The lab studies infection by many different RNA viruses including emerging SARS-CoV-2, emerging flaviviruses and paramyxoviruses, HIV, Ebola virus, hantaviruses, and influenza viruses.
Emma was on a team looking at, "the role of Retinoic acid-inducible gene I (RIG-I) receptors, which are key sensors of viral infections," she explained. "These sensors can control different mechanisms of infection, so I used various procedures to evaluate their role in acute disease. These studies will provide the groundwork for future vaccine research."
Like other Zags, Emma found the experience powerful. "I am grateful for the opportunity to work in such a fast-paced and compelling environment," she said. "Studying viruses and playing a role in global health projects has been an amazing experience and I appreciate the independence I have been given to further my research skills and my understanding of complex topics."
Shafiq Moltafet, a biology major, worked in the research lab of Dr. Rachel Klevit, under the supervision of Dr. Pearl Magala.
"The lab I worked in was a dry lab that primarily focused on using 2D nuclear magnetic resonance (NMR) data to analyze shifts among amino acids on wild type and mutant proteins that are present at the surface of bacteria associated with urinary tract infections," he shared.
"A highlight of my summer work was exploring an area I never thought of exploring — computer science and its relation to biological sciences."
In addition to getting to know others working in the lab, and understanding how the research was conducted, Moltafet was impressed with how diverse the use of biology was: "It was cool to meet bright individuals and see them display their expertise, including post-doctoral students and people pursuing multiple and diverse areas of research that touched on other sciences as well as the biological sciences."
The Spokane native, who stayed with good friends in Seattle over the summer, shared one other experience. "It was tough getting used to the Seattle commute," he said, "and the never-ending highways."
The Gonzaga students gave short presentations of their experiences at the closing ceremonies for the summer research session on August 22, 2023.