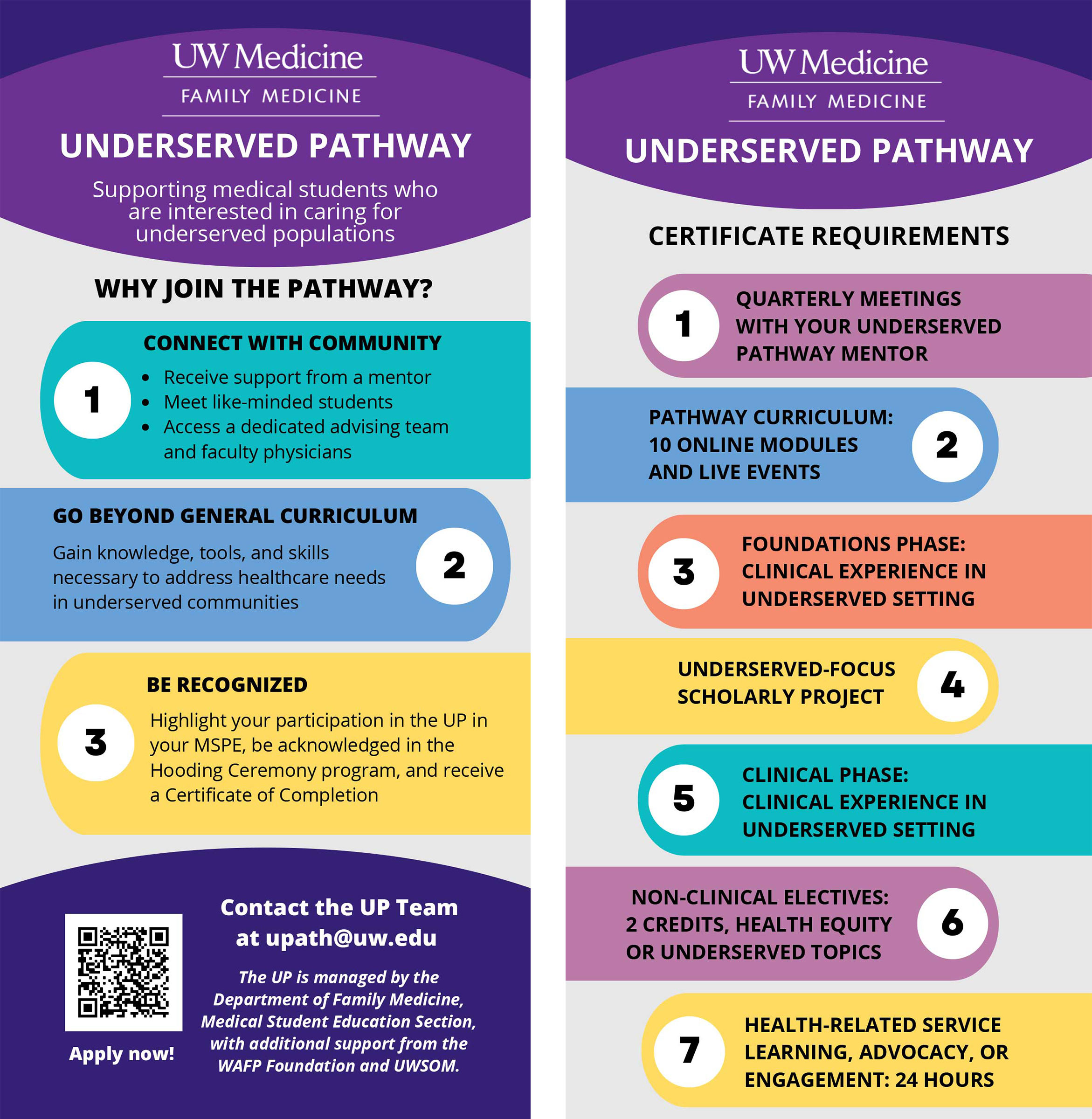 Learn about the Underserved Pathway
Here is a message from the Department of Family Medicine: Are you passionate about underserved healthcare? Interested in learning more about how you can be a physician advocate for our most vulnerable neighbors? Want to connect with like-minded students and healthcare providers? Maybe looking for a little more spark for your residency applications?
The Underserved Pathway (UP) is a curricular and experiential program that helps prepare and support students who are interested in caring for rural and urban under-resourced, historically excluded, and marginalized populations.
The program is open to students across WWAMI and all specialty interests. There are three educational avenues: longitudinal mentoring, a foundation of knowledge, and a variety of real-world experiences. Check out the Underserved Pathway website and apply during Foundations Phase here.
The Office of Healthcare Equity manages many of the other UWSOM Pathways and is offering several non-clinical electives this autumn. To graduate with the UP, students take two credits related to health equity and rural and urban underserved topics. Most students take these credits during Foundations Phase. See the UWSOM Foundations Registration page for more information on registering.
---
Career Advising updates 
Office Hours: Career Advising Office Hours for next week, Aug. 21 to 24, are dedicated to MS4's questions about residency applications. If you have a time-sensitive question next week, please email medadv@uw.edu instead of coming to Office Hours. A career advisor will get back to you within five days. Thank you for supporting our MS4s!
Meetings: Meanwhile, from mid-August to Oct. 3, the career advisors are very busy in 1-1 meetings with MS4s and prepping for fall advising. The advisors are not usually able to meet with other students during this time. If you have an urgent question or issue, please feel free to email medadv@uw.edu, and a career advisor will try to get back to you within five days. You are welcome to bring quick questions to Office Hours, but if your question can wait until after Oct. 3, that would help free up time for MS4s and the career advisors. Thank you for your patience and understanding.
---
"Tip of the Month" from the Career Advising Student Advisory Board
Every month, you'll get a tip in this newsletter to help you stay on track on career planning.
You will soon get tons of emails about extracurriculars. This may seem overwhelming during FMR, but think big picture about what might interest you career-wise. If you can, try to take on a leadership position for an interest group, a volunteer project, or join a committee.  Make sure you don't overcommit; but picking one or two extracurriculars this year to pour into is a fantastic way to kick off med schoo!
Pathway applications will also open this fall and can be helpful in learning how to better serve minoritized and underserved communities. Learn more about Pathways here.
Reviewed by Career Advising Student Advisory BIPOC board member L'Oreal Kennedy. Originally written by BIPOC alum Shanelle Briggs.
---
In case you missed it, here is a link to the previous newsletter for MS1s.

Have a wonderful week!