ICYMI: Travel reimbursements may be delayed
The University of Washington is in the final month of a multi-year "finance transformation" process. During the transition between systems, all payments from the University will be paused for a brief period during the official switch from old to new systems. All reimbursements for travel that have not been submitted to the current system will have to wait until July 6 to be submitted to the new system.
If you have not already submitted a reimbursement request, you will not be reimbursed until mid-July at the earliest. The WWAMI travel team is working as quickly as possible to get all received requests paid now, but we cannot guarantee the payments will be approved in time to be paid before July. UWSOM doesn't control the approval process; we just submit the requests to upper campus.
Please continue to submit reimbursement requests to gowwami@uw.edu, and we will process them in July, in the order received.
---
Survey response rate grows to 65 percent – thank you!
Here is a message from Sara Kim, Ph.D., associate dean for Educational Quality Improvement: I'm sharing the response rate graph below which represents an increase of 3 percentage points this week to reach 65 percent. Seattle, Spokane, Wyoming, and Montana students continued to complete the survey while doing their clinical training.
There will be some time set aside during the upcoming clinical integration week so you can complete the survey then – or go ahead and complete it now. The survey link is sent to your email from eqi@uw.edu every Tuesday afternoon and those continuing the survey can pick up from where you left off by clicking on the link.
Here are the incentives we are offering through a raffle at the end of the survey:
1 Amazon Kindle ($100)

 

2 Amazon Fire Tablets ($60)

 

2 Portable Chargers ($50)

 

1 pair of Wireless Earbuds ($50)

 

3 Portable Stanley Adventure Travel Tumblers ($30)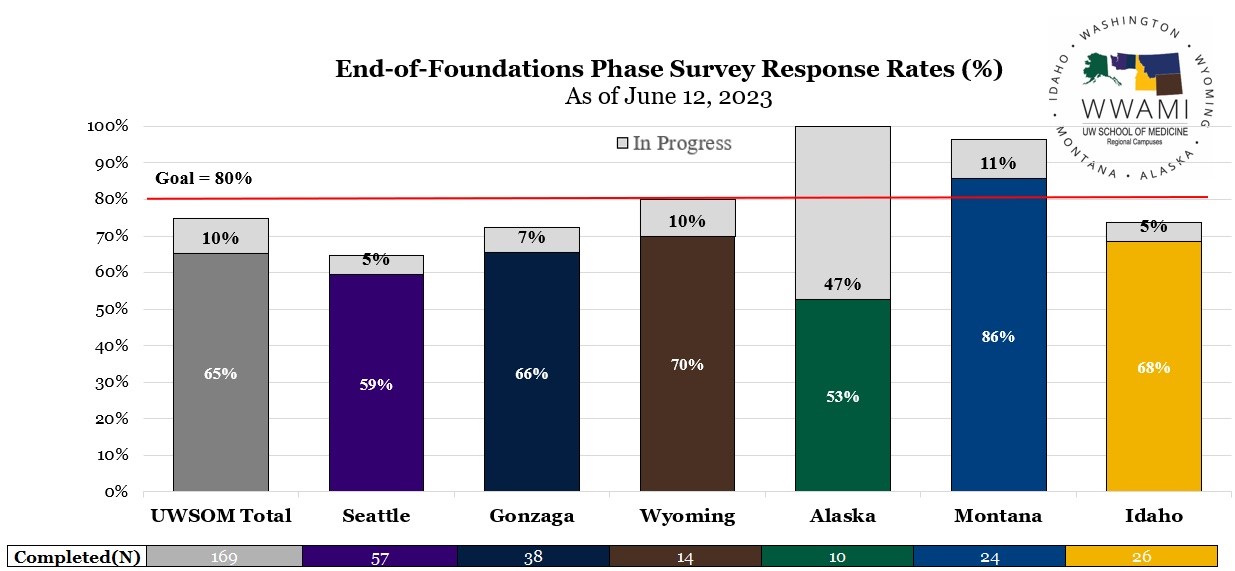 ---
Career Advising Student Advisory Board Tip of the Month 
While on rotations, try to secure at least one person who can write a letter for your residency application. If an attending offers to write you a letter in the future, take them up on it! If they don't offer one naturally, but you connect with them and do well on the rotation, ask if they feel they can write you a strong letter of rec. Away rotation applications also often require letters, so stay in touch with these letter writers! Here's some more info from Career Advising on letters of recommendation.  
Reviewed by Career Advising Student Advisory BIPOC board member L'Oreal Kennedy. Originally written by BIPOC alum Shanelle Briggs.
---
In case you missed it, here is a link to the previous newsletter for MS2s.
Have a terrific week!