DEADLINE IS TOMORROW, FRIDAY JUNE 16: Action required for disability accommodations for clerkship locations (If needed)
Students who require clerkship location accommodations to manage their personal medical conditions/disabilities must apply for and be approved by the university's Disability Resources for Students (DRS) office prior to June 30. Because it can take two to five weeks, sometimes longer, to be approved for accommodation with DRS, you should start the process as soon as possible (and no later than tomorrow, Friday, June 16).
If you are not currently registered with DRS, please fill out a "new student application" and submit your documentation via the DRS services website.
If you are already receiving accommodation through DRS and want to discuss clerkship location, please schedule an appointment with Kowan Russell, uwdrs@uw.edu.
Additional information about the steps for requesting accommodation is outlined on the UW DRS "Getting Started" website.
---
Thanks to everyone who shared their thoughts through the survey
Here is a message from Sara Kim, Ph.D., associate dean for Educational Quality Improvement: Your class recorded the highest survey response rate out of the four student cohorts. The final rate of 76 percent is admirable especially with four campuses (Seattle, Wyoming, Montana and Idaho) reaching or nearing the 80 percent goal.
I thank our Seattle students. As a large class, it's often hard to reach a high response rate; 78 percent of you this spring completed the survey!  Added to my thanks are Wyoming, Montana and Idaho students for setting strong response trends early on since the launch of the survey.
Spokane and Alaska students, I extend my appreciation to you for increasing the response rates steadfastly over the past weeks.
My team will be drawing the incentive prizes this week and will be in touch with those whose names are picked. Lastly, we plan to share the summary report of the data with you in the next couple of months.
Again, huge thanks to all of you.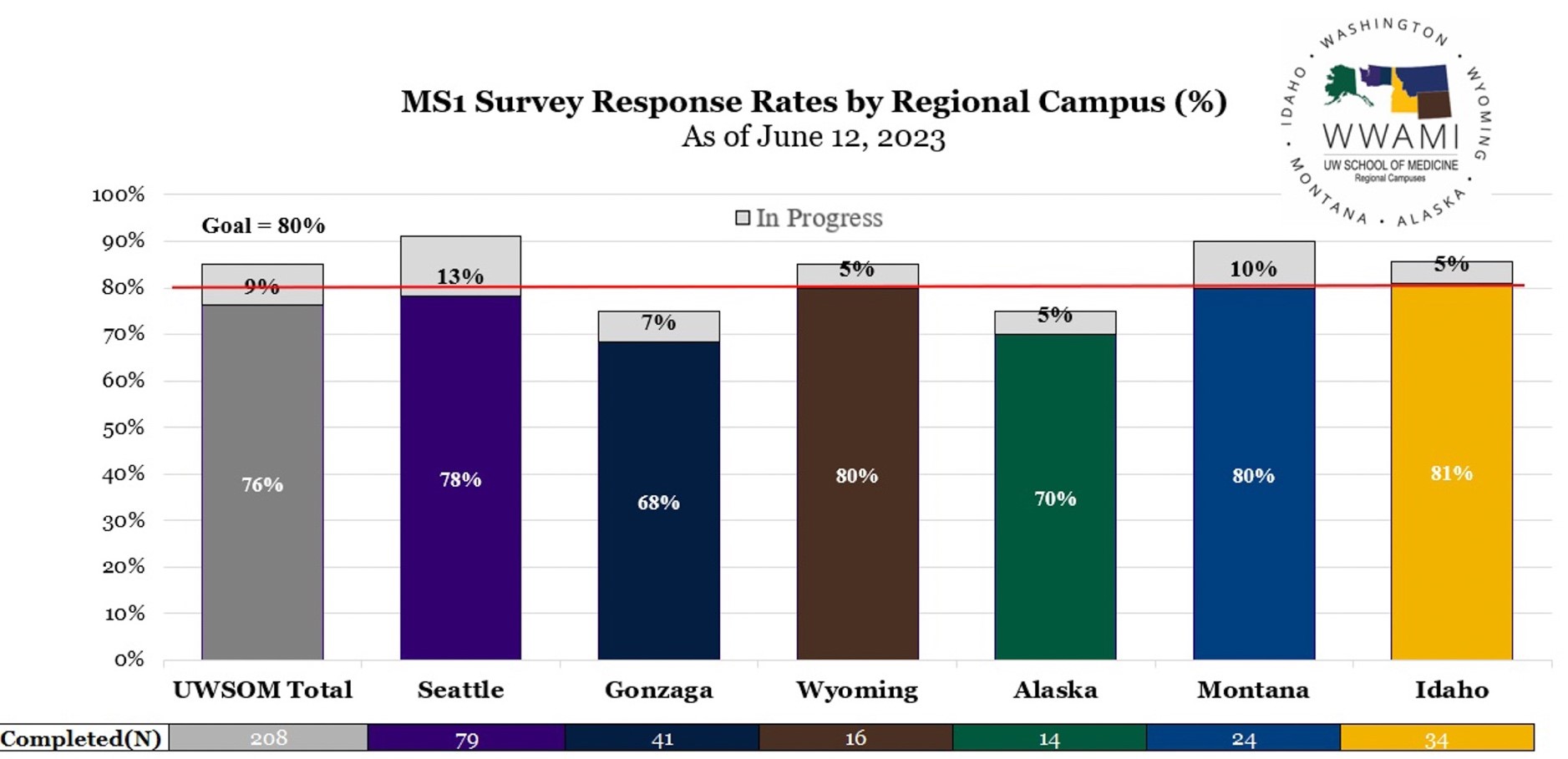 ---
Career Advising Student Advisory Board Tip of the Month
No matter what type of Triple I project you're doing this summer, it may be possible to share it at a conference – for example, the Western Student and Resident Medical Research Forum (WSMRF) — and/or get it published! This even includes non-traditional research options, the Rural Underserved Opportunities Program (RUOP and Global Health Immersion Program (GHIP).
Let your mentors know you're trying to do valuable and presentable work, ideally with some quantitative and qualitative data (e.g., surveys before and after your project). Presenting your work looks great on a CV! There is a small amount of funding that may be available for travel (keep an eye on this page for updates). 
Reviewed by Career Advising Student Advisory BIPOC board member L'Oreal Kennedy. Originally written by BIPOC alum Shanelle Briggs.
---
In case you missed it, here is a link to the latest MS1 newsletter.
Have a fabulous week!