Pizza, pizza, surveys and pizza!
A special treat just for MS4s: 
Take the surveys; then enjoy some pizza with your friends.
May 22, 2023
Noon
Take Surveys: Hogness Auditorium
Eat Pizza: Health Sciences Lobby, outside of A-300
---
Updates about the surveys
The following messages are from Sara Kim, Ph.D., associate dean for Educational Quality Improvement: 
AAMC GQ
Thanks to a few Seattle and Spokane students, our response rate increased to 58 percent (Seattle: 53 percent vs. 52 percent; Spokane: 54 percent vs. 53 percent). AAMC sent to you the survey link on May 1, and the last email from them will come on June 1. For those of you who started the survey, please look for the code from AAMC in order to complete the survey.
The survey you are filling out constitutes 'go live' data for the school's 2026 accreditation site visit. Achieving at least a 70 percent response rate will help us engage in ongoing continuous quality improvement.
As you saw above, on May 22 when you are in Seattle, we are allotting 30 mins for those who haven't completed GQ and Explore & Focus Phase survey to fill them out followed by a pizza lunch. I look forward to greeting you in person!
Please save the receipt from AAMC because you'll have a chance to win:
1 Amazon Kindle ($100 worth)
2 Amazon Fire Tablets ($60)
2 Portable Charger ($50)
1 pair of Wireless Earbuds ($50)
3 Portable Bluetooth Speakers ($20)
End-of-Explore & Focus survey
Please refer to the graph below that shows the school level response rate of 38 percent. I thank those who are affiliated with Seattle (34 percent vs. 29 percent), Spokane (38 percent vs. 34 percent), and Montana (62 percent vs. 55 percent) for taking the time to complete the survey.
As you see, many of you started the survey. I hope you can complete this week or on Monday before the pizza lunch. The school needs to demonstrate at last a 70 percent response rate to the LCME accrediting agency in order to address the four outstanding citations. May we count on you to complete the survey?
Thank you for your help. The customized survey link is emailed to you by eqi@uw.edu every Tuesday afternoon.
Here are the incentives we are offering through a raffle at the end of the survey period in early June:
1 Amazon Kindle ($100)
2 Amazon Fire Tablets ($60)
2 Portable Chargers ($50)
1 pair of Wireless Earbuds ($50)
3 Portable Stanley Adventure Travel Tumblers ($30)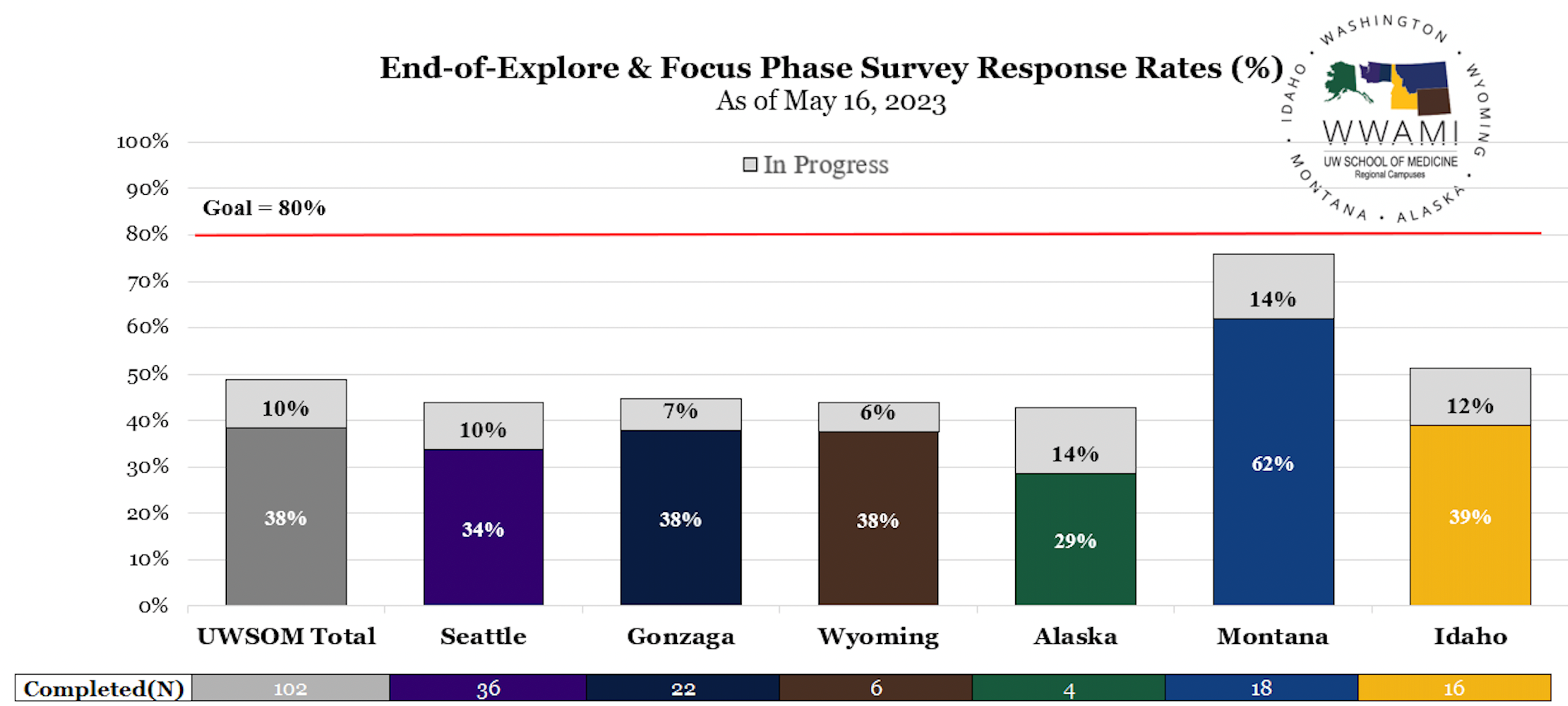 ---
Discounts expire soon for study resources
Academic Support would like expanded MS4s to know that the following discounts will be expiring soon!
Sketchy: Sketchy is a research-proven visual learning platform that helps students and professionals effortlessly learn and recall information by taking advantage of art, story, and the method of loci.
AMBOSS: Amboss is a learning resource that features articles, videos, and an extensive question bank.
These discount codes and others can also be found on the Academic Support Resources website.
If you have questions or concerns regarding any of these resources, please contact the respective customer service emails listed above.
---
In case you missed it, here is the previous newsletter for MS4s.
Have a terrific week!