Discounts available for study resources
Here's an update from Academic Support about study resources:
We partner with the following third-party companies to provide discounts. While UWSOM does not specifically endorse these companies, we are aware that they offer valuable resources that many of our students have used and currently use and hope that our efforts can provide a small fraction of financial relief.
Please note the expiration date on each offer. Once that offer has passed, we will not be able to extend the discount.
AMBOSS: Amboss is a learning resource that features articles, videos, and an extensive question bank.
Sketchy: Sketchy is a research-proven visual learning platform that helps students and professionals effortlessly learn and recall information by taking advantage of art, story, and the method of loci.
Pixorize: Pixorize makes visual mnemonics covering biochemistry, immunology, pharmacology, and more for the USMLE exams.
Pathoma: Pathoma is a website devoted to covering the in-depth pathology text of Dr. Husain Sattar.
Online Med Ed: Provides a learning platform focusing on understanding and mastering the fundamentals. Offers pre-clinical and clinical resources.
These discount codes can also be found on our Academic Support Resources website.
If you have questions or concerns regarding any of these resources please contact the respective customer service emails listed above.
---
Action required for disability accommodations for clerkship locations (If needed)
Students who require clerkship location accommodations to manage their personal medical conditions/disabilities must apply for and be approved by the university's Disability Resources for Students (DRS) office prior to June 30. Because it can take two to five weeks, sometimes longer, to be approved for accommodation with DRS, you should start the process as soon as possible (and no later than June 16).
If you are not currently registered with DRS, please fill out a "new student application" and submit your documentation via the DRS services website.
If you are already receiving accommodation through DRS and want to discuss clerkship location, please schedule an appointment with Kowan Russell, uwdrs@uw.edu.
Additional information about the steps for requesting accommodation is outlined on the UW DRS "Getting Started" website.
---
If you haven't taken the End-of-Foundations Phase survey, please read this
Here is a message from Sara Kim, Ph.D., associate dean for Educational Quality Improvement:
I am reaching out to you with the latest response rates on the End-of-Foundations Phase survey. Your classmates helped raise the rate by 6 percentage points, and we now stand at 53 percent participation. As you can see in the graph below, if everyone who started the survey completes it, we will reach 63 percent at the school level. At the campus level, the time you take to continue the survey will raise the rate at your campus (Alaska will be 100 percent and Montana, 86 percent!)
For those who haven't had a chance to start the survey, please know every single data point counts and every single comment you enter will be reviewed by me and my excellent team members. My promise is to share back a two-page summary of the key findings and the school's actions.
Thank you for your help. The customized survey link is sent to you every Tuesday afternoon.
Here are the incentives we are offering through a raffle at the end of the survey:
1 Amazon Kindle ($100)

 

2 Amazon Fire Tablets ($60)

 

2 Portable Chargers ($50)

 

1 pair of Wireless Earbuds ($50)

 

3 Portable Stanley Adventure Travel Tumblers ($30)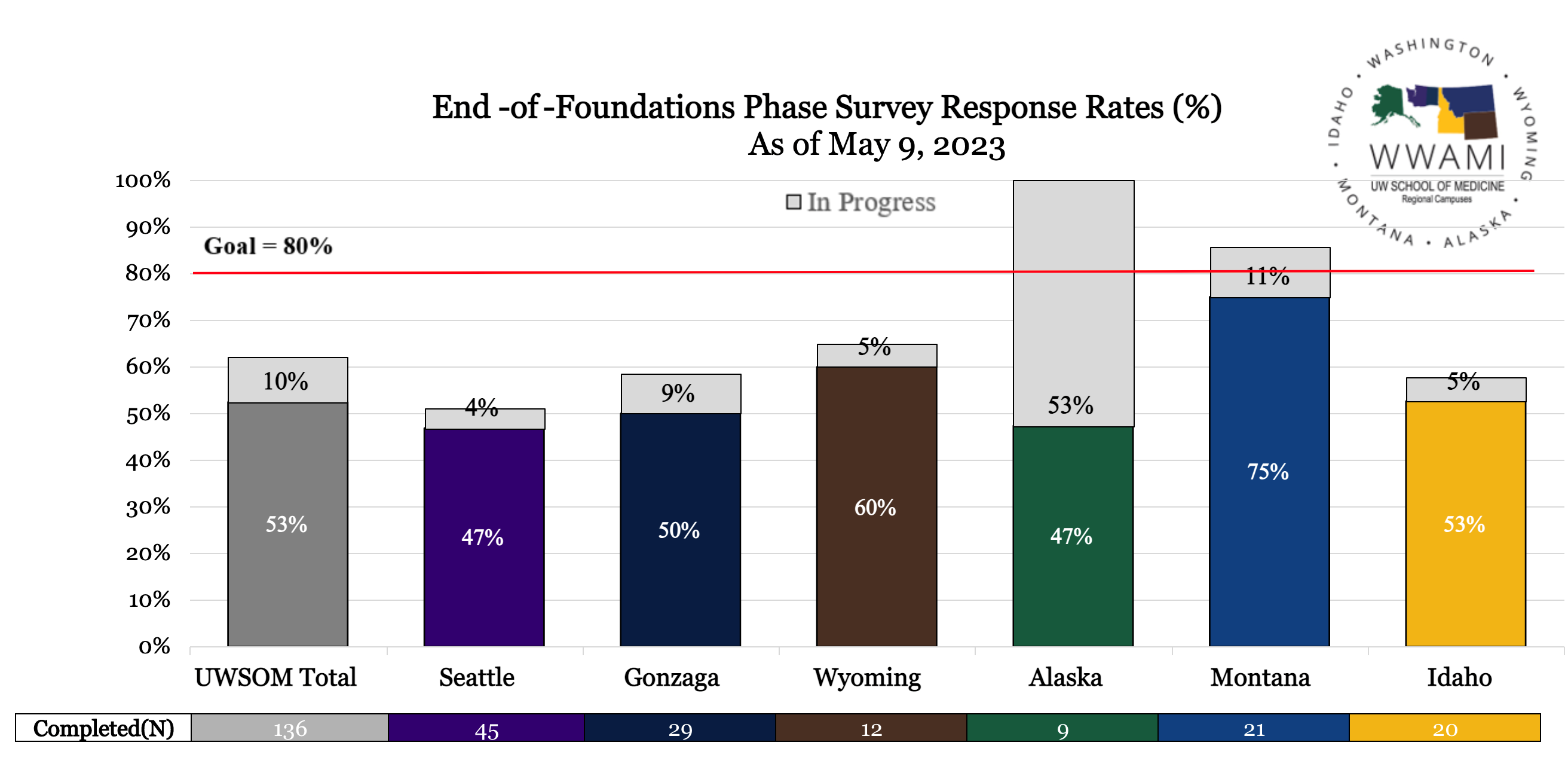 ---
Career Advising Student Advisory Board Tip of the Month 
We hope you are enjoying the transition from Foundations to Patient Care Phase! You can always ask your "big doc" for tips on these rotations, as we have done them all already. Make sure you read the web page for each rotation and keep grading policies in mind. Use those study skills from MS2 to study for the NBME shelf exams! 
Reviewed by Career Advising Student Advisory BIPOC board member L'Oreal Kennedy. Originally written by BIPOC alum Shanelle Briggs.
---
In case you missed it, here is a link to the previous newsletter for MS2s.
Have a terrific week!