Discounts available for study resources
Here's an update from Academic Support about study resources: We partner with the following third-party companies to provide discounts. While UWSOM does not specifically endorse these companies, we are aware that they offer valuable resources that many of our students have used and currently use and hope that our efforts can provide a small fraction of financial relief.
Please note the expiration date on each offer. Once that offer has passed, we will not be able to extend the discount.
AMBOSS: Amboss is a learning resource that features articles, videos, and an extensive question bank.
Boards & Beyond: Step 1-Preclinical provides an online virtual curriculum to supplement your coursework and build your foundation in preclinical topics. Members have access to 447 videos, PDF copies of the slides and a question bank with more than 2,300 questions covering the breadth of preclinical material.
Sketchy: Sketchy is a research-proven visual learning platform that helps students and professionals effortlessly learn and recall information by taking advantage of art, story, and the method of loci.
Pixorize: Pixorize makes visual mnemonics covering biochemistry, immunology, pharmacology, and more for the USMLE exams.
Pathoma: Pathoma is a website with popular videos devoted to covering the in-depth pathology text of Dr. Husain Sattar.
Bootcamp: Med School Bootcamp "is your all-in-one resource for learning medicine and passing Step 1, according to the company.
Online Med Ed: Provides a learning platform focuses on understanding and mastering the fundamentals. Offers pre-clinical and clinical resources.
You can also find these discount codes on our Academic Support Resources website.
If you have questions or concerns regarding any of these resources please contact the respective customer service emails listed above.
---
Update on how it's going with the survey, and a reminder of what prizes you can win
This is a message from Sara Kim, Ph.D., associate dean for Educational Quality Improvement:
Wow, within a week you raised the survey response rate to 44 percent (up 15 percentage points as you can see in the graphic below). Among all four cohorts, the MS1s are recording the fastest survey completion rate – and it's only week two. I thank each of you for your time and contribution.
Here is the regional campus breakdown:
Idaho increased the rate by 21 percentage points and is now at a 45 percent response rate!
Three campuses recorded a 15 percentage point increase over the past week:
Spokane:      43 percent (vs. 28 percent last week)
Wyoming:     65 percent (vs. 50 percent)
Alaska:          45 percent (vs. 30 percent)
Seattle's rate increased by 14 percentage points (39 percent vs. 25 percent), followed by Montana (47 percent vs. 40 percent).
At this rate, you will soon exceed the 50 percent mark and will be well underway to our goal of 80 percent. Simply, thank you.
The customized survey link is emailed directly to you every Tuesday afternoon from eqi@uw.edu. Here is what you could win in the raffle:
1 Amazon Kindle ($100)
2 Amazon Fire Tablets ($60)
2 Portable Chargers ($50)
1 pair of Wireless Earbuds ($50)
3 Portable Stanley Adventure Travel Tumblers ($30)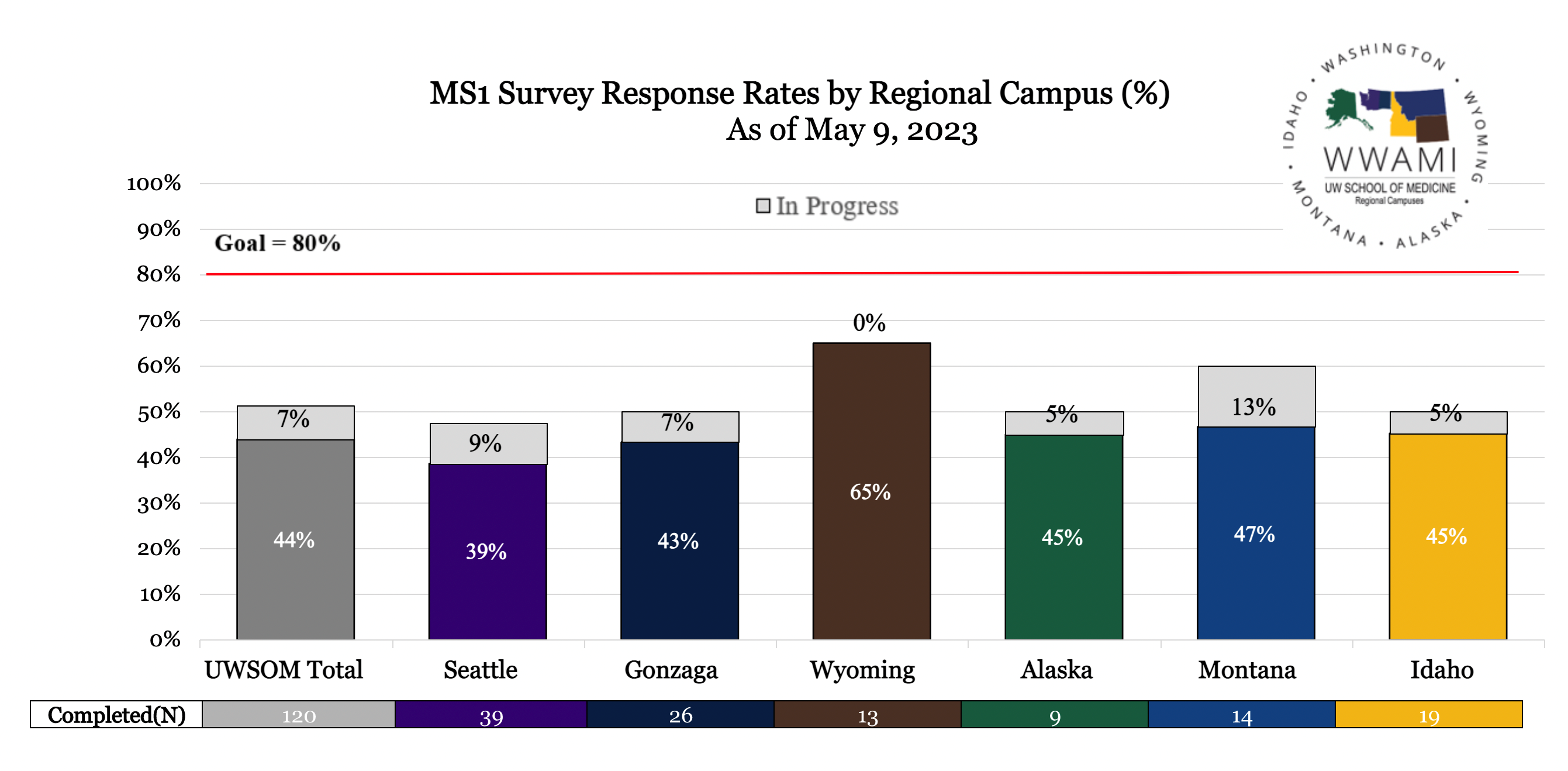 ---
Career Advising Student Advisory Board Tip of the Month
If you're leaning toward a specialty (or a couple of them) and have already met with Career Advising, review when you can meet with your specialty career advisor (SCA)! Some of you don't have to connect with them until starting your clinical phase. Just follow their advice on the Specialty Guides. For others, it can be great to get on the SCA's radar early, but make sure you bring specific questions. Use this website to prepare for your meeting. Be ready to share your summer plans with them and ask if they have any suggestions (such as, presenting your summer project at a specific conference, extra shadowing, volunteering, etc.). 
Reviewed by Career Advising Student Advisory BIPOC board member L'Oreal Kennedy. Originally written by BIPOC alum Shanelle Briggs.
---
Special notice: Action required for disability accommodations for clerkship locations (If needed)
Students who require clerkship location accommodations to manage their personal medical conditions/disabilities must apply for and be approved by the university's Disability Resources for Students (DRS) office prior to June 30. Because it can take two to five weeks, sometimes longer, to be approved for accommodation with DRS, you should start the process as soon as possible (and no later than June 16).
If you are not currently registered with DRS, please fill out a "new student application" and submit your documentation via the DRS services website.
If you are already receiving accommodation through DRS and want to discuss clerkship location, please schedule an appointment with Kowan Russell, uwdrs@uw.edu.
Additional information about the steps for requesting accommodation is outlined on the UW DRS "Getting Started" website.
---
In case you missed it, here is a link to the latest MS1 newsletter.
Have a fabulous week!