There are surveys in front of all medical students this month. In this video you'll hear from WWAMI leaders and staff about why surveys are important. You can hear from other leaders in this related video we shared last month. There are reasons for all these surveys, and we thank you for filling them out (and adding your comments!)
Reminder to please take the latest survey
Here is a message from Sara Kim, Ph.D., associate dean for Educational Quality Improvement: I thank you for helping raise the response rate by 5 percentage points over the past week (45 percent vs. 40 percent)!  It's a real joy to start the day looking at the data and sharing this update with you.
Here is my round of appreciation beginning with our Montana students. You raised the rate by 15 percentage points and now reached the highest rate at 61 percent. Thank you for your efforts. Next, Idaho students added 7 percentage points to their survey response rate (39 percent vs. 32 percent), followed by Seattle and Spokane students growing their responses by 4 percentage points (42 percent and 45 percent, respectively).  After making great strides last week, data from Wyoming and Alaska remain the same as last week (55 percent and 37 percent, respectively).
At this steadfast rate, we can reach our goal of 80 percent by the end of May. I count on you to help meet this goal. Your high participation will help ease some of the accreditation challenges.
Please look for a customized email link from eqi@uw.edu.
Here are the incentives: 
1 Amazon Kindle ($100)

 

2 Amazon Fire Tablets ($60)

 

2 Portable Chargers ($50)

 

1 pair of Wireless Earbuds ($50)

 

3 Portable Stanley Adventure Travel Tumblers ($30)

 
 Thank you everyone!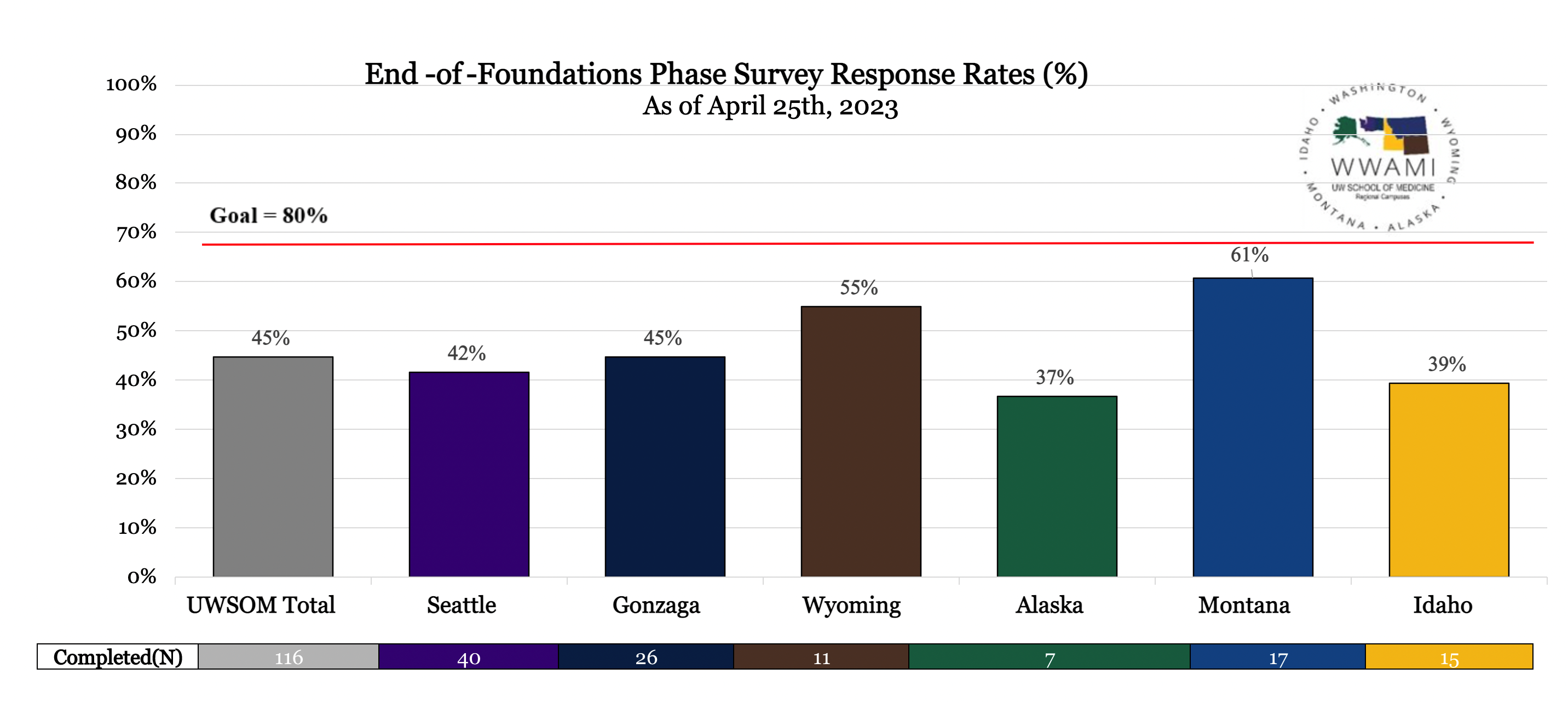 ---
Career Advising Student Advisory Board Tip of the Month 
For many of you, rotations have started. As you're going through these rotations, it's helpful to look at the daily work you're doing, reflect and take notes on what you like and don't like about it. Your future you will be grateful for those notes. 
The Association of American Medical Colleges (AAMC) Careers in Medicine Clinical Rotation Evaluation provides a format for you to record your thoughts and opinions.  
Do you love the operating room and working with your hands?

 

Do you enjoy getting to sit down with patients for conversations?

 

How important is continuity of care to you?

 

Do you like high adrenaline situations?

 

Do you prefer working in a hospital or a clinic?

 
Answering these big-picture questions can help you narrow down on specialty options to explore further! Pay attention to which clerkship(s) keep you interested and inspired even when the work is tough, and you are tired.   
Reviewed by Career Advising Student Advisory BIPOC board member L'Oreal Kennedy. Originally written by BIPOC alum Shanelle Briggs.
---
In case you missed it, here is a link to the previous newsletter for MS2s.
Have a terrific week!