Update

#4:

End

–

of

–

Foundations

Phase S

urvey

Response Rates
from Sara Kim, Ph.D., associate dean for Educational Quality Improvement
Dear MS2/Rising MS3 students, 
If you haven't filled out the End-of-Foundations survey, please look for the email containing a customized survey link that was sent today from eqi@uw.edu.
Each year, we set a goal of an 80% response rate to make informed improvements in the educational program. I know this is a very busy time with your clinical training and appreciate your input whenever you can allocate some time. We will keep the survey open until mid-May.
Thank you to those of you who helped raise the response rate to 34% over 32% last week. My big thanks to Wyoming and Gonzaga students whose rates jumped by 5% (45% vs. 40%, 34% vs. 29%, respectfully), followed by Idaho students (+3%, 29% vs. 26%). There were no changes to the response rates for Seattle, Alaska, and Montana. Montana still has the highest response rate at 46%.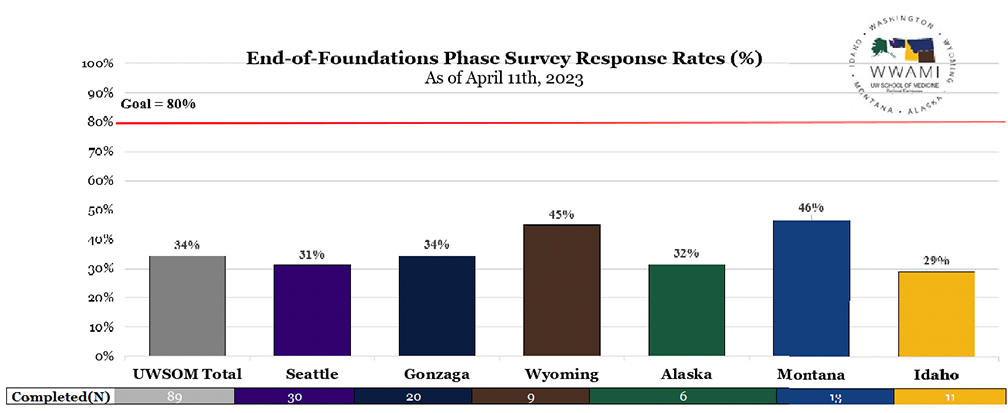 Here are the incentives we are providing this year: 
1 Amazon Kindle ($100)

 

2 Amazon Fire Tablets ($60)

 

2 Portable Chargers ($50)

 

1 Wireless Earbuds ($50)

 

3 Portable Stanley Adventure Travel Tumblers ($30)

 
 Thank you everyone! 
---
Career Advising Student Advisory Board Tip of the Month 
For many of you, rotations have started. As you're going through these rotations, it's helpful to look at the daily work you're doing, reflect and take notes on what you like and don't like about it. Your future you will be grateful for those notes. 
The Association of American Medical Colleges (AAMC) Careers in Medicine Clinical Rotation Evaluation provides a format for you to record your thoughts and opinions.  
Do you love the operating room and working with your hands?

 

Do you enjoy getting to sit down with patients for conversations?

 

How important is continuity of care to you?

 

Do you like high adrenaline situations?

 

Do you prefer working in a hospital or a clinic?

 
Answering these big-picture questions can help you narrow down on specialty options to explore further! Pay attention to which clerkship(s) keep you interested and inspired even when the work is tough, and you are tired.   
Reviewed by Career Advising Student Advisory BIPOC board member L'Oreal Kennedy. Originally written by BIPOC alum Shanelle Briggs.
---
In case you missed it, here is a link to the April 06, 2023 newsletter for MS2s.
Have a terrific week!