Thoughts about your upcoming clinical schedule
Clinical schedules will be coming out soon. Maya Sardesai, the Assistant Dean for Student Development in Student Affairs, wanted to share thoughts about what you might consider in looking over your schedule. Hear from her in the video above.
---
Thank you for achieving survey goal; your feedback will help!
This is an update from Sara Kim, associate dean for Educational Quality Improvement: You did it! You raised the school's survey response rate to 71 percent, which is 17 percentage points over the national rate of 54 percent. Thanks to 185 of you, our response rate continued to stay above the national trend over the three-month survey.
The graph says it all. Montana and Gonzaga ended up exceeding the 80 percent mark (at 86 percent and 81 percent, respectively), followed by Alaska (74 percent), Idaho (71 percent), Wyoming (70 percent), and Seattle (60 percent). Each voice from small and large cohorts across WWAMI counts and will be reflected in the report my office will generate this spring and share with you.
Eight students whose names are drawn for the incentives will be contacted in the coming week.
Thank you everyone for the opportunity to work with you. I admire your engagement and contribution to the school.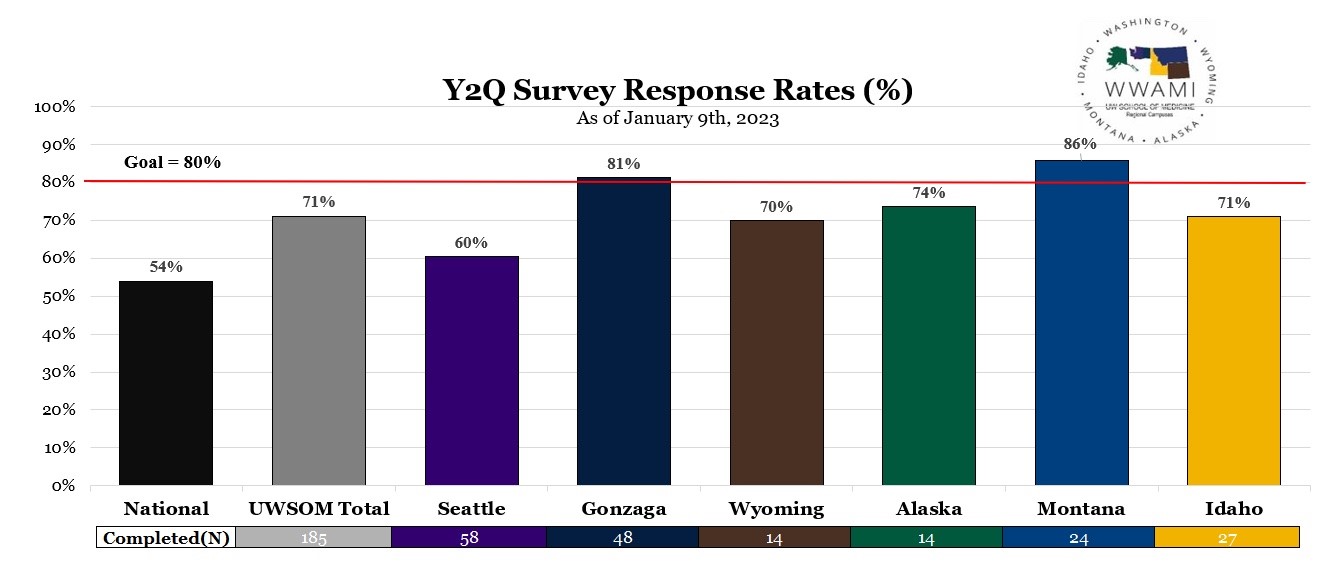 ---
Career Advising Student Advisory Board Tip of the Month 
We hope you had a restful winter break! We know you're focused on Step 1 studying now, so lean into that and put specialty and career planning on hold. Make sure you have a weekly schedule with at least one full day off. Folks usually study for 10 hours daily, but do what it best for you! '
Since Step 1 is now pass/fail, consider taking the exam once you are achieving comfortable passing scores consistently in UWorld and on NBME's. It is normal to score under 50 percent when starting UWorld, so don't let this discourage you! Once you take the exam, use the rest of your break to relax and do the things you love, This can give you the reset you need before heading into clerkships. Good luck everyone! 
Reviewed by Career Advising Student Advisory BIPOC board member L'Oreal Kennedy. Originally written by BIPOC alum Shanelle Briggs.
---
In case you missed it, here is the previous newsletter for MS2s.
Have a great week!