Missed the recent Syllabus to Specialty Faculty Panel  Talks?
For excellent advice and insight into the following fields, watch the recordings of the Syllabus to Specialty Faculty Panels that occurred during the recent Foundation Integration Week. Panels were organized and sponsored by UWSOM Career Advising.
Recording of the Pathology, Radiation Oncology & Radiology panel
Oliver Chang, M.D., acting assistant professor, UW Dept. of Laboratory Medicine and Pathology
Molly Blau, M.D., assistant professor, UW Dept. of Radiation Oncology
Ethan Hua, M.D., clinical assistant professor, Vascular and Interventional Radiology, UW Dept. of Radiology
Recording of the Dermatology, Family Medicine & Internal Medicine panel
Deepti Gupta, M.D., clinical adjunct, UW Dept. of Medicine, Division of Dermatology and associate professor, UW Dept. of Pediatrics
Viet H. P. Nguyen, M.D., faculty physician, Swedish First Hill Family Medicine Residency
Nina Tan, M.D., acting instructor, UW Dept. of Internal Medicine
---
Don't forget, the Y2Q survey helps the school & there are prizes!
This is an update from Sara Kim, associate dean for Educational Quality Improvement: This past week, 24 of you completed the survey, bringing the response rate to 44 percent, up 9 percentage points from last week. Our response rate continues to exceed the national average of 28 percent. I thank you!
Here is an update on the regional response rates with a round of accolades (also see the graph below):
Seattle:          At 39 percent (up 5 percentage points), your class is steadily moving toward 50 percent.
Spokane:      You are at 46 percent (up 7 points), just steps away from reaching the 50 percent mark.
Wyoming:     A 10 percentage point increase puts you at 40 percent today. It takes just two more students to reach the 50 percent threshold.
Alaska:          Bravo! In a single week, the rate jumped by 21 percentage points to reach 37 percent.  Keep going!
Montana:      You continue to be on a roll. Your 62 percent response rate, up 14 points from last week, is quite impressive.
Idaho:            You are the second cohort to reach the 50 percent mark. That's an increase of 16 percentage points.
Here is a list of the incentives we are providing.
1 Amazon Tablet ($50 worth)
1 Kindle ($100 worth)
2 wireless earbuds ($100 worth)
2 Portable Charger ($55 worth)
3 Amazon Fire TV Stick ($25)
We will randomly draw a winner for an Amazon Tablet on Monday, 11/21. Winners for the rest of the items will be randomly drawn after Y2Q survey closes in December. Given the small number of students who let us know about the survey completion, we will do the drawings from the class list (Thank you to those who emailed!).
Thank you for your participation and please encourage your peer students to participate in the survey as well!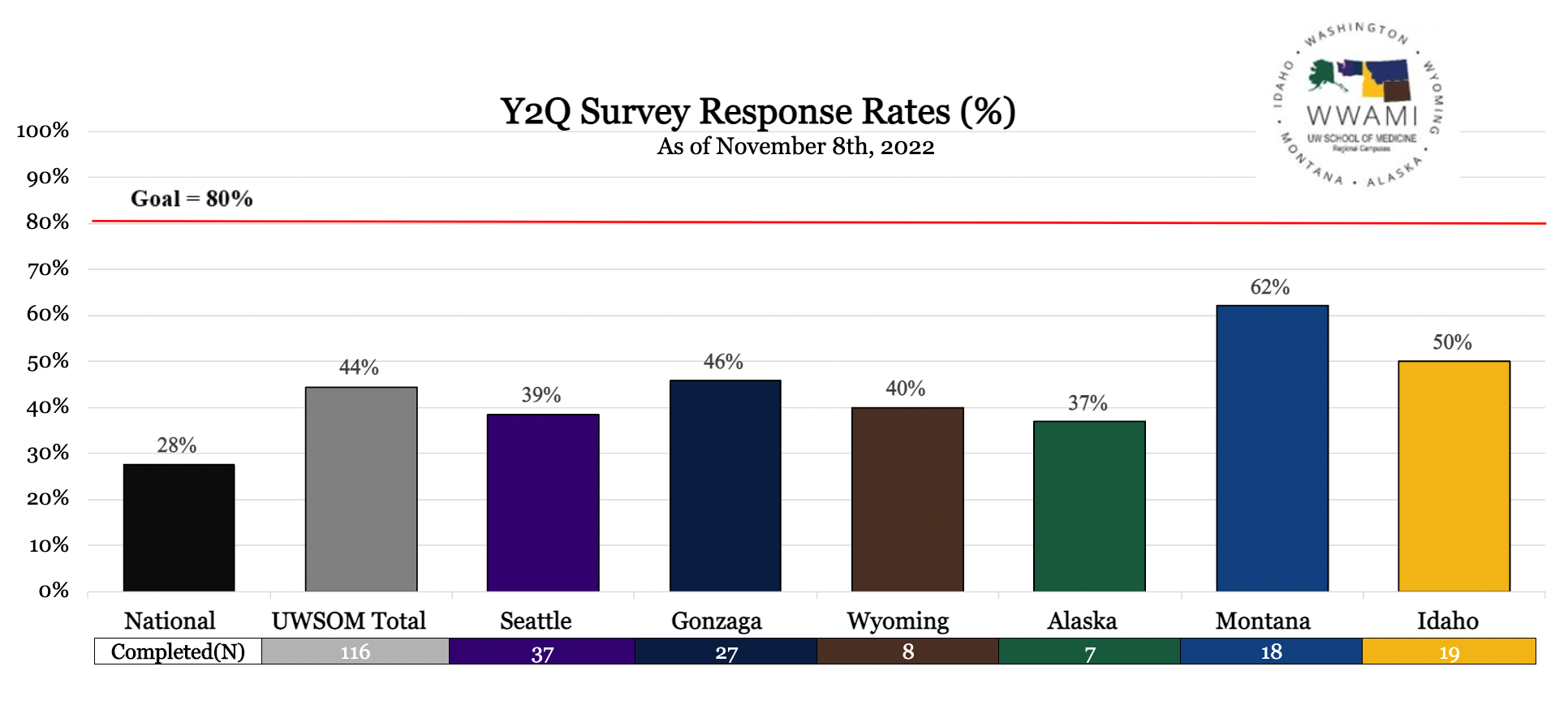 ---
ICYMI: Compliance deadline for data stewardship is Nov. 15
UW Medicine and UWSOM require medical students learn how to properly safeguard confidential information and practice good data stewardship. This requirement includes concurrent degree/MSTP students and students on a leave of absence.
Please complete the UW Privacy, Confidentiality, and Information Security Agreement requirement in the To-Do List of your UW71 Castlebranch account [mycb.castlebranch.com]. Review the presentation "UW Medicine Data Stewardship" here or in Castlebranch. You can follow the instructions in Castlebranch to meet the UW Medicine data stewardship requirements.
You must upload a signed form to your UW71 CastleBranch Compliance Tracker by Nov. 15. Please make sure your UW student ID number is on the form. Please monitor your submission to make sure it is approved.
---
Career Advising Student Advisory Board Tip of the Month 
You're almost done with the classroom portion of medical school! With this last bit of pre-clinical med school, continue to go to interest group events, volunteer, and do other extracurriculars. Life is busy during clerkships, so these things are harder to do. Of course, prioritize your blocks first and don't spread yourself too thin 🙂 
Reviewed by Career Advising Student Advisory BIPOC board member L'Oreal Kennedy. Originally written by BIPOC alum Shanelle Briggs.
---
In case you missed it, here is last week's newsletter for MS2s.
Have a great week!