Increase in WWAMI clerkship travel mileage reimbursement
In response to the spike in gas prices this summer, UWSOM is increasing the mileage reimbursement rate for students driving to and from required WWAMI clerkship sites. The previous rate was 22.5 cents per mile. From now until at least the end of 2022, the rate will be 30.55 cents per mile.
As an example, the reimbursement for taking a round trip between Seattle and Missoula at the previous rate  would have been $213.93. At the new rate, the reimbursement will be $290.47. The new rate is based on gasoline costing $5.50 a gallon and a vehicle getting 18 mpg.
UWSOM hopes that this new rate will alleviate some financial stress associated with clerkship travel and will look at the price of gas again in January of 2023 and make any necessary adjustments.
---
Final chance to help the school and maybe win a prize by taking the survey
This is a message from Sara Kim, Associate Dean for Educational Quality Improvement: This is my last communication to you about this survey, as it will close on Tuesday, July 5. This week's response rate is 68.1 percent, an increase of 4 percentage points from last week! It would take only five more responses to meet our goal Let me first call out the campuses with increased response rates. Gonzaga: Thank you for the 10 percentage point jump in the response rate (71.7 percent vs. 61.7 percent). Seattle and Idaho: I appreciate those of you who took the time to complete the surveys: Seattle: 60.2 percent vs. 56.3 percent last week, Idaho: 60 percent vs. 55 percent. Wyoming, Alaska, and Montana rates remain the same.
Please take the survey if you have not. I am hoping we can exceed 70 percent Participation if five more students could complete the survey.
The link is sent to you every Tuesday from eqi@uw.edu. Your email is only used for tracking purposes and will not be linked to your responses. Please see the incentive information below.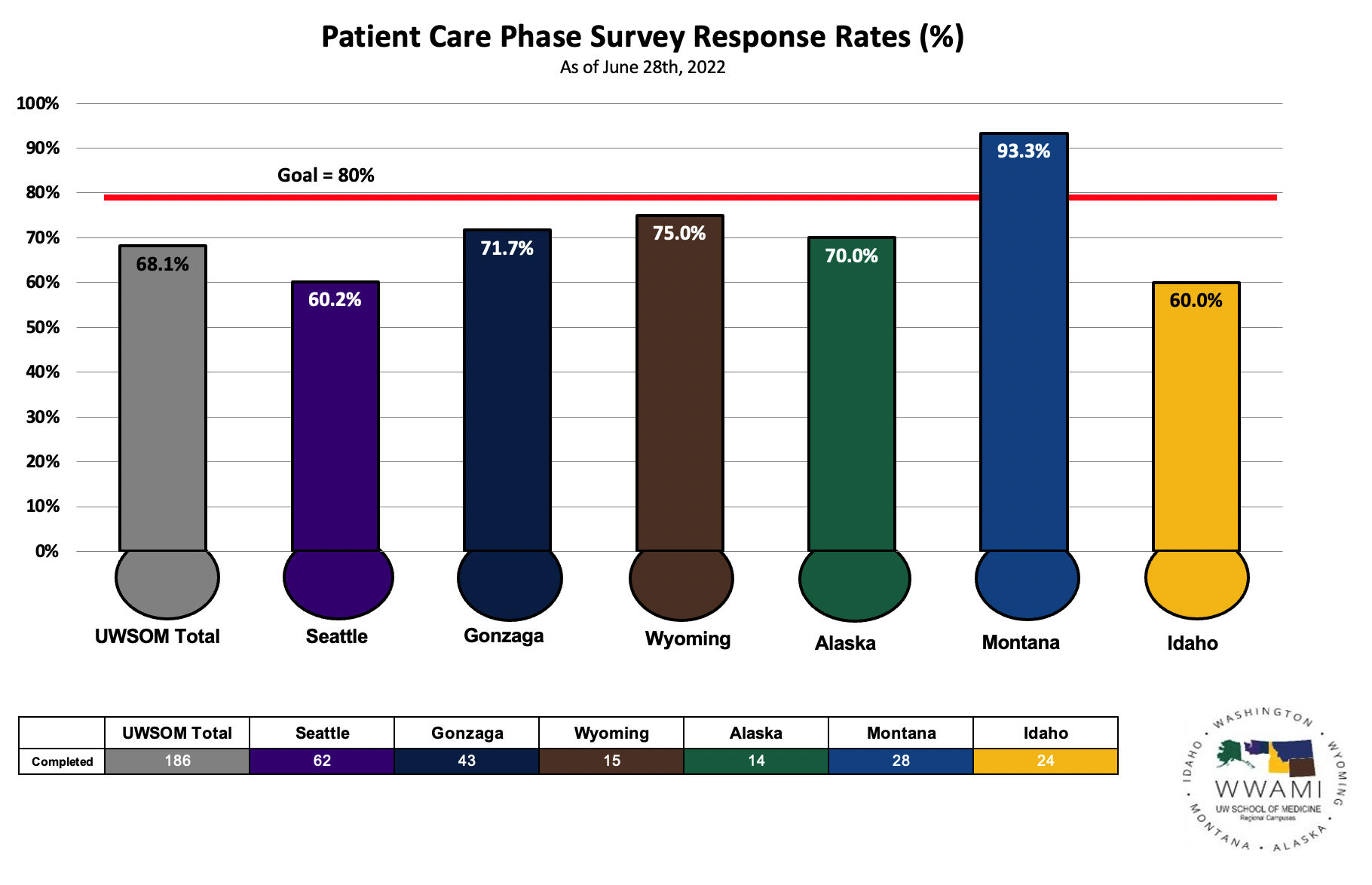 This year, we are offering the following incentives for completing the survey:
Two $50 items you select from Amazon
Twelve $25 items you select from Amazon
Three $50-value WWAMI gift packs
---
Career Advising Student Advisory Board – Tip of the Month
While on rotations, try to secure at least one letter writer for your residency application. If an attending offers to write you a letter in the future, take them up on it! If they don't offer one naturally, but you connect with them and do well on the rotation, ask if they feel they can write you a strong letter of rec. Away rotation applications also often require letters, so stay in touch with these letter writers! Here's some more info from Career Advising on letters of recommendation.
Reviewed by Career Advising Student Advisory BIPOC board member L'Oreal Kennedy. Originally written by BIPOC alum Shanelle Briggs.
---
Have a great week!