Y2Q Update
Thank you for helping us raise our AAMC Y2Q response rate from 18.7% to 26.9% over the past week (National Average = 27.7%)!  As you see in the graph below, two campuses (Gonzaga, 35.6% and Seattle, 30.3%) have exceeded 30%, followed by Alaska (25%), Montana (23.3%), Idaho (17.5%), and Wyoming (10%).  We thank you for taking the time to complete this important survey.
We will do random drawings of the following prizes to encourage your participation:
Two $50 items you select from Amazon
Eight $25 items you select from Amazon
Six $50-value WWAMI gift packs
The drawings will take place after the survey closes on January 3, 2022 and if your name is picked, we will ask for the AAMC receipt of survey completion. Please keep a record of it!
Please note AAMC sends the survey link to your email (Contact Y2Q@aamc.org to request the link).
Thank you everyone for your help and look forward to updating you next week with the updated response rate.
Sara
Sara Kim, Ph.D.
Research Professor, Department of Surgery
Associate Dean for Educational Quality Improvement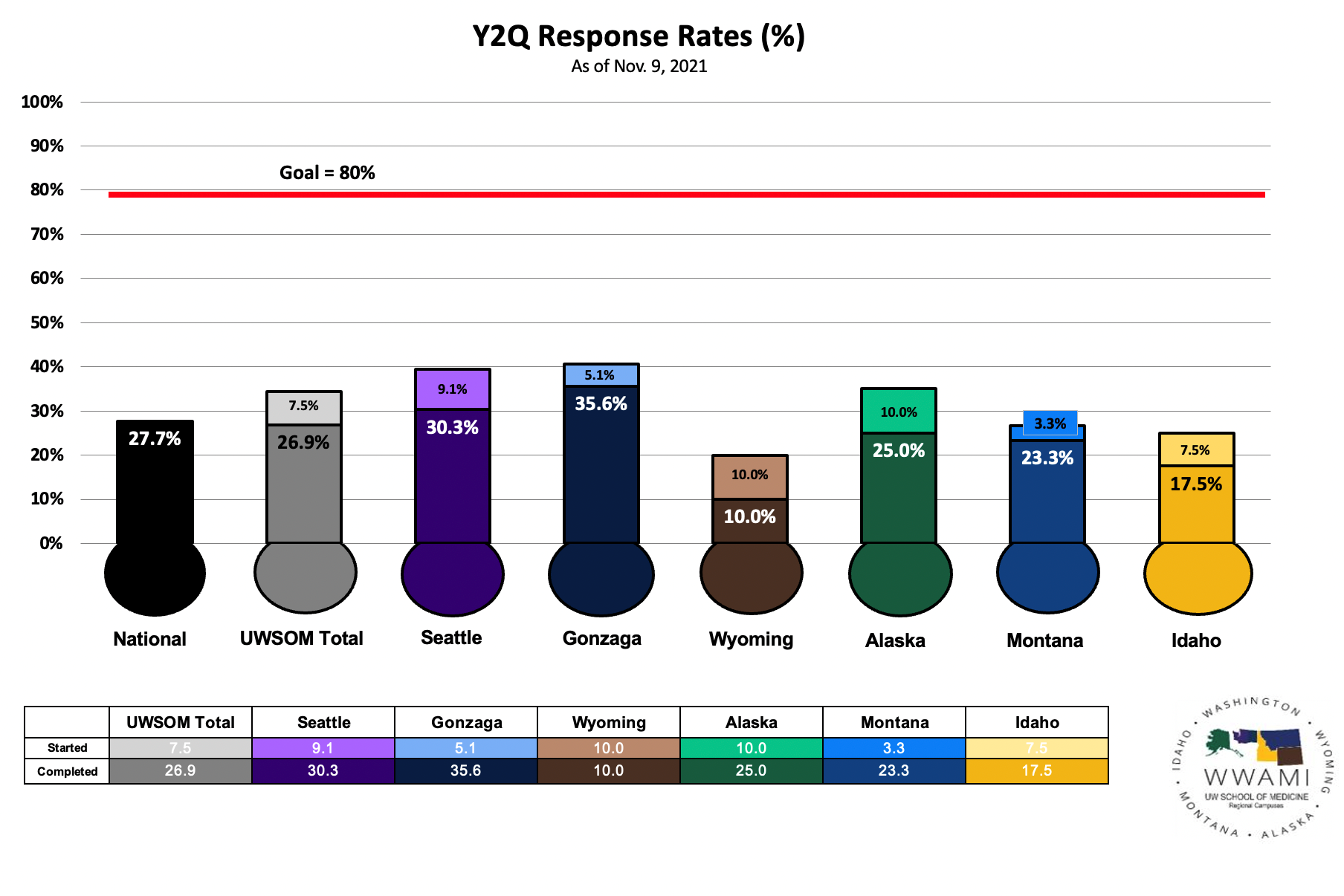 ---
Career Advising Student Advisory Board – Tip of the Month
You're almost done with the classroom portion of medical school! With this last bit of pre-clinical med school, continue to go to interest group events, volunteer, and do other extracurriculars. Life is busy during clerkships, so these things are harder to do. Of course, prioritize your blocks first and don't spread yourself too thin.
Written by Career Advising Student Advisory Board member, Shanelle Briggs and reviewed by a second BIPOC Board member, L'Oreal Kennedy.
---
In case you missed it:
Here is a link to the November 4, 2021 Student Newsletter information for MS2s. That issue included:
Y2Q Update
Information about the CBSE
Postgraduate Physician Scientist Training Opportunities
Privacy, Confidentiality, and Information Security Agreement Compliance Deadline