Office of Rural Programs
Libby
Libby, Montana WRITE Site
Libby Clinic
211 E 2nd St
Libby, MT 59923

Phone: 406-293-8711
Fax: 406-293-8735
Libby is located in the northwest corner of Montana. Nestled at the foot of the Cabinet Mountain Wilderness Area, outdoor activities, wildlife, and birds abound. Lincoln County is 3.5 times larger than the State of Rhode Island, but is populated by less than 20,000. Libby's population is 2,500. Additional information can be found at www.libbychamber.org
Primary WRITE Preceptors: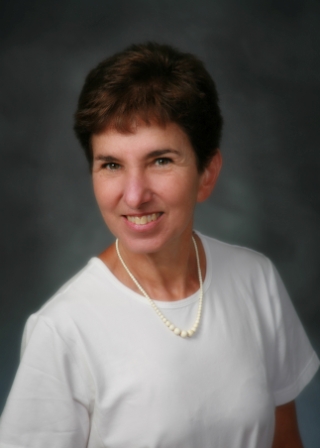 Glenne Gunther, M.D.
Internal Medicine
Dr. Gunther received her M.D. from Tufts University School of Medicine in Boston, MA and completed her internal medicine residency at Genessee Hospital in Grand Blanc, MI.  She is board certified in Internal Medicine.
Kelli Jarrett, M.D., M.P.H.

Family Medicine
Dr. Jarrett received her M.D. from Boston University and completed her family medicine residency in Ventura, CA.  She is board certified in Family Medicine.
Participating Physicians:
Jana Hall, M.D. (Family Medicine)
Site Contact:
Jackquelyn Miles, jackquelyn.miles@cabinetpeaks.org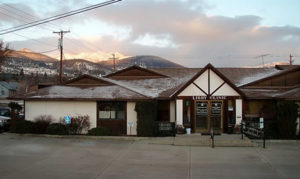 Clinic: The Libby Clinic is a MT WWAMI WRITE site, a Rural/Underserved Opportunities Program site, a TRUST site, and has been involved in the training of PA students and family practice residents. The Libby Clinic is fully staffed with a nursing department, medical records, and laboratory. There are three family physicians, one certified also in internal medicine, two family practice nurse practitioners, and a physician assistant at this clinic.
Hospital: Cabinet Peaks Medical Center is located at 209 Health Park Dr. The hospital is a 25-bed critical access hospital with 13 attending staff, and 18 consulting staff. Of the 1,400 admissions per year, there are approximately 150 surgeries and 100 deliveries. The hospital's web site is www.cabinetpeaks.org/
Nursing Home: Libby Care Center is a 100-bed facility located at 308 East Third Street. All providers see their patients at the care center.
What to Expect:


Nestled in isolated wilderness in northwest Montana, Libby offers a unique rural health care experience. With an immediate population of 2,000 but serving an outlying area of close to 20,000, Libby's health care system serves a critical need in this remote area. Students can expect a traditional family medicine experience that encompasses the full spectrum of health needs, physical and mental, inpatient and outpatient. OB call is shared with three family physicians and the OB/GYN. WRITE students can work with the ER docs, the OB/Gyn, and the surgeons. Consulting specialists include a visiting cardiologist, urologist, ENT, and dermatologist. Two 4th year selectives are now offered in Libby, in OB/Gyn and Surgery, as well as a 3rd year Family Medicine clerkship.

Housing:
Fully furnished (all the way down to the sheets and towels) 2-bedroom house with washer and dryer. Secluded back yard with a deck. Attached garage. The house is about a mile from the Libby Clinic and hospital. If needed, a bike and/or car may be available. Wireless connection. On occasion, a TRUST student or RUOP student or resident physician may share accommodations.

Directions:
From Spokane: HWY 95 North through Sandpoint and Bonners Ferry, then HWY 2 East. From Missoula: HWY 93 North, West on HWY 200, then State HWY 56, and then HWY 2 West. To see a map of where we are located and/or get directions from other locations, go to maps.google.com (for directions, click "Get Directions" in the upper left-hand corner where you can input the starting address).

Air Transportation: Flights are available to Kalispell–90-mile drive; flights into Spokane available via most major airlines–175-mile drive, and Amtrak rail service is available in Libby.

Extracurricular Activities:
Area activities include camping, hiking, hunting, road and mountain biking, x-country and downhill skiing (Turner Mountain), boating, snowmobiling, rafting, bird watching, and golf. In March is a weekend Irish Fair and each Mother's Day weekend is the annual STOKR (Scenic Tour of the Kootenai River), a 2-day ride that raises funds for Habitat for Humanity. Indoor fitness can be attained at the Montana Athletic Club with special rates for medical students through the hospital. The Kootenai National Forest surrounds Libby and the Kootenai River, and a "Blue Ribbon" trout fishing area runs through the town. Area wildlife includes elk, moose, deer, mountain sheep and goats, cougar, and bear. Bald and golden eagles, ospreys, herons, and other birds can be seen nesting and fishing along the river and surrounding lakes. While the Kootenai National forest is full of enough beauty and outdoor adventures for anyone's taste, Glacier National Park is about a 2-hour drive away.

STOKR WRITE Style!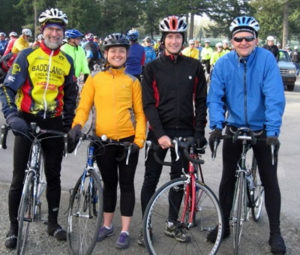 L-R: Dr. Greg Rice w/ 2009 Libby student, Emily Beck, 2009 Sandpoint student Louis Poppler, and Sandpoint preceptor Dr. Dan Meulenberg.
Weather Trends:
The average temperature in January is 31.8° F and the temperature averages 90° F in July. Keep in mind these are averages–temperatures can reach well below zero in January and February.