Office of Rural Programs
Ketchikan
Ketchikan, Alaska WRITE Site
PeaceHealth Ketchikan Medical Center
3100 Tongass Ave
Ketchikan, AK  99901
Phone: 907-221-5171
Ketchikan is the southeastern-most city in Alaska and marks the beginning of Alaska's famed "Inside Passage – a network of waterways that snake through some of the most jaw-droppingly beautiful wilderness in the world." The city itself has a total area of 5.9 miles, but the borough is 1,754 square miles. The city is built on the side of the Coast Mountains, the mountain range along the southeastern coast of Alaska whose peaks form the border between Alaska and British Columbia. As the mountains drop and enter the ocean they create the Alexander Archipelago, a widespread collection of islands that make up Alaska's southeastern coast.

Additional information is available at http://www.city.ketchikan.ak.us/ and at http://www.visit-ketchikan.com/
Student Perspectives:
"I had the incredible opportunity and experience to become an integral part of the healthcare team and the Ketchikan community. I was able to see the rewards and challenges of becoming a physician in a small town, which is insight I relish as I am committed to rural medicine. Living within the community allowed me to observe communal and cultural influences on overall health, which helped me to understand my patient population better and thus provide better quality care."
– Past Ketchikan WRITE Student
Primary WRITE Preceptors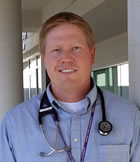 Andrew Sanders, M.D.
Family Medicine

Dr. Sanders completed his undergraduate work at Utah State University in Public Health with a minor in Spanish. He then attended the University of Utah for medical school and completed his residency at Utah Valley Hospital in Provo, Utah. He spent a month in Ketchikan during medical school and that seeded his interest in family medicine and his eventual return to this community.
Peter Rice, M.D.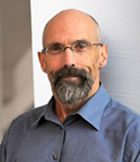 Internal Medicine
Dr. Rice lived in Ketchikan prior to becoming a physician, attended University of Washington Medical School and completed his residency there as well. He is board certified in Internal Medicine. He works both in the clinic and hospital and is the medical director of the internal medicine group. When not working, he spends much of his free time in Meyers Chuck, a remote community 30 miles north of Ketchikan.
Participating Physicians:
Sean Bhagat, M.D. (Pediatrics)
Tim Horton, M.D. (Pediatrics)
Nicole Morin, M.D. (Ob/Gyn)
Andy Zink, D.O. (Ob/Gyn)
Alan Christensen, M.D. (Ob/Gyn)
Josh Brinkerhoff, M.D. (Family Medicine)
Charlie Jose, M.D. (Family Medicine)
Site Contact:
Maxfel Goodson mgoodson@peacehealth.org
PeaceHealth Medical Group:
PeaceHealth Medical Group is a multi-specialty group in Ketchikan and includes 4 family medicine physicians, 2 internists, 1 family nurse practitioner, 2 pediatricians, 3 OBs and 1 certified nurse midwife, 2 surgeons, 1 orthopedic surgeon, 1 orthopedic physician's assistant and 2 psychiatrists. The clinical training will be based at PeaceHealth Medical Group, in Ketchikan.
PeaceHealth Prince of Wales Clinic:
1800 Craig-Klawock Highway, Craig, AK. Clinical training will also take place at our clinic on Prince of Wales Island. Prince of Wales Clinic is staffed by family physician Dr. Yates Sealander and nurse practitioner Kimberly Barnes. The clinic provides a wide range of services for this rural community. Website: https://www.peacehealth.org/phmg/ketchikan-craig/locations/craig
PeaceHealth Ketchikan Medical Center Hospital: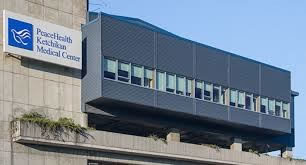 PeaceHealth Ketchikan Medical Center is part of the nine-hospital PeaceHealth health care organization operating in Alaska, Oregon and Washington. It is a 25-bed critical access hospital, with a 23-bed skilled nursing facility, providing comprehensive inpatient and outpatient care. The medical center provides a wide range of inpatient and outpatient services, including 24-hour ED physician coverage, surgery, obstetrics and gynecology, pediatrics, general medicine, psychiatry, orthopedic and sports medicine, hospitalists, advanced imaging, and a sleep lab. Specialty visiting clinics by PeaceHealth and other specialists include cardiology, gastroenterology, oncology, otolaryngology, pediatric cardiology, podiatry, pulmonology, sleep medicine, and urology.
The hospital's web site is https://www.peacehealth.org/ketchikan/
What to Expect:
The student will spend 4 months in Ketchikan and 1 month on Prince of Wales Island. In Ketchikan, Dr. Sander will be the primary sponsoring family medicine physician. The student will follow patients in clinic over 4 months, including continuity patients in the Pediatric and Women's Health Clinic following patients to surgery and to delivery. Our patient population is diverse, with significant Native Alaskan and Filipino communities.
Ketchikan Facts:
Settled as a fishery in 1883
Historically home to the Tlingit, Haida and Tsimshian tribes
Sixth largest city in Alaska
775 air miles from Anchorage; 666 air miles from Seattle
Average annual rainfall 152 inches
Average annual snowfall 77 inches
Average temperature 28 to 70 degrees F
Known as "The Salmon Capital of the World"
The Southern-most tip of Alaska, it marks the beginning of the last frontier
The world's largest collection of standing totem poles
Main industries: fishing, tourism, lumber
Rich in traditional Native Alaskan Culture
Tongass National Forest, a 17M-acere rainforest of lush cedar, spruce, waterfalls and wildlife
Misty Fjords National Monument
Rich in culture and history, the city boast several museums
Getting to Ketchikan:
Ketchikan is off of the road system and is not accessible by car. Alaska Airlines provides service from Seattle (less than 2 hours nonstop) and Anchorage. The Alaska state ferry runs out of Bellingham, WA and Prince Rupert, BC. The ferry from Bellingham takes approximately 38 hours and for an additional fee, passengers have the ability to bring their cars, motorcycle and bicycles. Cabins are also available at an additional charge.

Housing: TBD
Extracurricular Activities:
For a complete list of things to do and see in Ketchikan visit: www.visit-ketchikan.com or www.travelalaska.com/Destinations/Communities/Ketchikan.aspx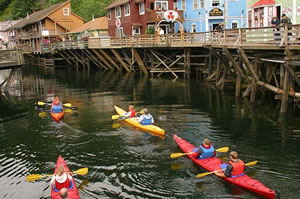 Weather Trends:
The climate in Ketchikan is much more similar to that of other Pacific Northwest coastal areas than it is to most other parts of Alaska. With mild summers and wet winters, Ketchikan's oceanic climate sees highs in the 60s in the summer and lows in the 20s in the winter, with very little snow fall.