Office of Rural Programs
Kodiak
Kodiak, Alaska WRITE Site
Kodiak Community Health Clinic
1911 E. Rezanof Drive
Kodiak, AK 99615

Phone: 907-481-5000
Primary WRITE Preceptor
Curtis Mortenson, M.D.                                                                                                                    Family Medicine w/ Obstetrics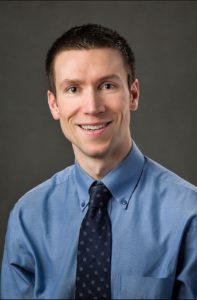 Dr. Curtis Mortenson is a 2001 graduate of Kodiak High School and has returned to his hometown after completing his family medicine residency in Anchorage. Dr. Mortenson has consistently been recognized for his passion for supporting both his patients and his colleagues, having been awarded the "Ideal Physician" award by his peers at Northeastern Ohio Universities College of Medicine and the "Janette Hermiston Award" after his first year of residency for his passion for learning and patient care. At the conclusion of residency, he was awarded the "Society of the Teachers of Family Medicine Award," recognized by the faculty for his passion for teaching.  Dr. Mortenson, a board certified family medicine physician, serves the Kodiak community through his work in the community health center and the emergency room. His primary medical interests include population health management, minor surgical procedures, and obstetrics.
Participating Physician:
Stephen Burnside, M.D. (Internal Medicine)
Jonathan Frazier, D.O. (Family Medicine)
David Silbergeld, D.O. (Family Medicine)
Laura Walters, M.D. (Family Medicine)
Evan Jones, M.D. (Family Medicine)
Steven Smith, M.D. (Emergency Medicine)
John Everett, M.D. (Emergency Medicine)
Site Contact:
Misty Lee: mlee@kodiakchc.org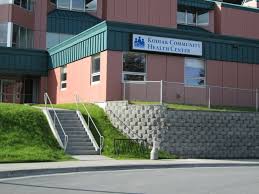 Clinic:
The clinical training will be based at the Kodiak Community Health Center (KCHC) in the City of Kodiak. It will also include clinical experiences at the Kodiak Area Native Association (KANA) Clinic, the tribally operated clinical program for the Aleutiiq Tribe, and Kodiak Island Medical Associates, a private practice clinic.The Kodiak Community Health Center is a federally qualified health center, consisting of three family practitioners, two physician assistants, a dentist, and a dental hygienist. It is a full service family practice clinic that delivers inpatient care, obstetrics, coverage of the hospital's emergency room and dental care.The Kodiak Area Native Association (KANA) contracts with the Alaska Area Native Health Service and Indian Health Service to provide health care services to Native Americans in Kodiak and outlying villages. Students will spend at least one day a week, sometimes more at the KANA Health Center: kanaweb.org
Medical:
Providence Health Systems of Alaska operates Providence Kodiak Island Medical Center under a lease-management agreement with the Kodiak Island Borough as a critical access hospital. It is accredited by the Joint Commission on Accreditation of Healthcare Organizations (JACHO). The Medical Center features 25 acute care beds, including 4 birthing suites and 4 psychiatric care beds. It includes a significant range of inpatient and outpatient services including emergency department, surgery, maternity, general medicine, physical therapy specialty clinics, diagnostics, retail pharmacy and home health care. The Outpatient Specialty Clinic provides additional support services that include pediatrics, obstetrics, cardiology, urology, chronic pain and ear, nose and throat specialists.
Community health care providers include physicians, chiropractors, dentists, optometrists, pharmacists, registered nurses, public health care nurses, physician assistants, respiratory, speech and physical therapists.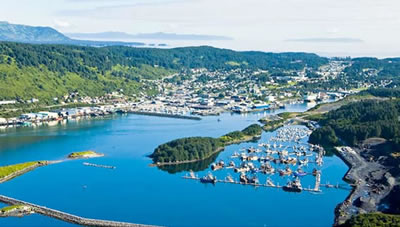 Getting to Kodiak:
Weather changes fast on this island, and the seasoned visitors know to leave an extra day or two in their plans as they could likely be fogged in during the summer months. By airplane from Anchorage, it is approximately a 1- hour flight to Kodiak Island. Service is available on Alaska Airlines. Schedules vary ranging from four to eight flights a day depending on the season.
By the Tusty: The Alaska Marine Highway System provides passenger and vehicle service to Kodiak and Port Lions from either Seward or Homer. Staterooms and a  full-service dining room are available. Reservations should be made well in advance especially if you are bringing a vehicle.
Kodiak Facts:
Settled by Russians in 1792

Sixth largest city in Alaska

Average annual rainfall 74.2 inches

Average annual snowfall 84.5 inches

Average temperature -20 to 82 degrees F

Largest fishing port in the United States

Home of the largest Coast Guard Base

252 air miles southwest of Anchorage

Kodiak National Wildlife Refuge has 2491 square miles

Two-thirds of the island has been set aside to form the Kodiak National Wildlife Refuge

Second largest island in the United States

Home of the Kodiak brown bear the worlds largest carnivore

There are less than 100 miles of road on the island

Thousands of miles of convoluted coastline and tidal zones

117 salmon streams

14 major watersheds

Kodiak brown bear population: 3000
Housing: Housing in Kodiak is attached to the clinic. No pets allowed please.
Size & Location:
The Kodiak Island Group lies at the western border of the Gulf of Alaska. The group has an area of about 4,900 square miles and extends for a distance of around 177 miles in a northeast-southwest direction. Its greatest width is 67 miles and the deep bays of the coastline leave no spot on the island more than 15 miles from the ocean. Kodiak Island proper has an area of 3,588 square miles. There are numerous mountains that rise above 3,000 feet.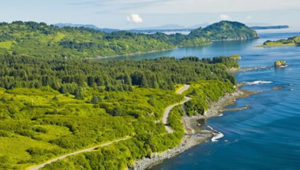 Climate:
The climate of Kodiak Island is comparatively mild, much warmer than that of island areas of similar latitude. The difference is Kodiak lies in the path of the Japan current which sweeps northeastward along the coast of the Alaskan peninsula into the Gulf of Alaska. This same warm current gives California its warm weather.