Supplemental & Secondary Applications
Some specialties and individual residency programs ask applicants to provide further information by completing an additional application, called a supplemental or secondary application. These applications provide an opportunity for applicants to:
Communicate their unique background/experiences, career goals, and interests
Identify their interest in a particular program or geographic setting
---
2022-23 Supplemental ERAS Webinar
Missed Career Advising's presentation on the Supplemental ERAS Application? Download the slide deck and speaker notes to review the materials.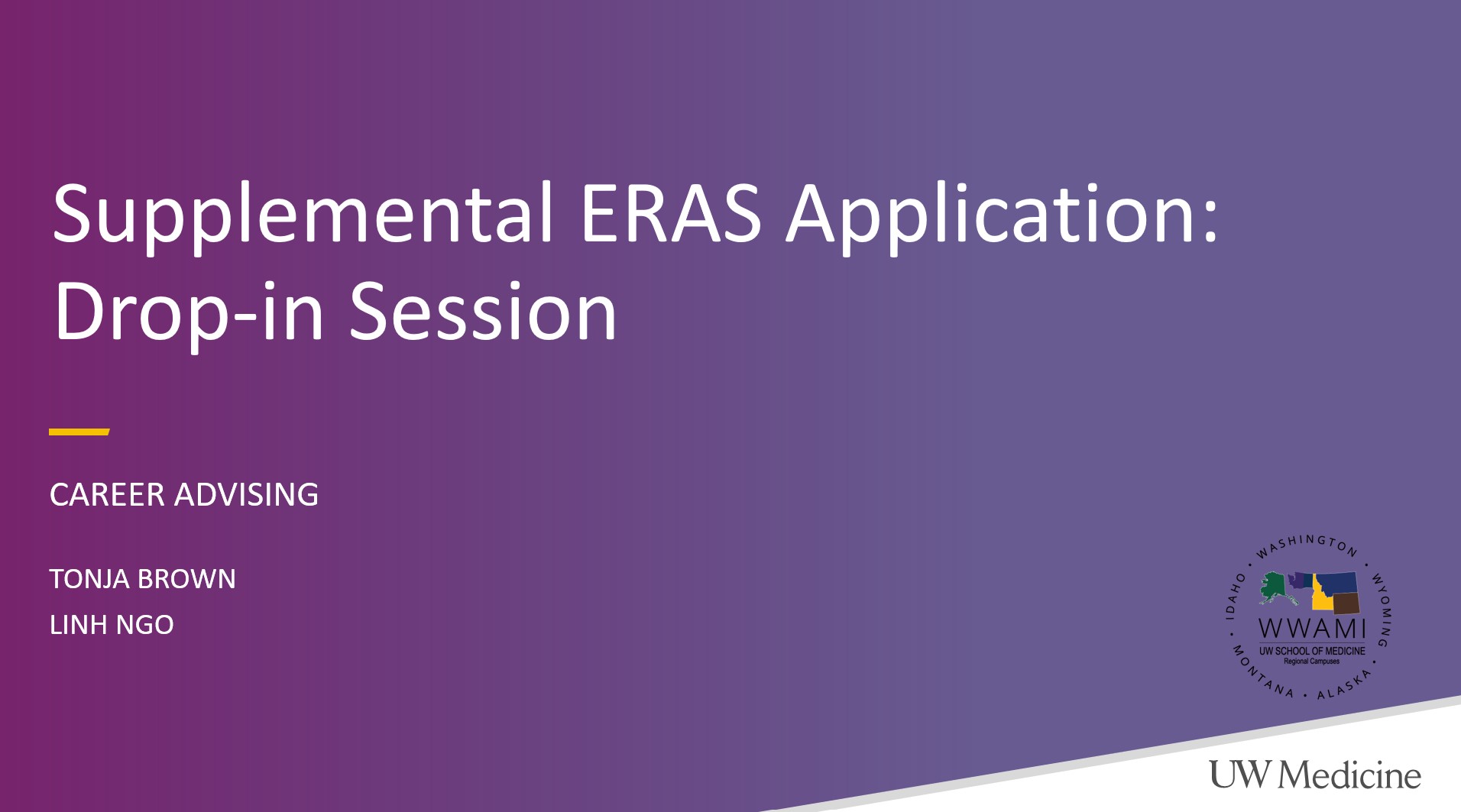 ERAS Supplemental Q&A 8.10.22: To access speaker notes, download and open the PDF and then click on the orange icon in the upper-left hand corner
---
Each year some specialties release national application requirements or recommendations that apply to all programs in that specialty.
Monitor announcements from the specialty's national professional organizations to determine if additional recommendations or requirements are stated.
In addition to the regular MyERAS application, there are specialties that request that applicants complete a standardized, free Supplemental ERAS Application.
The Supplemental Application is designed to help students share more information about themselves and assist program directors in finding applicants that fit their programs' setting and mission. Participation for applicants is optional [AAMC 2022].
2023 Match Cycle
For a list of the 15+ specialties utilizing the ERAS Supplemental, visit AAMC Supplemental ERAS Application website.
Supplemental ERAS Application Timeline for the 2023 ERAS Season

Updated information about the Supplemental ERAS Application is found on the AAMC website.
Individual residency programs may request all applicants complete a secondary application answering questions specific to the applicant's fit with their residency's goals, values, and areas of focus.
When researching residency programs, be sure to determine if a secondary application is requested/required. The structure of the secondary application and the timing of when it is requested is specific to each program.
Check each program's website for details about secondary application requirements
Some programs may provide this information later in the application season so check back on the program's website.

Do not assume because the information is not listed the first time you look that it will not be added later in the summer

Check email frequently, as programs may correspond with applicants during all stages of the process

Some programs request a secondary application once an applicant has been invited for an interview