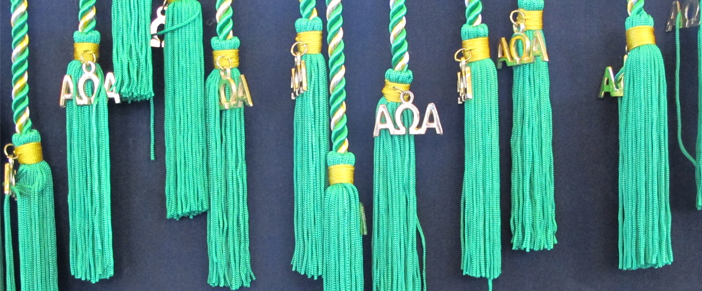 Page Content
​​​Alpha Omega Alpha (AΩA) is a national Honor Medical Society with over 120 Chapters around the country. Its purpose is to recognize and perpetuate excellence in the medical profession. Its mission statement is "AOA is dedicated to the believe that in the profession of medicine we will improve care for all by recognizing high educational achievement, honoring gifted teaching, encouraging the development of leaders in academia and the community, supporting the ideals of humanism, and promoting service to others.​"
More detailed descriptions of UW AOA projects can be found at http://blogs.uw.edu/uwaoa/.
UW – AOA Turkey Book app
"Don'​t be a turkey!" was an old phrase that meant "Don't be a fool, a coward, a chicken, inept, a failure…" When you have the Turkey Book with you, you won't be any of these things! The Turkey Book, now an app, is a compilation of helpful hints, high-yield facts, and need-to-know introductions to many clinical topics that you will encounter in your clinical years of medical education. It can be used as a starting point, and/or to supplement other more exhaustive references.

Purchase from Google Play Store
Purchase from iTunes as iBook
UW AOA Election Process
Student members are elected after they have completed their required clerkships, after third-year. By national guidelines, eligible students must be in the top 25% of their class, and the total number of students that can be elected each year is up to 16% of the class.  For the Spring election (April), the AOA chapter elects  7-12 "Junior AOA" members among MS3 students. In the Spring election, the "top 25%" is determined by ranking students according to the % of Honors and High Passes they have received thus far in their required clerkships as well as on their Step 1 score. For the Autumn election (September), students in the top 25% of their class are those with an "Outstanding" summary word on their MSPE. Students are considered 2 times – once in the spring of their MS3 year and once in the fall of their MS4 year.
Students are nominated by a vote of current chapter members (students, faculty, residents), and votes are based primarily on excellent required clerkship grades and also on peer nomination comments; comments from College faculty, clerkship directors, and PhD advisors; publications, UWSOM involvement, and community service. Students are considered based on how well they meet the goals of AOA in the areas of leadership, service, professionalism, scholarship, research, and promise of contribution to the medical field. ​