​​​​​​​​​​​​Graduate medical education or "residency" and "fellowship" training occurs after completion of medical school. Completion of a residency is necessary before a physician is eligible for Board Certification, and many physicians opt to complete additional subspecialty training in a fellowship program. Depending upon the specialty, residency training lasts between three and seven years and additional fellowship training lasts one to four years.
There are three distinct models for Graduate Medical Education across the WWAMI region – Community Based–UW Affiliated, Regional Training Tracks, and Regional Resident Rotations.
Community Based – UW Affiliated
Family Medicine Residency Network
The Family Medicine Residency Network, established in 1972 by the UW Department of Family Medicine, now comprises 18 programs across the five-state WWAMI region and more than 300 residents. This program has played an important part in the recognition of the University of Washington School of Medicine by U.S. News & World Report​ as No. 1 in Family Medicine and Rural Medicine for 25 consecutive years​.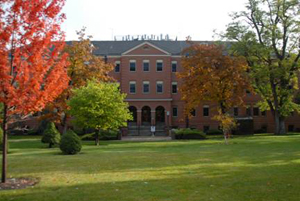 Boise VA Medical Center
Internal Medicine Boise
The University of Washington School of Medicine Department of Internal Medicine sponsors the Boise Internal Medicine Residency. Training is made possible by talented local faculty at a nationally recognized VA hospital and two community hospital regional referral centers.
Internal Medicine Spokane
Internal Medicine Spokane is a fully accredited, three-year internal medicine residency program academically affiliated with the University of Washington School of Medicine and located in Spokane. Training is at Deaconess Medical Center and Sacred Heart Medical Center.
Regional Tracks
The University of Washington School of Medicine has two residency training programs with regional training tracks located in the WWAMI region. The University of Washington Psychiatry Residency Training Program has an Advanced Clinician track at Boise. Residents spend the first two years of residency in Seattle and the second two years in Spokane, based at Sacred Heart Medical Center, Spokane Mental Health and Deaconess Medical Center and Boise, based at Boise VA Medical Center, St. Alphonsus Regional Medical Center, St. Luke's Regional Medical Center and the Family Medicine Outpatient Clinic.
The University of Washington/Seattle Children's Pediatric Residency Alaska Track is a primary care track of our pediatric residency program wherein residents spend four months out of each of their three years of training in Alaska, and the remaining eight months in Seattle. Residents in the Alaska Track will have all of the benefits that the UW/Seattle Children's categorical residency has to offer and at the same time will have an incredible opportunity to work in both the Alaska Native and private practice settings with an exceptional group of practicing pediatricians.
Regional Resident Rotations
Residents participating in accredited programs in GME at the University of Washington also do four to eight week rotations within the WWAMI region during their course of study.
Since 1973, the Department of Pediatrics has required a two-month rotation within regional community-based sites. Currently these sites are located in Port Angeles, Washington; Yakima, Washington; Bellingham, Washington; and Pocatello, Idaho. Each of the department's residents completes this two-month rotation during their second year of residency. Residents report this to be one of the most valuable experiences of their entire three years of training. See more at the Pediatric Residency Training Program site.
In addition, the departments of Medicine, Obstetrics and Gynecology, Surgery and Otolaryngology/Head and Neck Surgery provide resident rotations on an elective basis to students. These individually arranged rotations occur at sites located across the WWAMI region.